Back to Fairbourne Railway Main Page     The People (Part 1)     The People (Part 2)     The People (Part 3)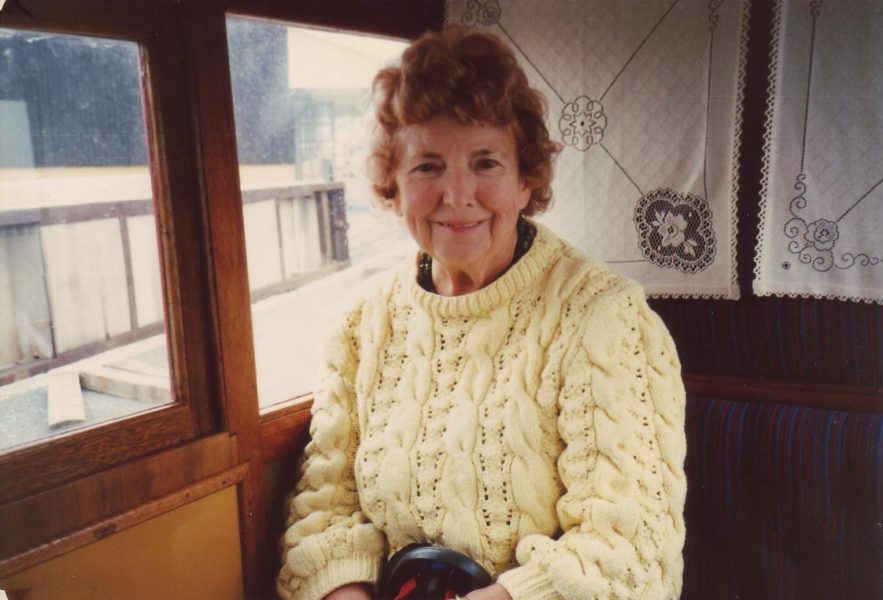 Lilian Ellerton sitting in one of the first-class carriages. Lilian often 'tested' the local community by conversing in Welsh as much as possible. Welsh is not the most useful language in the world, but it is an interesting language.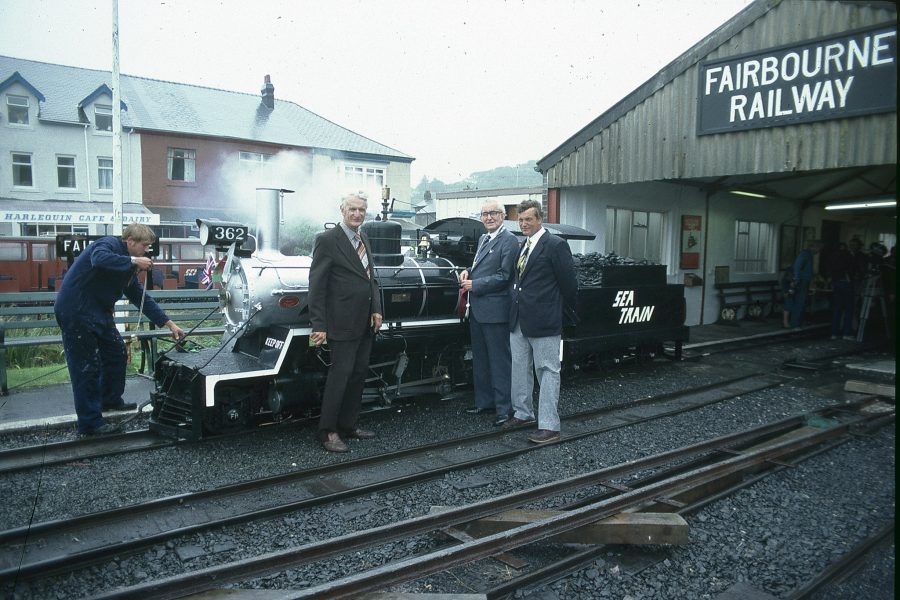 I've forgotten exactly what the occasion was but pictured here is Sydney Ellerton, the Mayor and John Ellerton in front of 362 with Nigel Markham at the far left.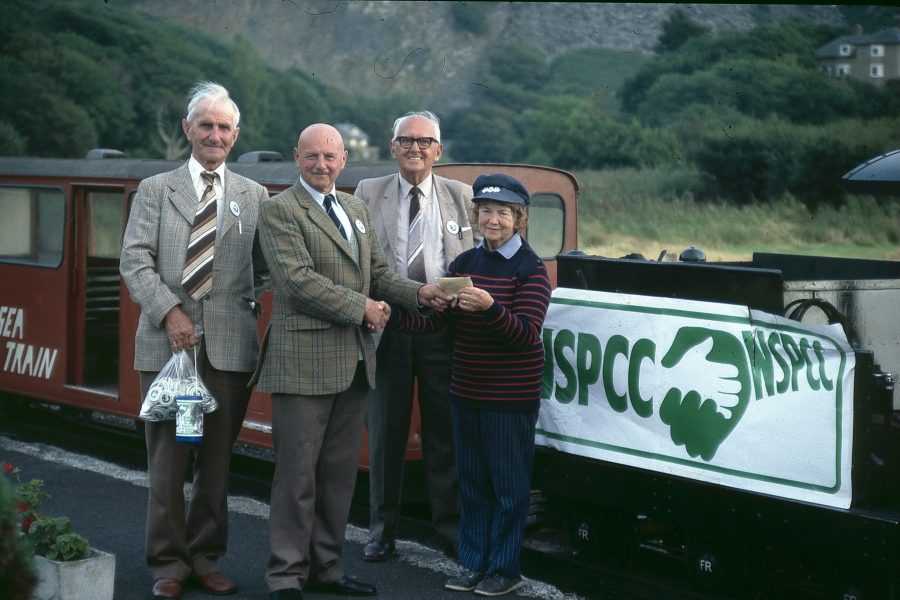 Lilian was one of the nation's biggest organisers of the National Society for Prevention to Cruelty to Children.
I think this could be the local mayor having a ride on 362.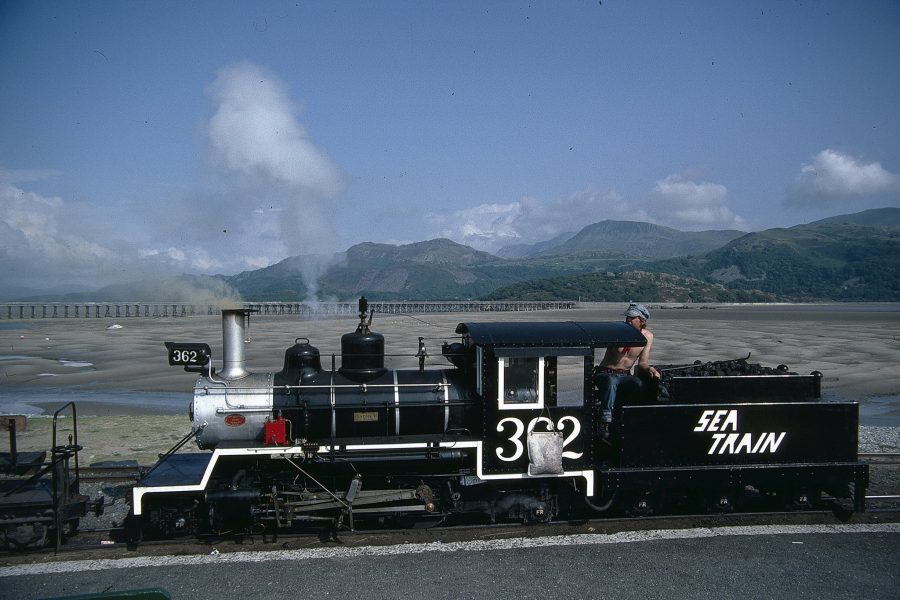 Steve Milner sunning himself off whilst driving 362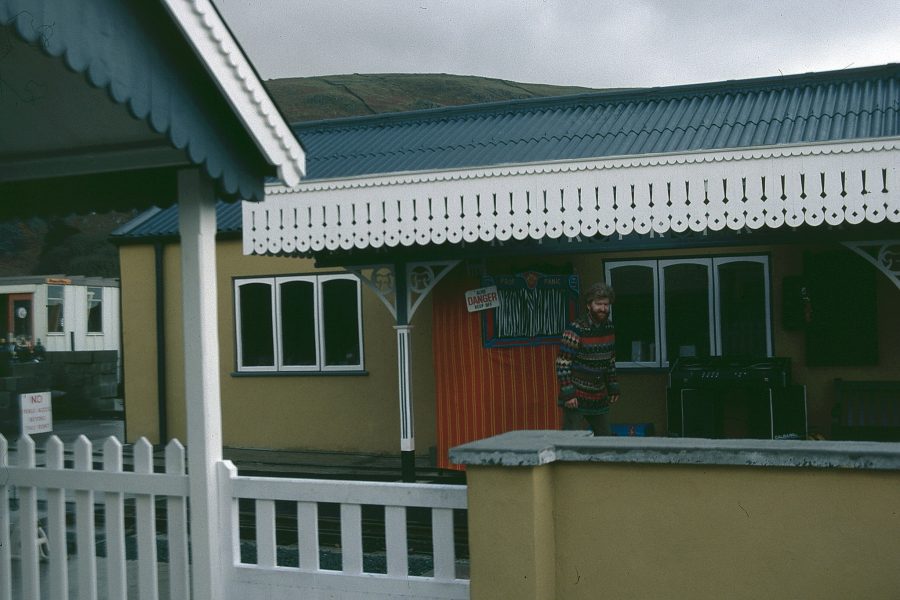 Our resident Punch & Judy and station platform artist, Professor Panic.
Sydney & Lilian Ellerton riding in the brake van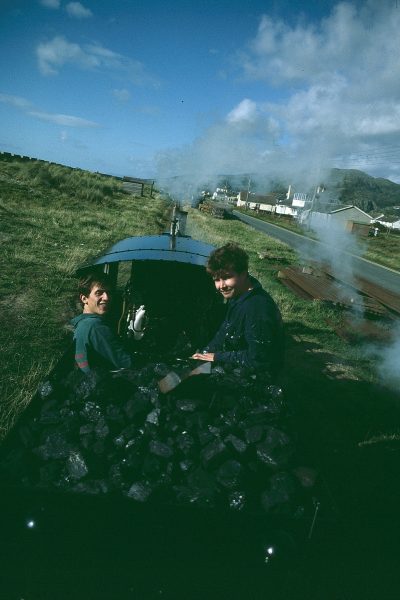 Arnaud de Frayssinet & Steve Milner on Sherpa
France sitting in Sherpa with John Whitehouse alongside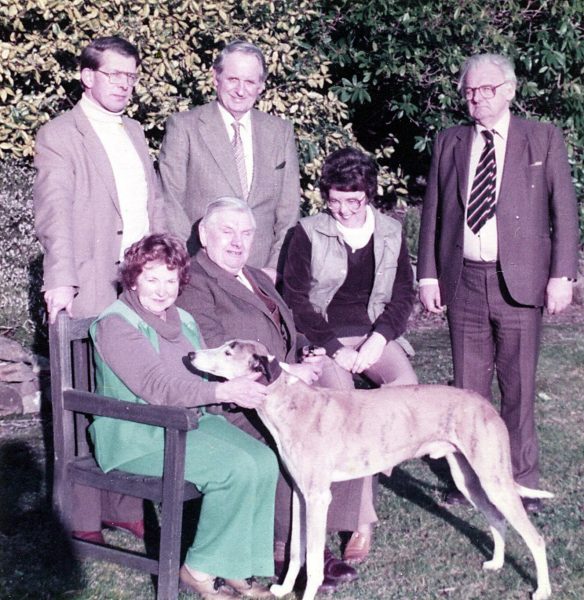 In 1984, the railway was bought by the Ellerton family. Gathered for a meeting to arrange details are, left to right, John Milner, Lilian Ellerton, John Murray, John Wilkins, Beryl Milner and Philip Wilkins
John jacking up loco after a derailment
France with Simon Weller standing behind at Penrhyn Point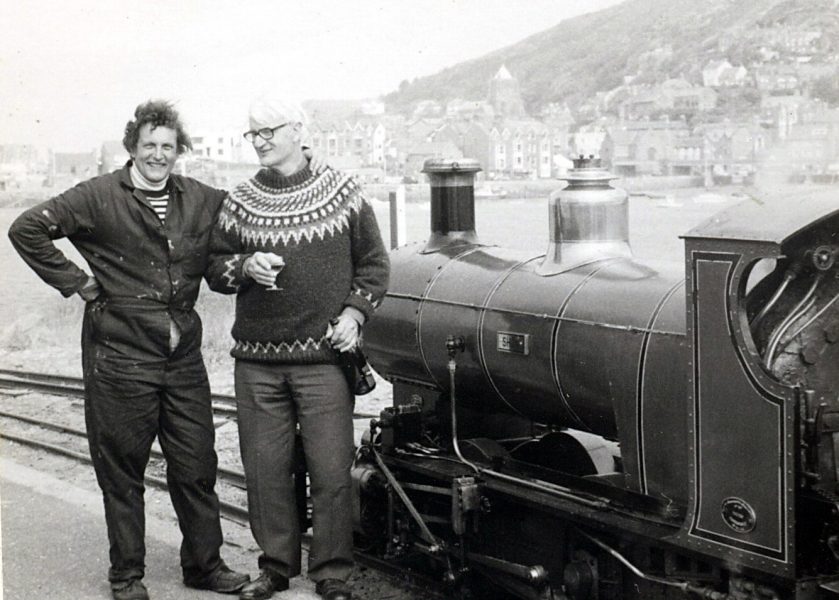 John & Sydney at Penrhyn Point with the town of Barmouth in the background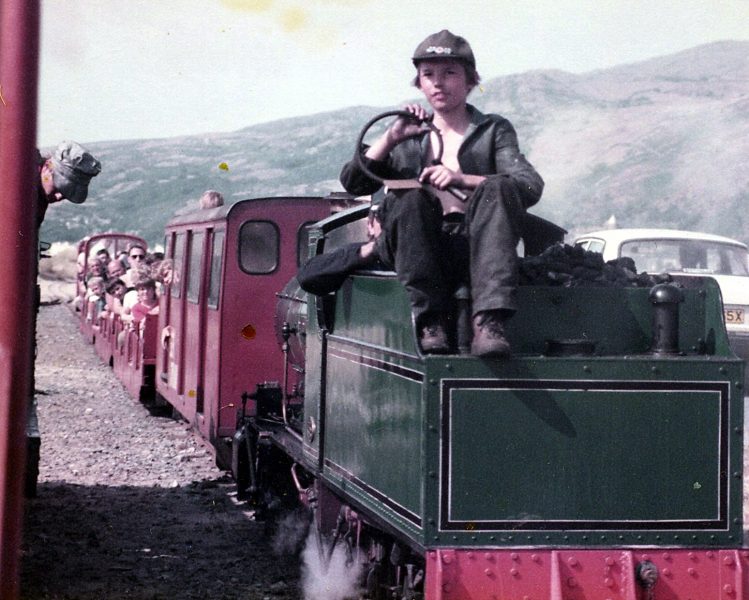 Rupert (aka Bear) ready to exchange tokens at the Passing Point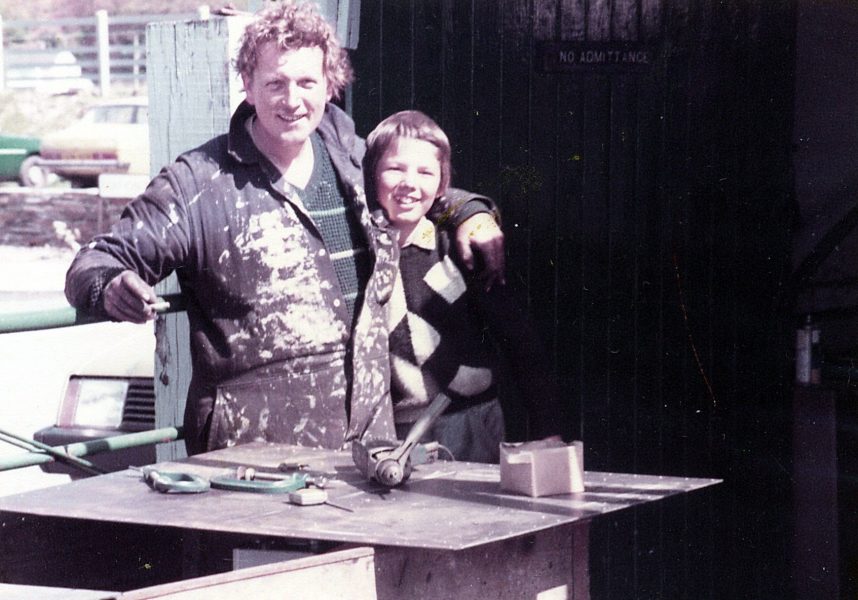 John and Rupert doing a little construction work on Siân.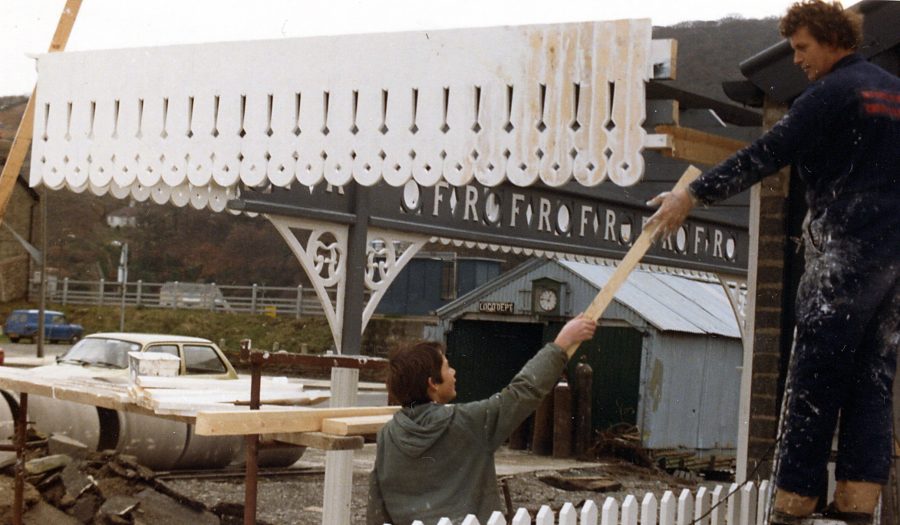 Rupert giving John a hand with the station valance (known to John as miggamogga)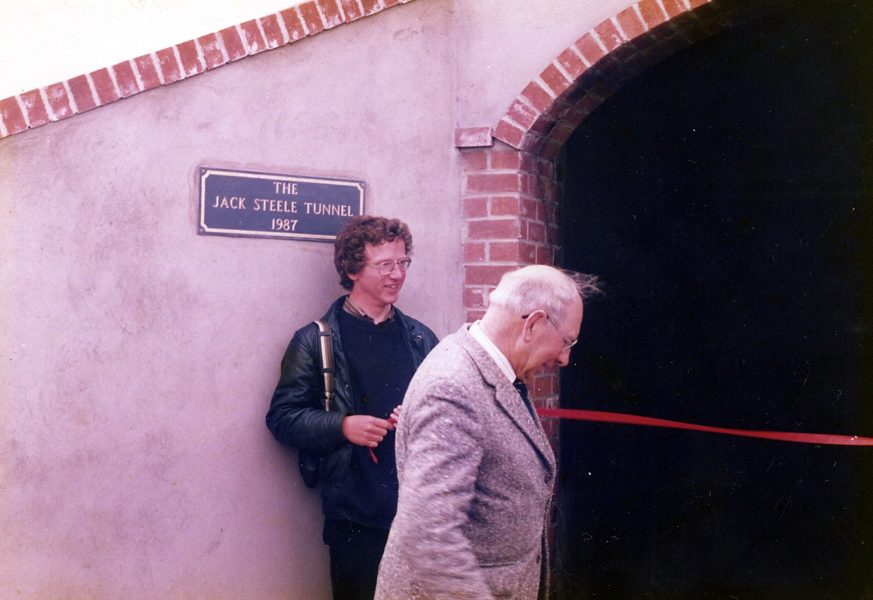 Jack Steele opening up the tunnel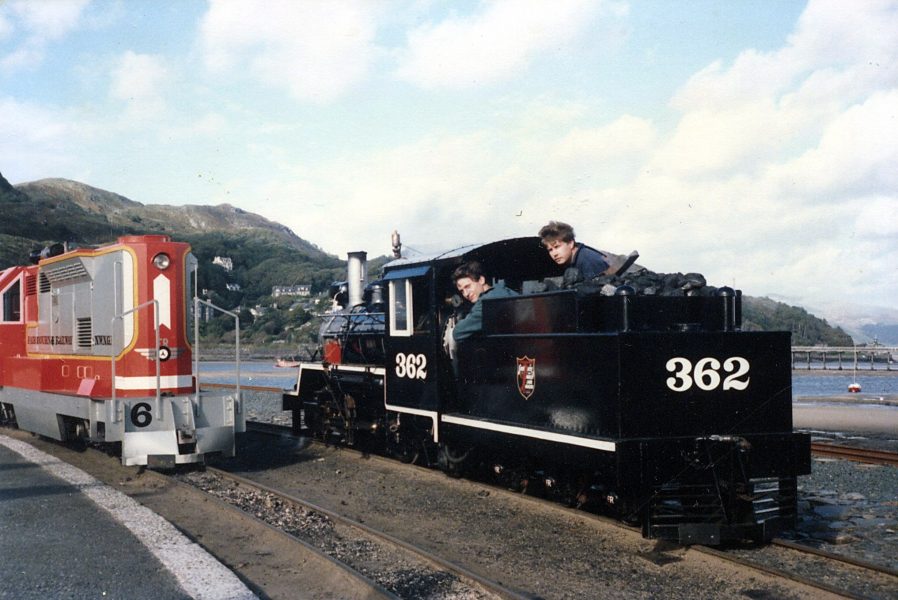 Arnaud and Steve Milner on 362 at the Point
John and Arnaud with the diesel, Lilian Walter, before being painted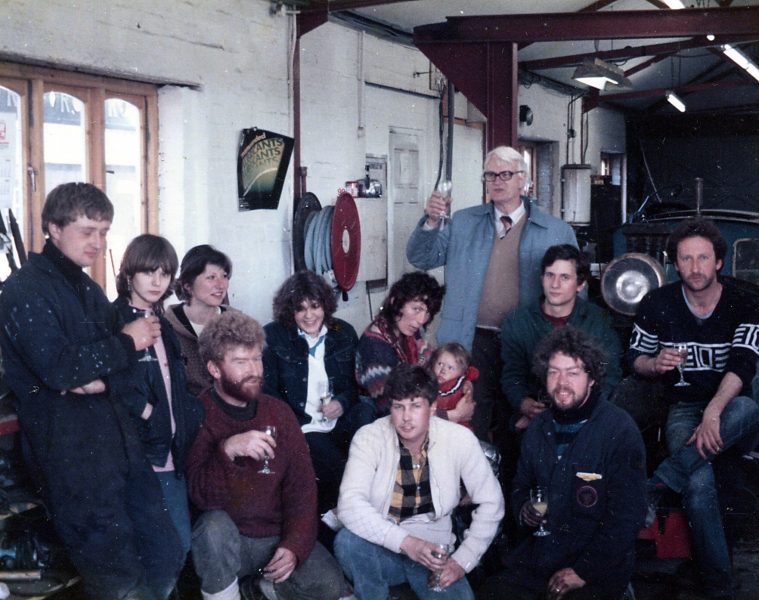 Sydney Ellerton's 71st birthday celebrated in the workshop.
Far left is Nigel Markham. Reynelle third from left in the back. Professor Panic in red sweater. Steve Milner in white cardigan. Wendy Haycock to the right of Reynelle. Professor Panic's wife and child. Sydney Ellerton standing in the very back. Arnaud to right of Sydney. John White house in front of Arnaud.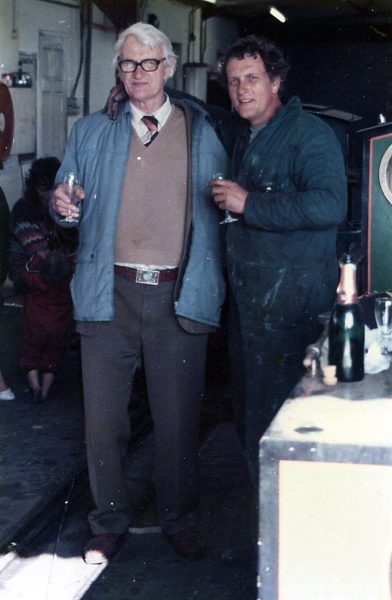 Sydney and John in workshop
Cliff Williams doing a little wall painting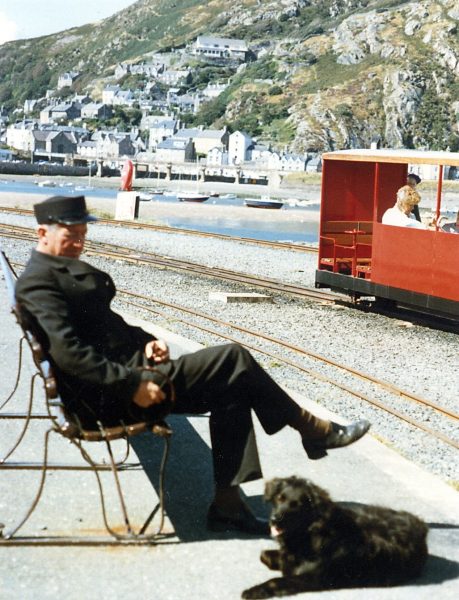 Joe with his inseparable companion, Penny.
Simon Weller firing up Sherpa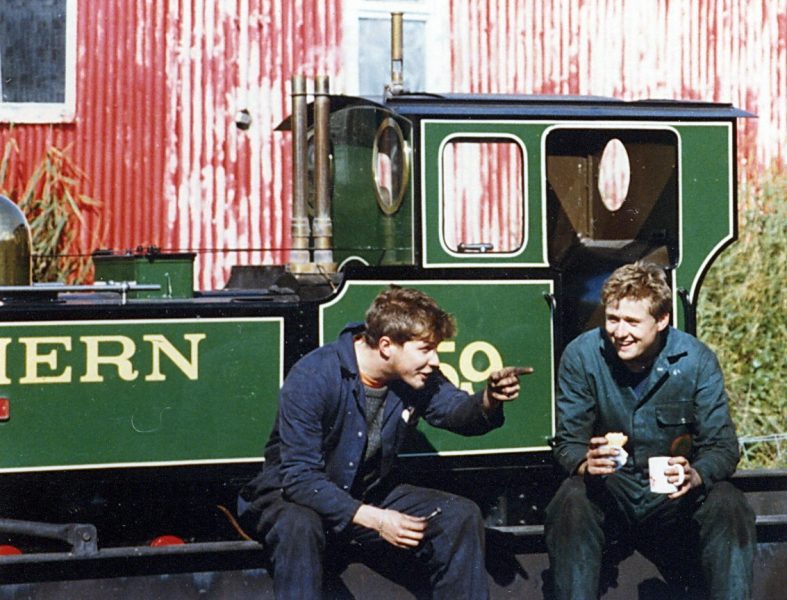 Steve and Nigel enjoying a tea break
The ladies on the shop and restaurant staff, spring 1988, in their period dress. Sue, Carol, Wendy and Fiona.
A celebration of some sort being held at the restaurant at Penrhyn Point.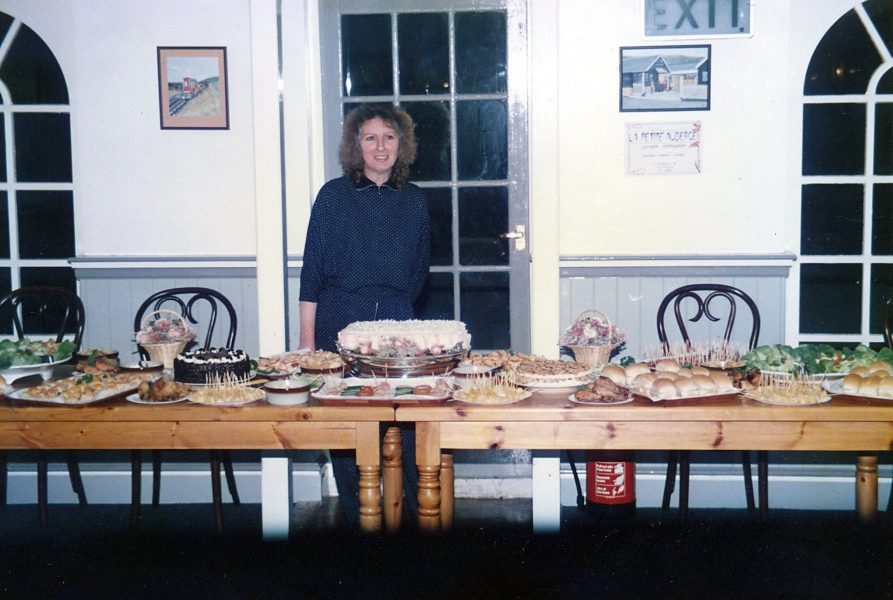 Carol Pritchard with a table of goodies.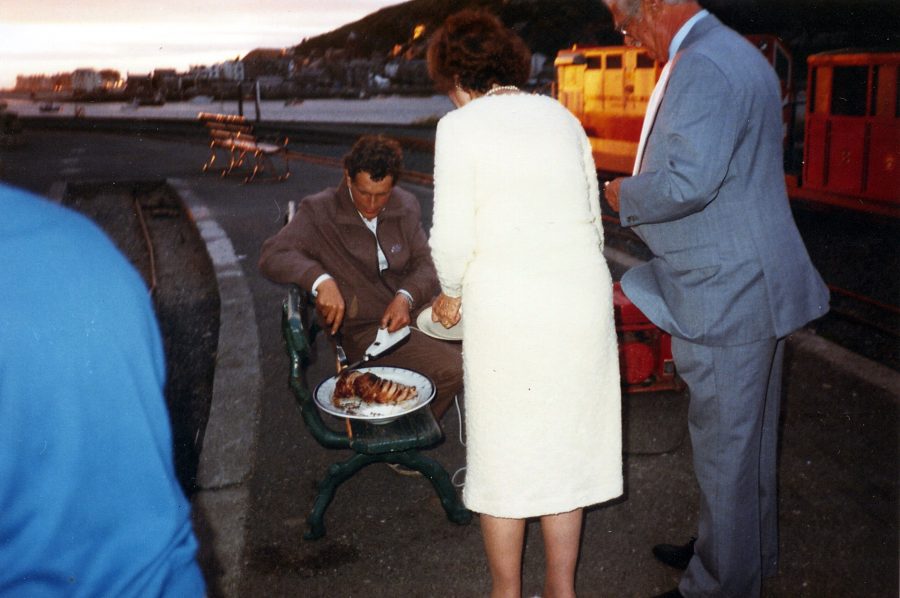 Janet and Norman Dennstedt taking a barbecue at Penrhyn Point. John using a wholly untraditional method of using an electric knife to carve up the lamb. Note the generator behind!
Norman Dennstedt, a friend of the family's who used to live in Alpine, California not too far away from San Diego.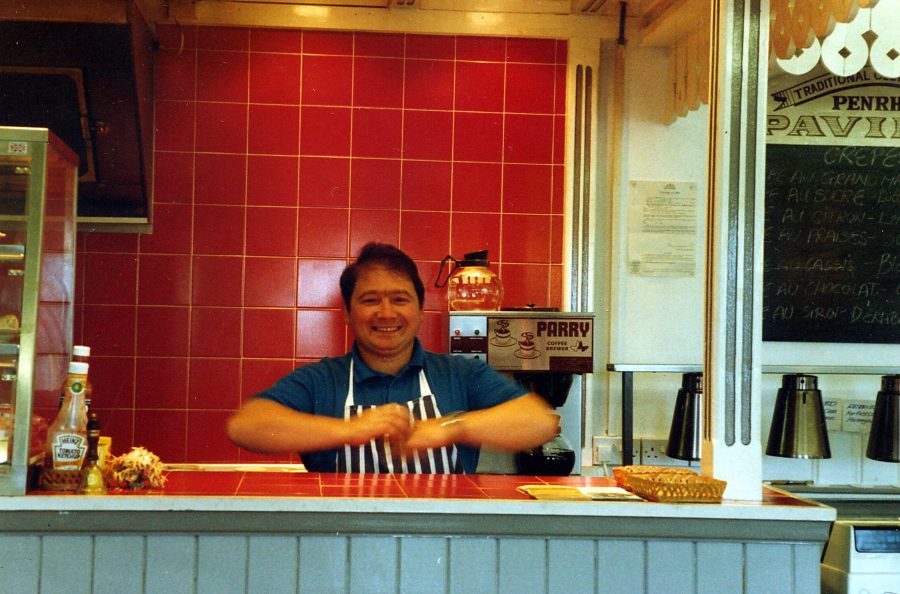 In the restaurant
Sydney Ellerton.
We called him Tetley because of the Tetley teabag advert which was going on at the time featuring a cartoon character called Tetley who was priding himself on the fact that each Tetley teabag had at least 2,000 perforations. Amazingly, the adverts dropped that line when they found out that some enterprising lad actually counted them and came to the much lower number of 792.
Colin Jepson and Claire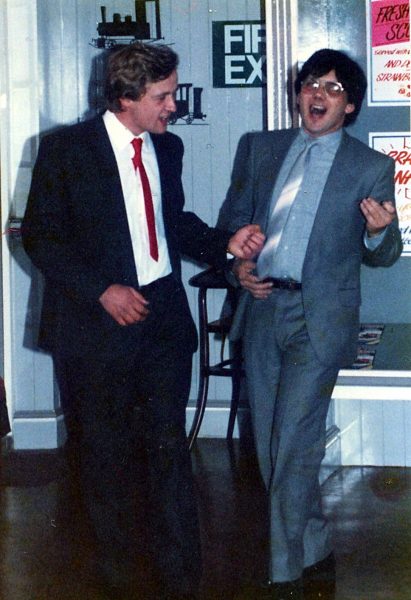 Nigel and Jonathan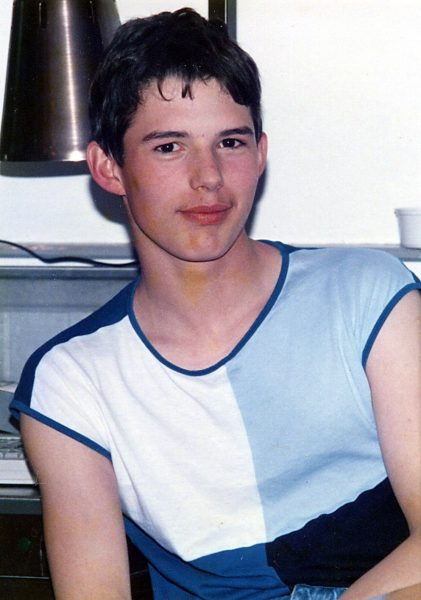 Rupert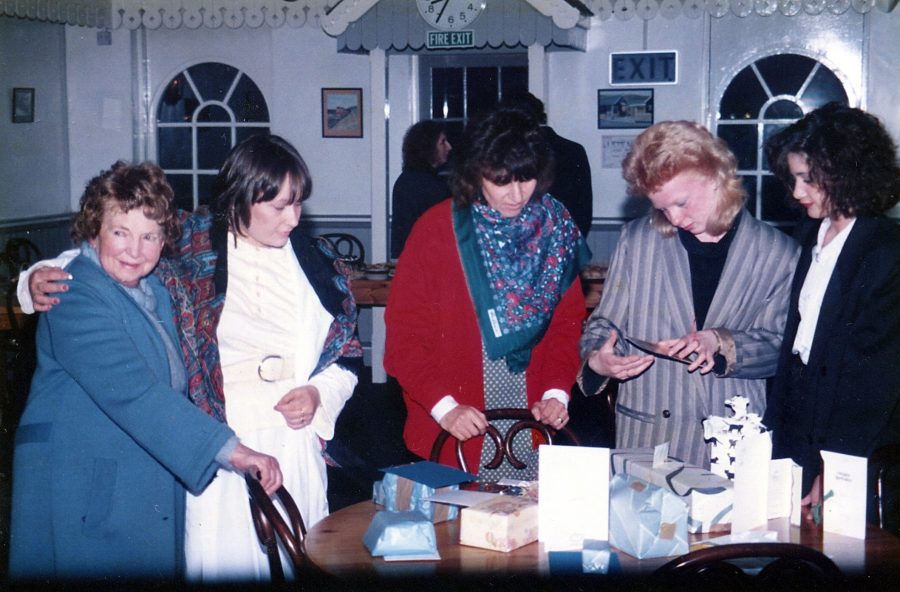 Early season staff party, April 1988
Lilian, Sue Madgewick, France, Fiona Pritchard, Wendy Haycock.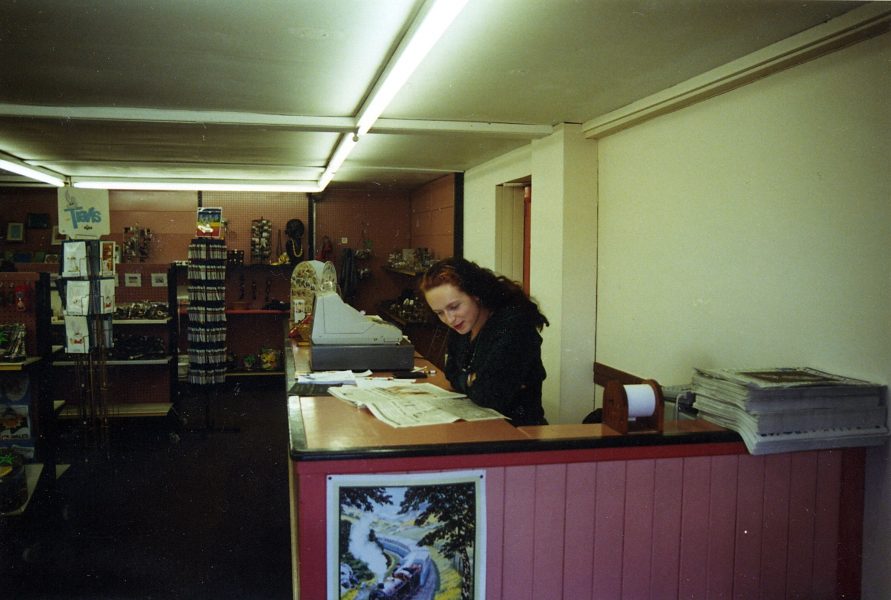 My sister, Elaine, attending the new shop next to the butterfly safari.
Glen, John and I working on a section of track in the workshop. I wish I had those hydraulic jacks! They were immensely useful.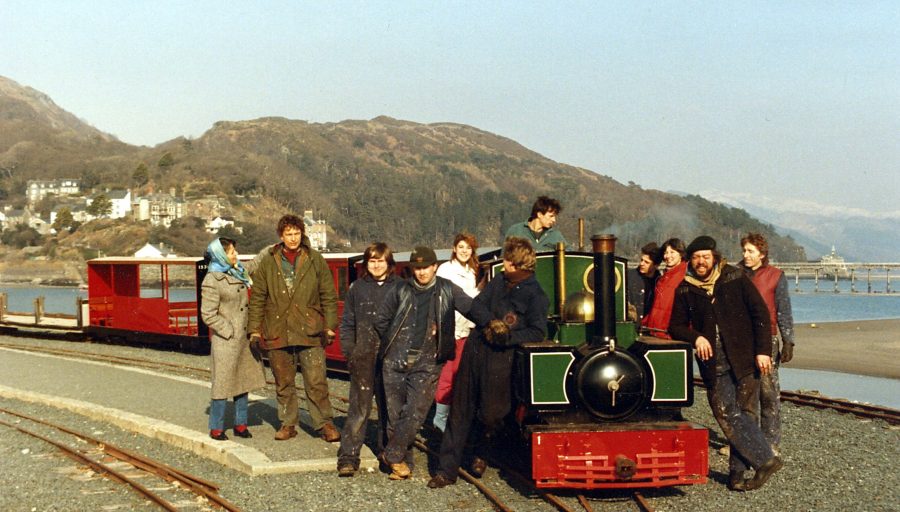 The first train on the new gauge, with works staff as passengers.
Left to right. France, John, Stephen Millett, Stephen Milner, Carmen, Nigel Markham, Arnaud, Rodolphe, Reinelle, John Whitehouse, Tony Pierce.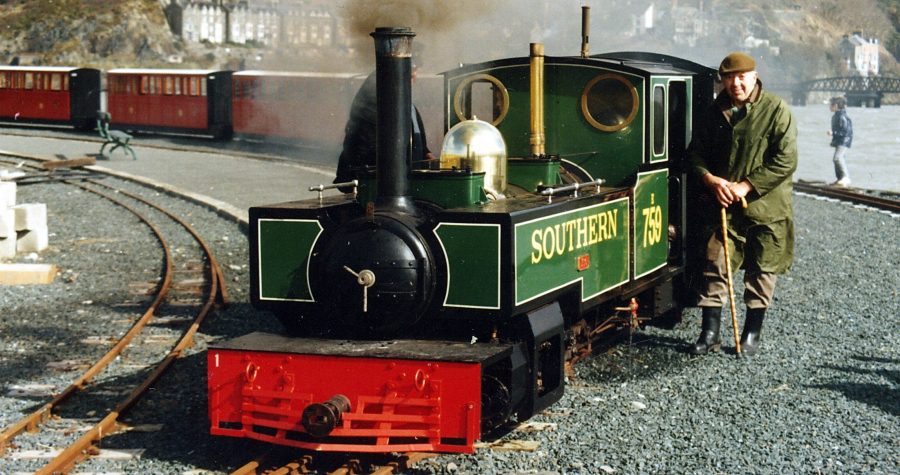 The first service train at Porth Penrhyn with the buyer of the first ticket.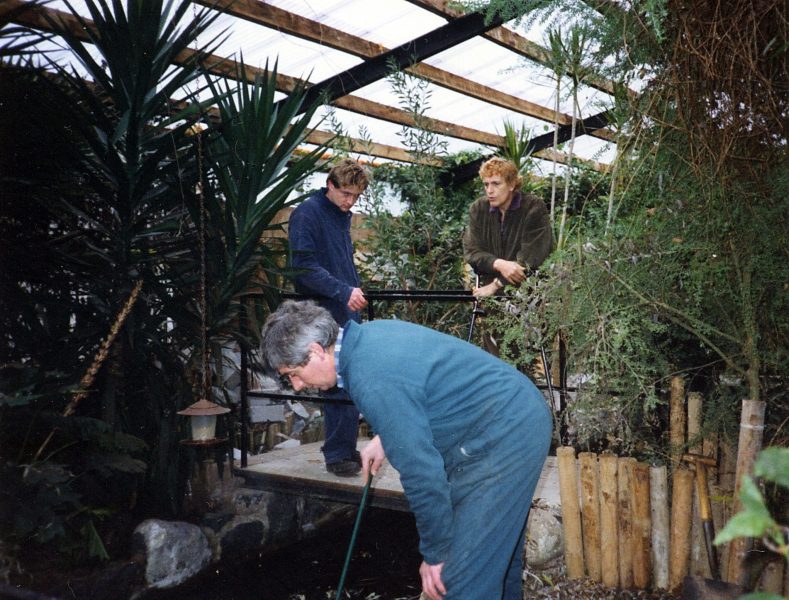 Mike Messer digging something out of the pond in the butterfly safari while John and Nigel look on.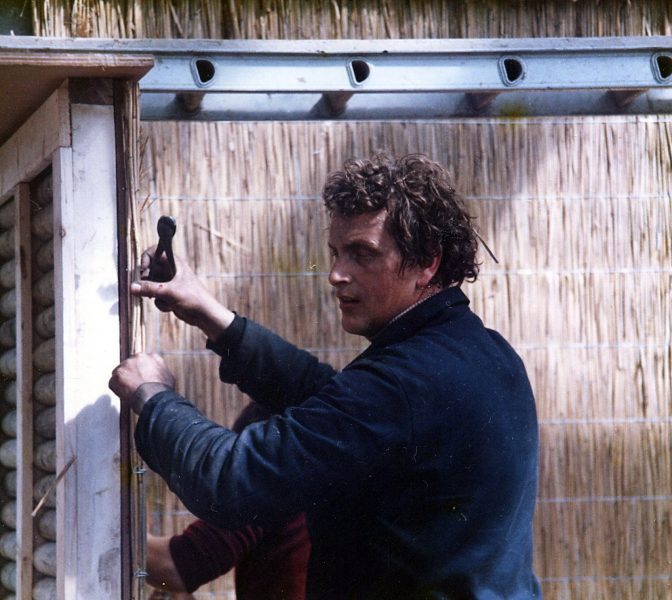 John in perpetual construction mode.
Visit from Bryn and Beryl Jones, Joan Wynne, and Gwenllian Dwyrd, with Lilian.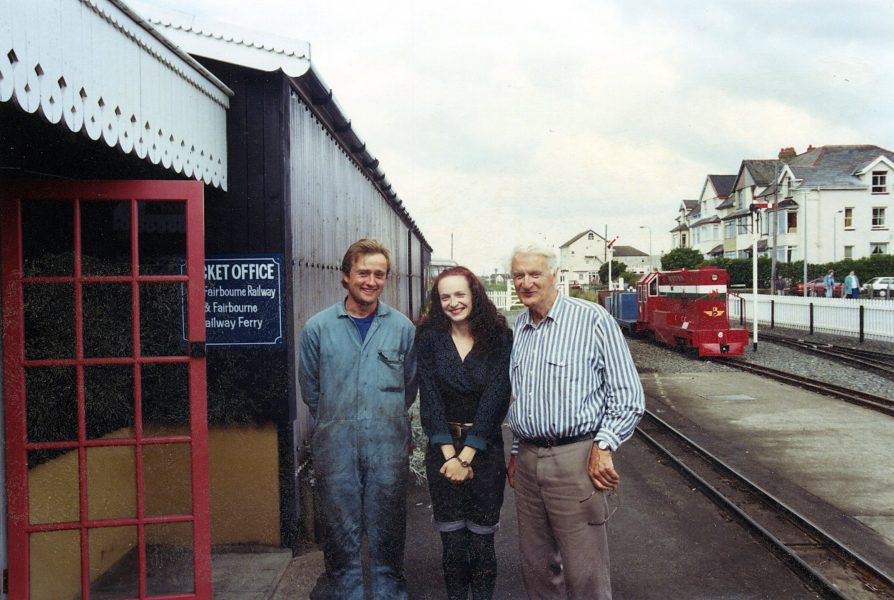 Nigel, Elaine and Sydney next to shop
Back to Fairbourne Railway Main Page     The People (Part 1)     The People (Part 2)     The People (Part 3)