Contents     Part 1     Part 2     Part 3     Part 4     Part 5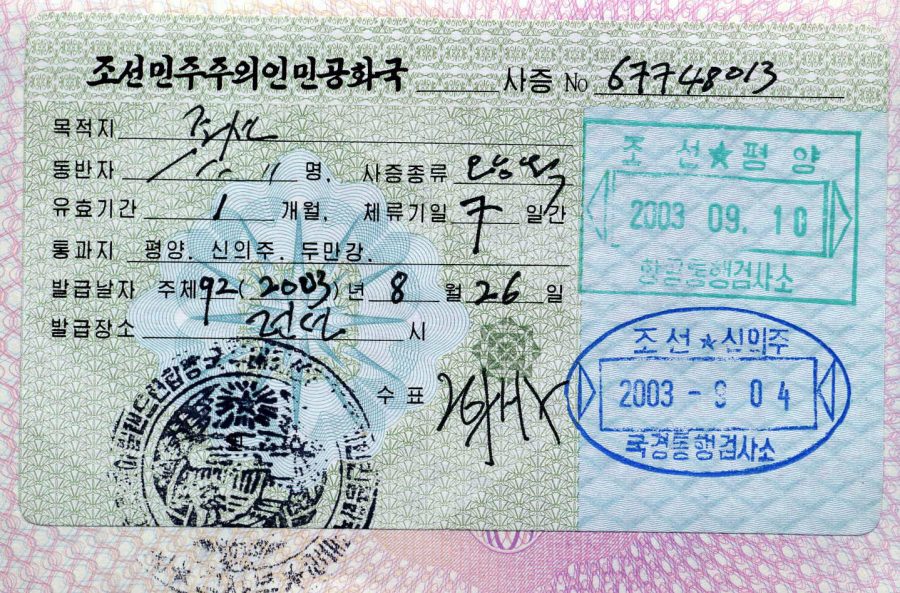 My North Korean visa
Obtaining a visa to visit the DPRK (Democratic Peoples Republic of Korea, aka. North Korea) is somewhat difficult, even with a UK passport. Although this was a 7-day tourist excursion, they require your CV and a written letter from your employer confirming your position at the company you work for. Very few westerners visit this country each year. Incidentally, North Korea prefers to be called the DPRK. South Korea isn't really recognized and is always spelled with a lowercase 's' according to the North Koreans!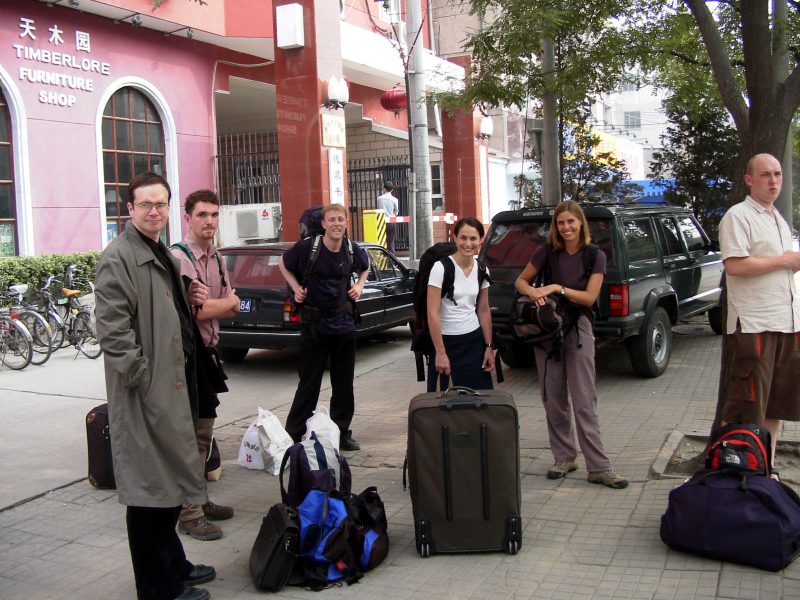 Our group before we set off!
Just outside the Red House Hotel in Beijing, we wait for our taxis to take us to Beijing Railway Station for our long-awaited journey into North Korea. From left to right, a Lithuanian, Liam from Ireland, Iain from England, two Ozzies and Simon our guide.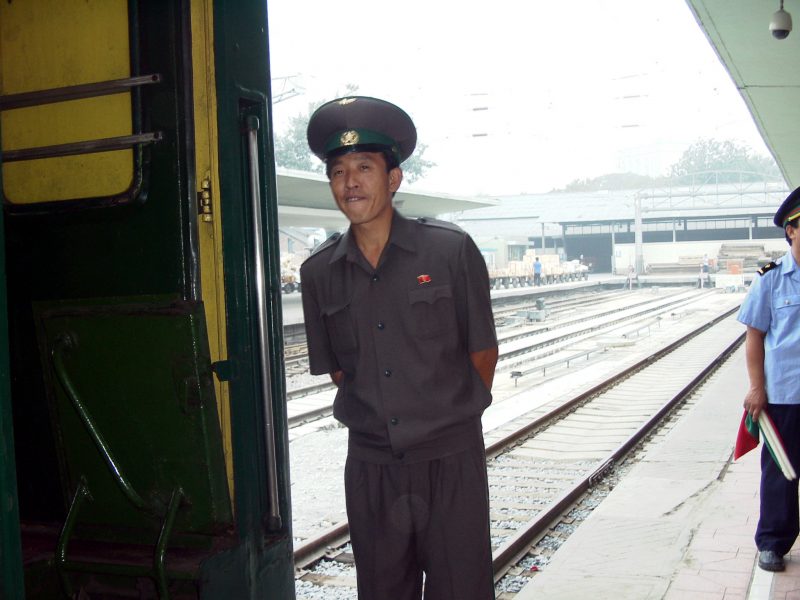 North Korean train conductor
The last two coaches (old East German stock) on this overnight train continue over the Chinese-North Korean frontier. The journey from Beijing to Pyongyang takes more than 24 hours having been delayed at the border for 5 hours and the train stopping unexpectantly several times whilst in North Korea. Notice the obligatory badge on the conductor.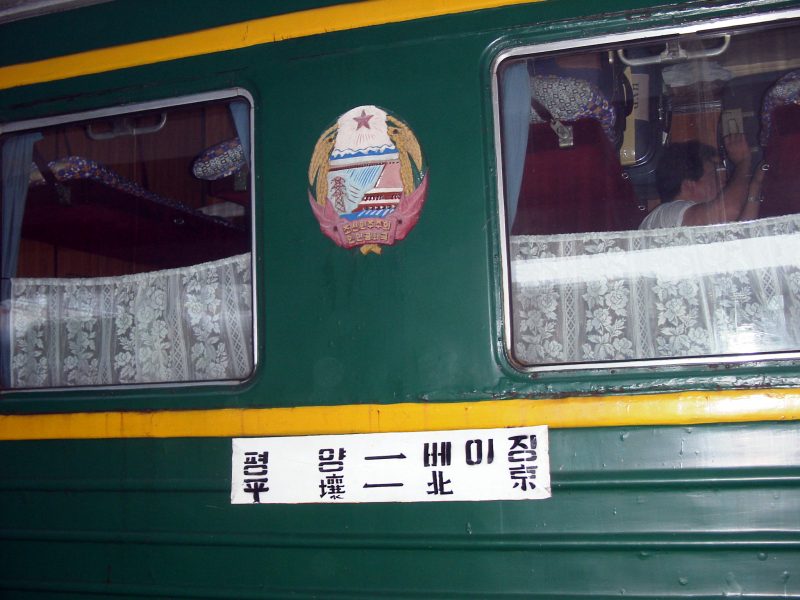 From Pyongyang to Beijing
Old East German railway stock taking us to Pyongyang from Beijing.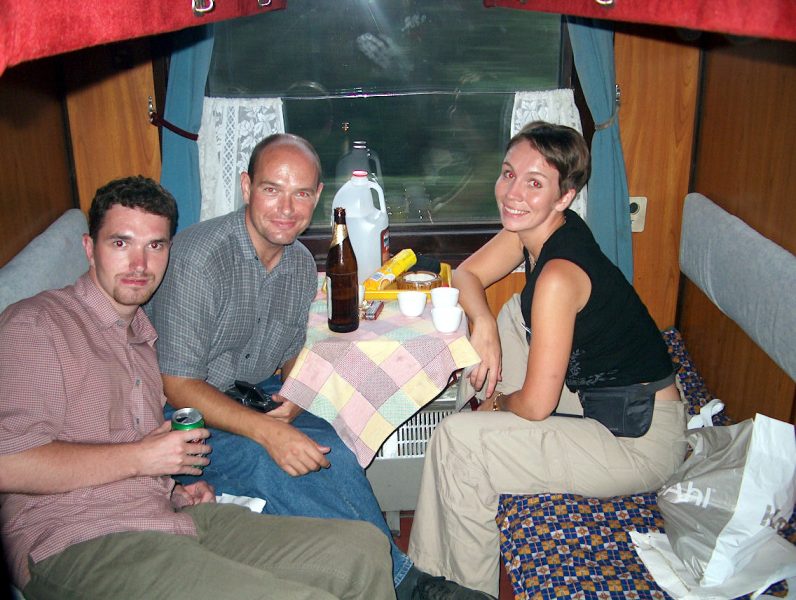 Our compartment for the next day or so!
Liam from Ireland to the left, me in the middle and Julia from Russia on the right. Liam, being a proper Irishman, was prepared and offered us beer for the journey ahead!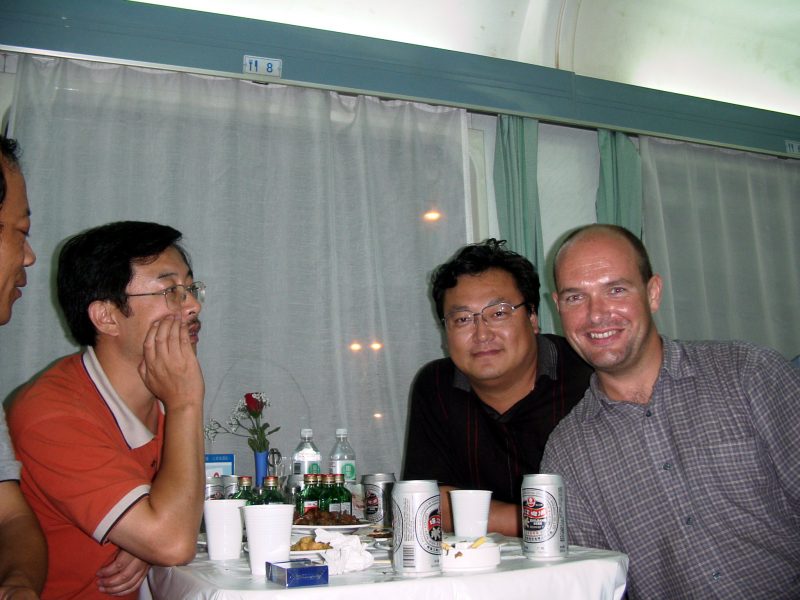 Dinnertime in Chinese part of train
Before we go off to bed, we enjoy a meal in the Chinese restaurant car. Only the last three carriages of the train are North Korean, of which we had our compartment in. However, we came upon a little glitch. The door between the North Korean and the Chinese section was locked and we had to knock impatiently for one of the Chinese conductors to open it for us. After being in near-candlelight in the North Korean section, we were blinded by the light whilst entering the Chinese portion. After our meal, I was invited for a couple of beers from some Chinese guys, as you can see!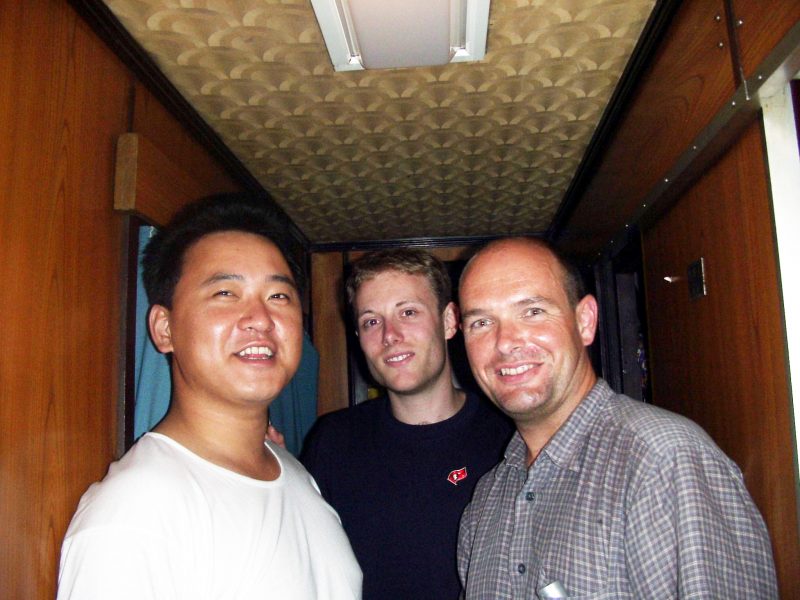 On train to North Korea
We meet a few North Koreans travelling out of Beijing. I'm pictured on the right while another fellow traveller is pictured centre. The lighting in the train is very dim, but cozy! Our North Korean friend offered us food and drink in near pitch-black darkness during our journey to Pyongyang.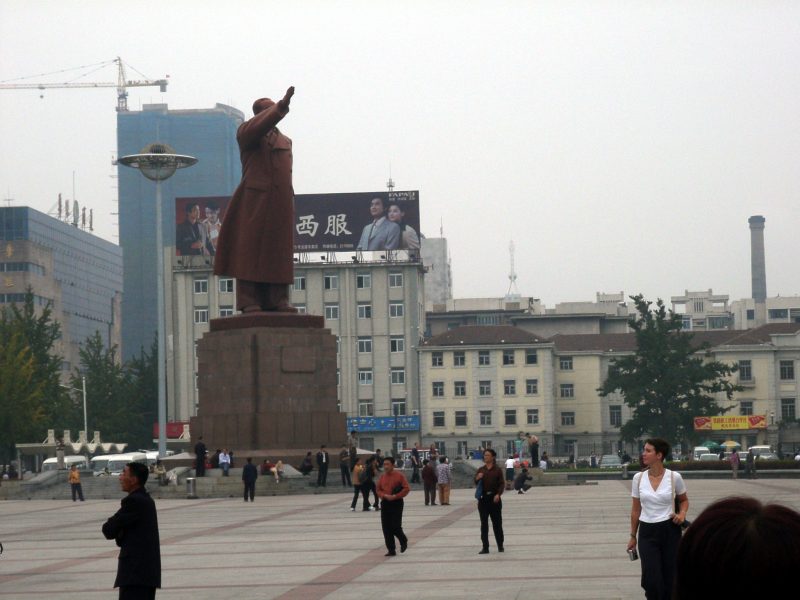 Dandong, last stop before North Korea
We had a few hours wait before the we head off over the border to North Korea on our train. We wander around the town of Dandong and say goodbye to a statue of Chairman Mao.
Dancers in Dandong
Out of the blue, we saw these people dancing near the railway station in Dandong.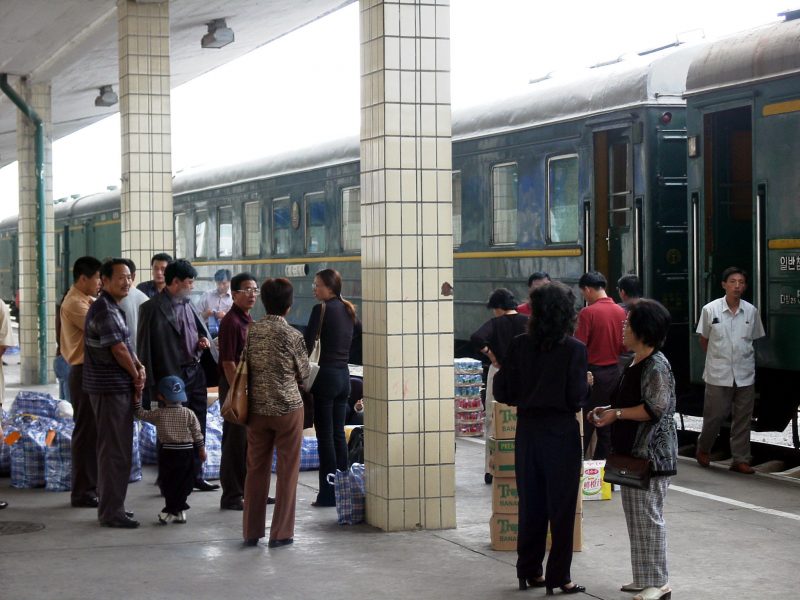 North Koreans with supplies
Before entering North Korea, the train terminates at Dandong in China. After a couple of hours wait while the Chinese portion of the train departs and the rest of the North Korea train attaches to our coaches, we see a large gathering of North Koreans with supplies bought from China.
Crossing the border
Having filled out our Chinese departure cards and SARS test, we slowly proceed over the Amnok River serving as the frontier. At this point, there is no turning back. We cross parallel to another bridge, half of it destroyed. This now serves as an observation platform to those who wish to get as close to North Korea as possible without entering it.
First glimpse inside the DPRK
An alien landscape unfolds while we cross the other side. Within no time, we see the ubiquitous portrait of Kim Il Sung on a building front. Seconds later, we arrive at Sinuiju Station. I don't think anyone dares take photographs at this point. Several guards are standing on the platform while we approach. The ceremony of checking all luggage takes nearly three hours. Passports and visas are taken away for inspection while all we could do is wait. Martial music bellows out of the station megaphone and propaganda in large red writing can be seen in several places. We are all rather tense at this point. George Orwell springs to mind. This was a somewhat tense and uncomfortable moment.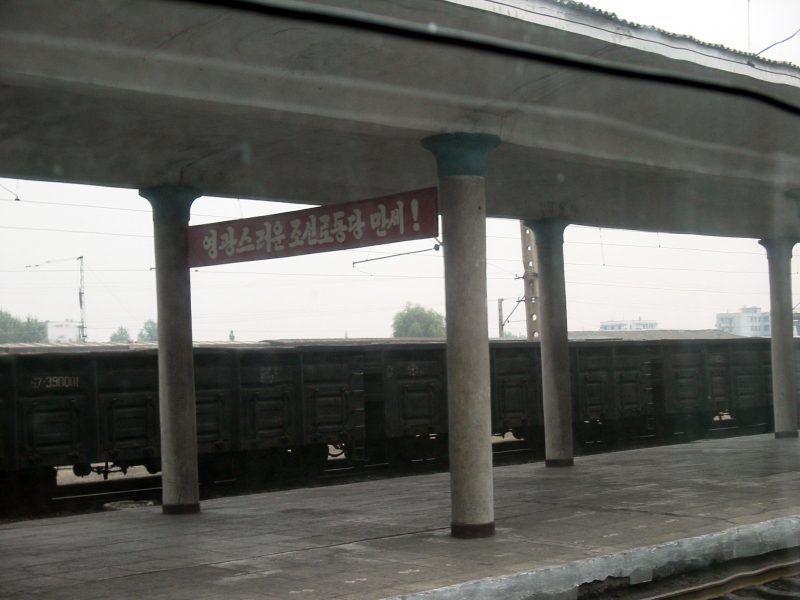 On arrival at Sinuiju Station, N. Korea
This bleak railway station was to be our home for the next three hours while the North Korean border officials check everything. It's a pity I couldn't read any of the Korean signs though!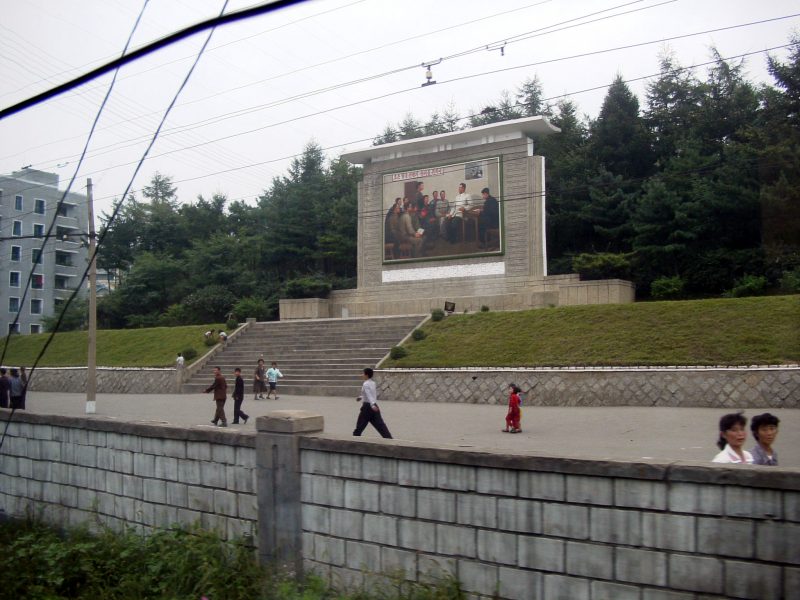 Sinuiju, North Korea
After clearing North Korean immigration, we slowly proceed through the town of Sinuiju. We shouldn't be taking pictures through the window, but we can't resist. Actually, I let Julia take most of the shots. I told her she should be careful, but, hey, she's Russian! She's experienced a little of this in her childhood.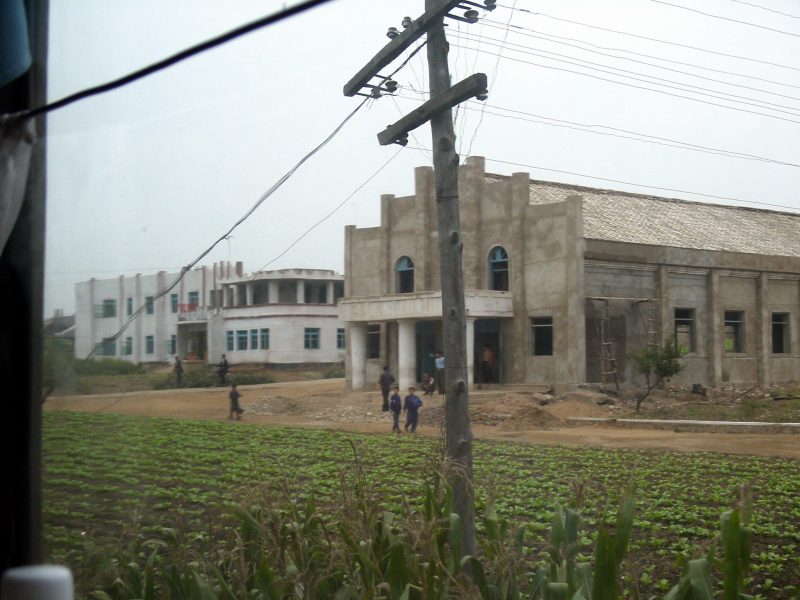 A seemingly derelict building
Except in Pyongyang itself, I don't ever recollect seeing any lights in any of the buildings.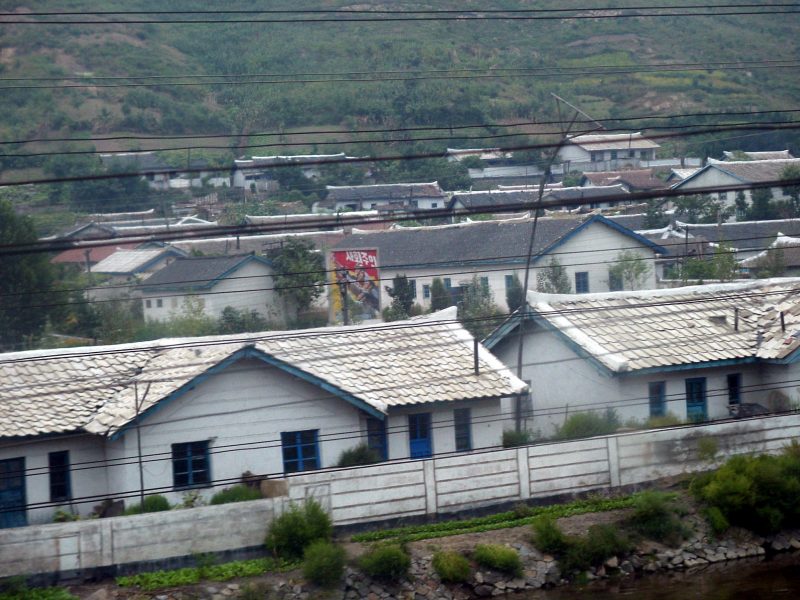 Typical village
A stark piece of propaganda can be seen in the middle of this quiet village.
Typical North Korean railway station
The everpresent portrait of Kim Il Sung hangs over a typical railway station building.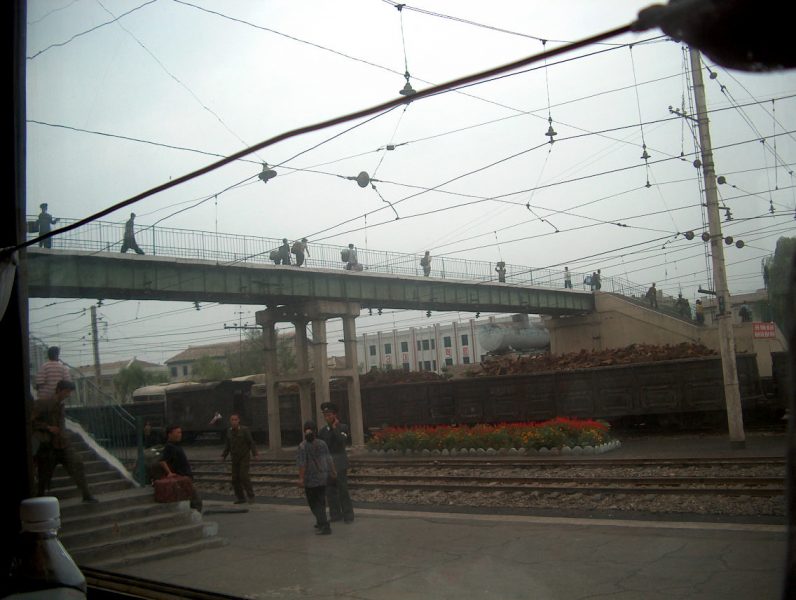 Taken at a typical railway station
Someone in our group had the audacity to take this photo. I often heard about the story of a tourist being reported by a local who was taking pictures only to have the camera confiscated on arrival in Pyongyang.
Street in North Korean town
Typical street in a large town in North Korea.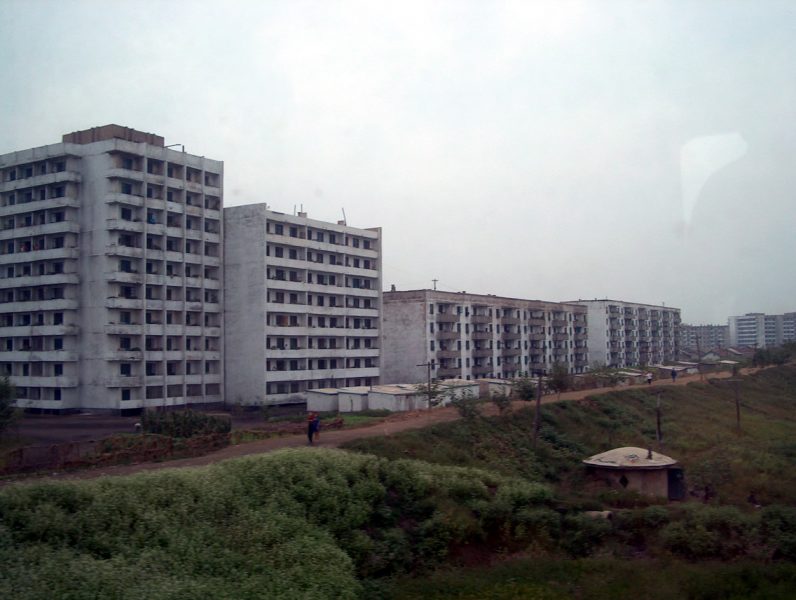 Tenement blocks
Endless rows of large lifeless tenement blocks around the suburbs of a large town.
Strange way to ride a bike
The flowers are to be used for the celebrations during National Day. This falls on September 9th and this year is Juche 92 (2003). Their calendar follows the founding of the Juche idea which forms the heart of the ideology of self-reliance.
Looking cool with those sunglasses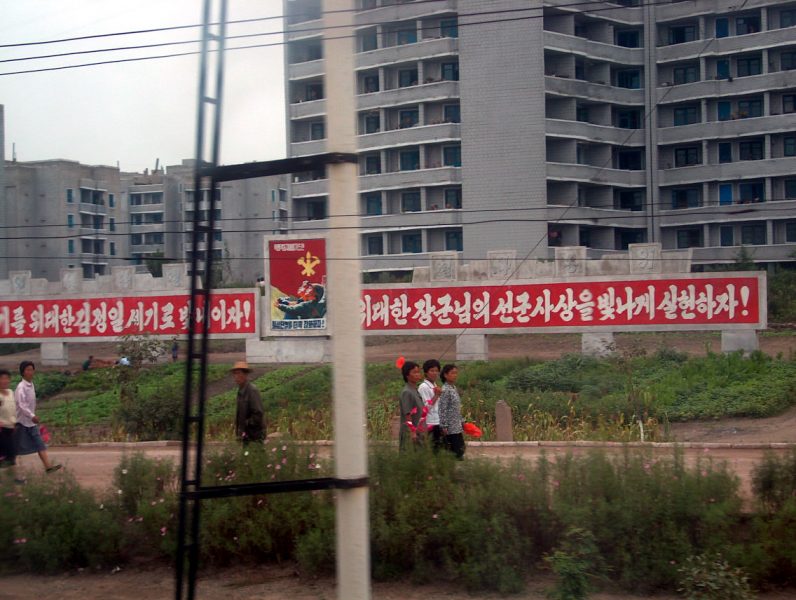 No advertising but plenty of propaganda
I keep meaning on asking someone who can read Korean to translate this!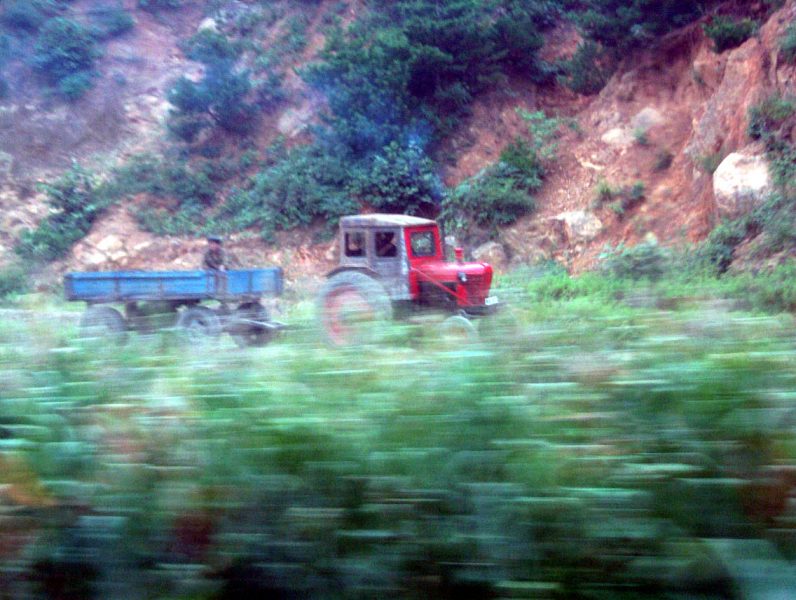 Farming in North Korea
A glimpse of a tractor with what looks like to be soldiers stranding in the trailer.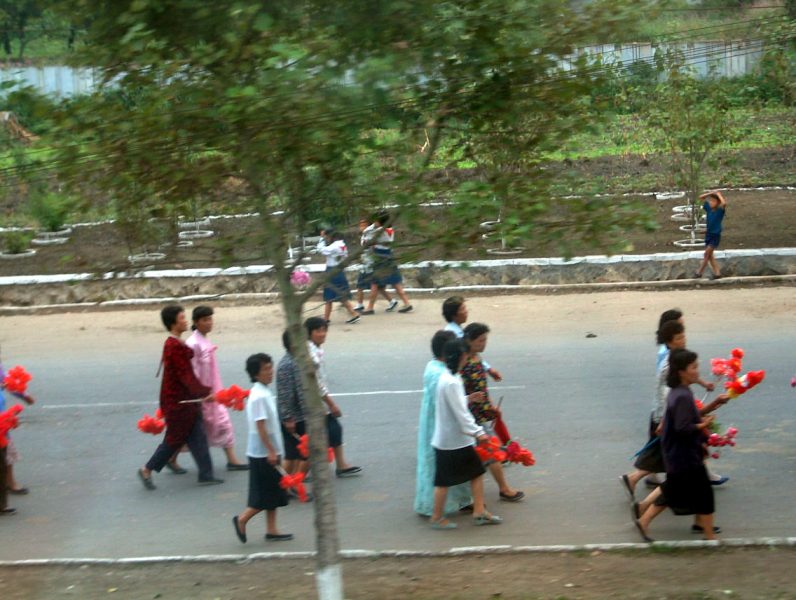 Going to National Day practice
Many thousands of people participate in mass gatherings waving a collection of different coloured flowers or picture cards to form moving images. The legendary Mass Games at the May Day stadium in Pyongyang must constitute the world's most impressive display of choreographed dancing and gymnastics.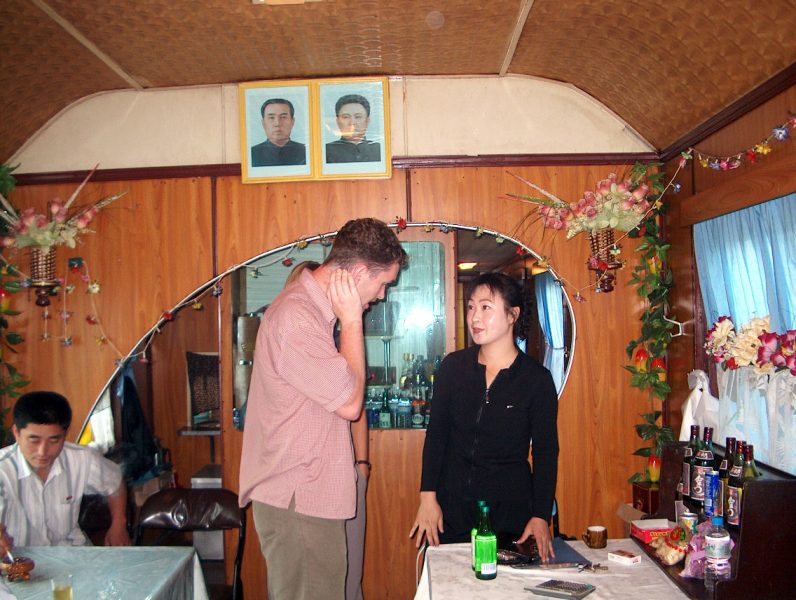 Buffet car in train to Pyongyang
It seems that beer was not on offer although I did see quite a few bottles stashed away in a corner of the car. However, there were a couple bottles of soju, which tended to taste like quite strong Japanese sake although quite a bit rougher. The left-hand portrait is of Kim Il Sung who died in 1994 (although he is still officially president!). The right is his son, Kim Jong Il, who became the next ruler. Here, our Irish friend, Liam, is trying to negotiate obtaining stocks of alcohol!
Korean soju. Strong stuff!
We did manage to drink quite a lot of this stuff. I guess it's a kind of strong rice wine but served chilled. It was the King of Hangovers!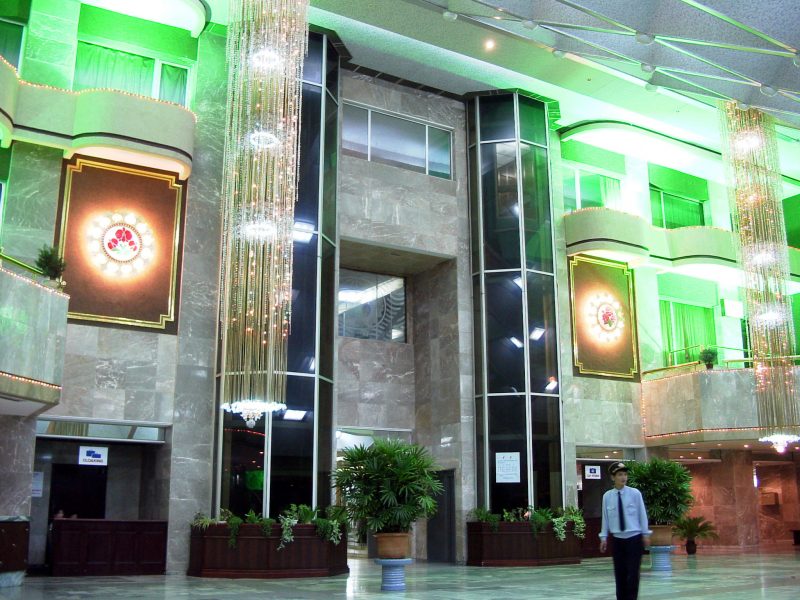 Our salubrious hotel in Pyongyang
This is the Yanggakdo Hotel. It's situated on an island in the middle of the Taedong River in Pyongyang. We are not allowed to wander unsupervised from the island at any time.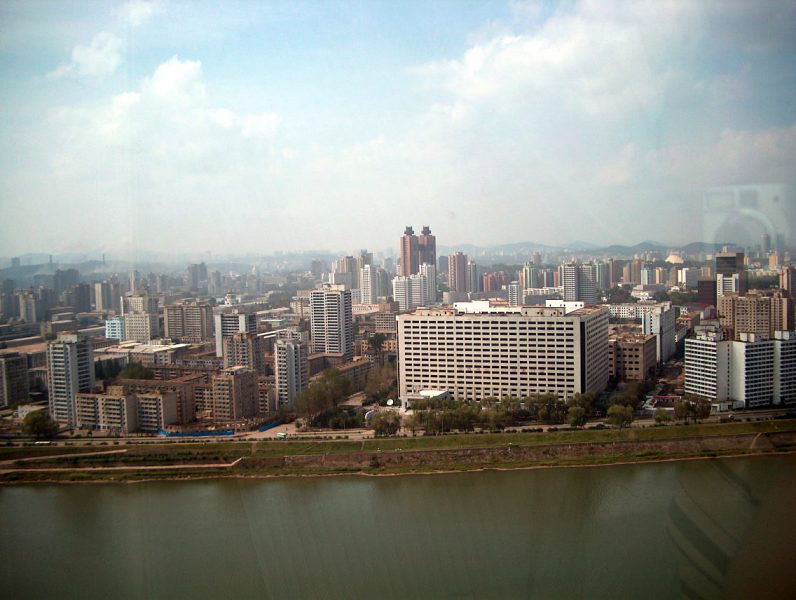 View from a hotel room
The skyline of North Korea's capital, Pyongyang, unfolds with the twin-tower 5-star Koryo Hotel in the background.
Schoolchildren in Pyongyang
A group of schoolchildren walk past us on the way to Kim Il Sung Square. In the background is Number One Department Store.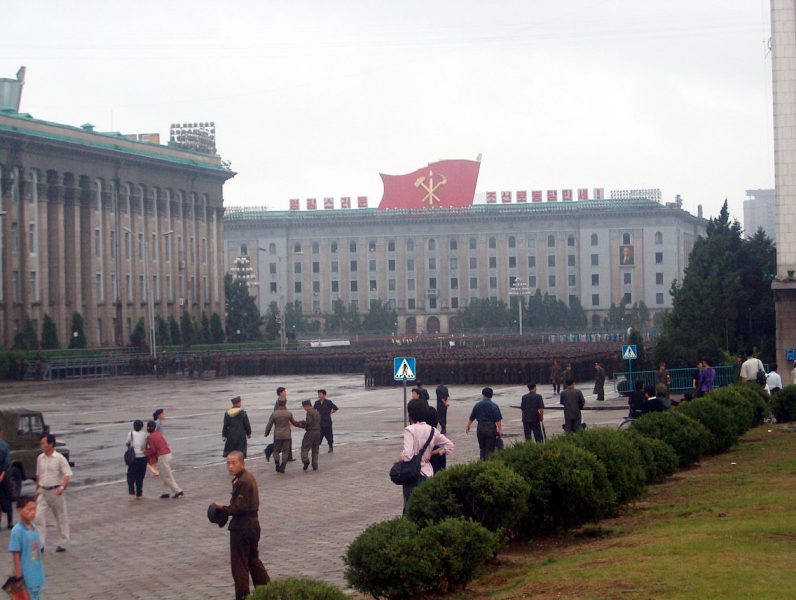 Hundreds practicing for the big day
In the background you could see and hear hundreds of soldiers practicing in Kim Il Sung Square for the National Day festivals.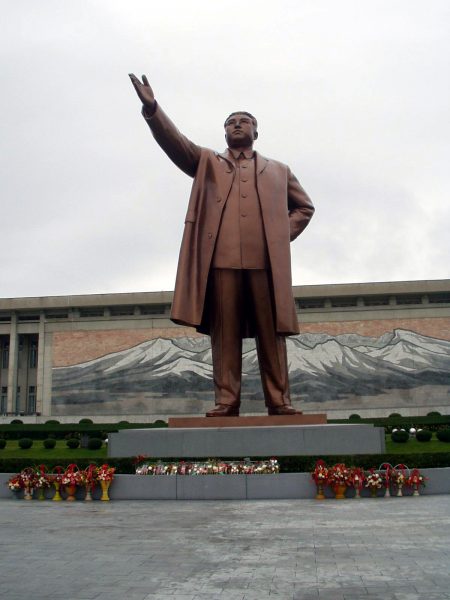 Great Statue of Kim Il Sung
It is respectful for any visitor to North Korea to lay flowers near the base of the great bronze statue of Kim Il Sung.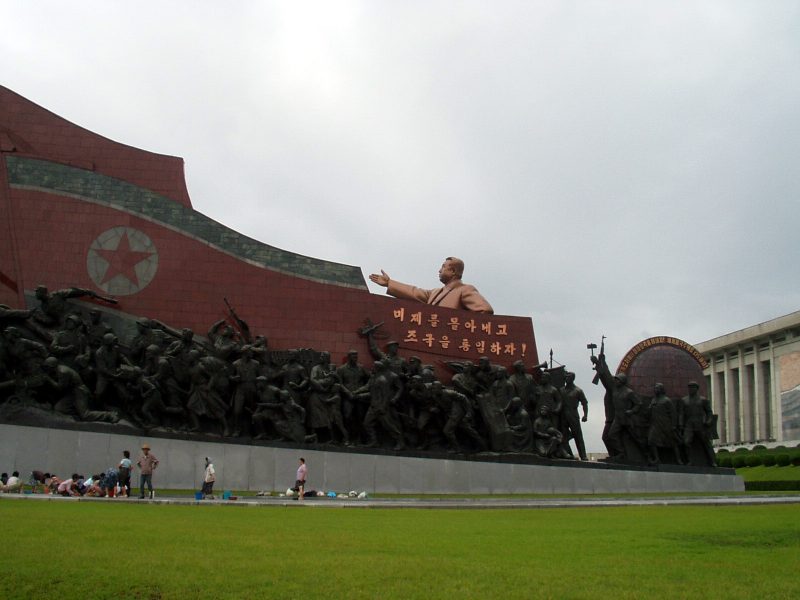 Kim Il Sung Monument
It's difficult to conceptualise just how big these monuments are in the flesh!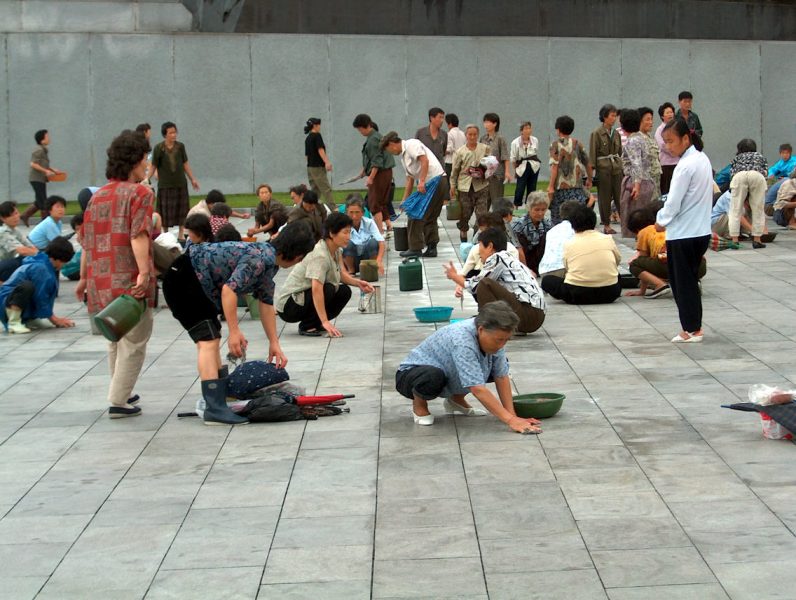 Cleaning the pavements near statue
This is one of the most sacred places in North Korea where the great statue of Kim Il Sung resides. However, I couldn't believe this!
Children near great statue
Children carrying a bag of sweets on the pavement next to the great bronze statue of Kim Il Sung.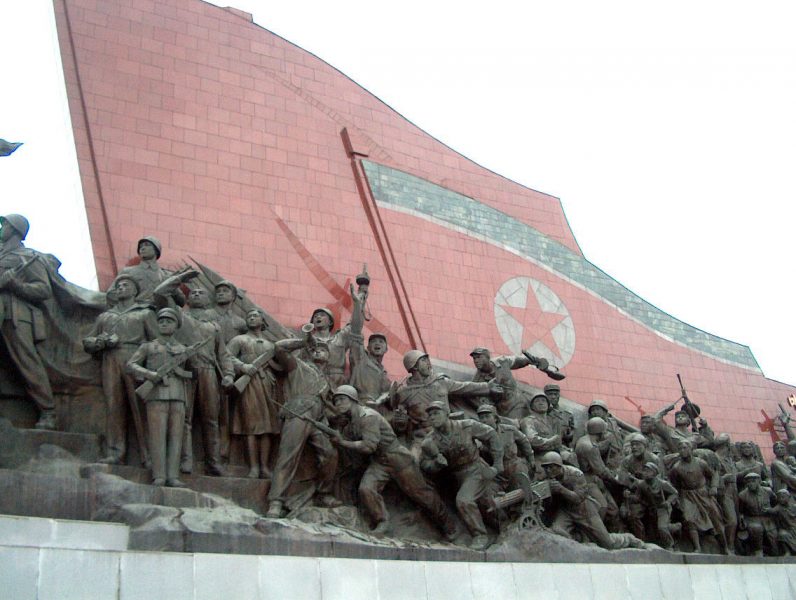 Monument either side of Great Statue
On either side of the great bronze statue of Kim Il Sung is an enormous monument.
Tower of the Juche Idea on horizon
In the background, the Tower of the Juche Idea can be seen with its prominent red torch perched on top. Good views of Pyongyang can be seen from the top. At night, however, the red torch is dimly lit giving a spooky ambient atmosphere, especially in light fog.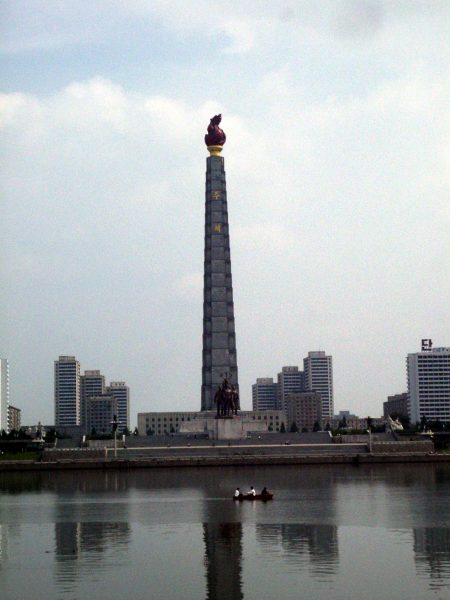 Tower of the Juche Idea
Juche is North Korea's philosophy of 'self-reliance'. Note the symmetrical layout of the city architecture.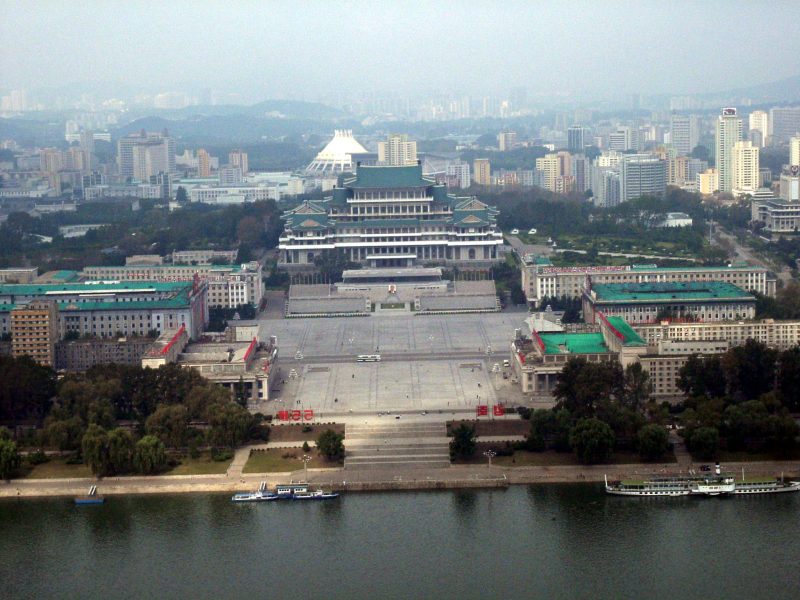 Kim Il Sung Square from Juche Tower
View of Pyongyang's Kim Il Sung Square with the strange conical white ice stadium building in the background. Such architecture would not look too much out of place in Brazil's bizarre capital, Brasilia.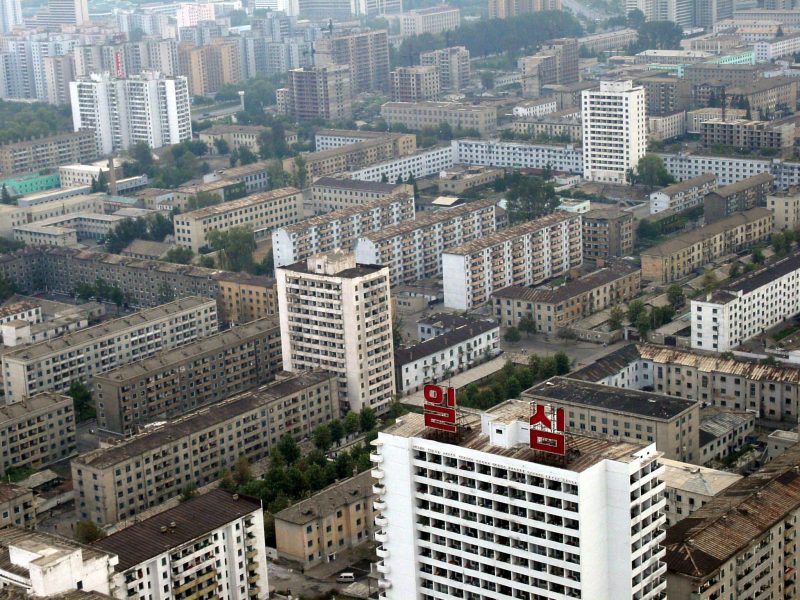 View from Juche Tower
Although the North Koreans are exceptionally tidy and take great pride in their city, the lack of money to maintain the infrastructure is only too evident here.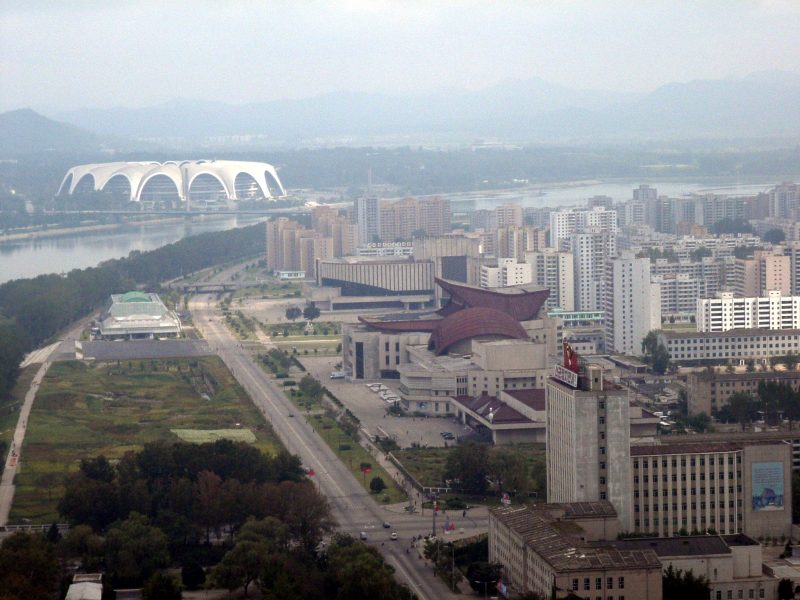 View from Juche Tower
May Day Stadium (based on the shape of a parachute) in the background is one of the world's largest and can hold in excess of 100,000 spectators. It is not uncommon to have more performers than spectators during some of the great Mass Game events.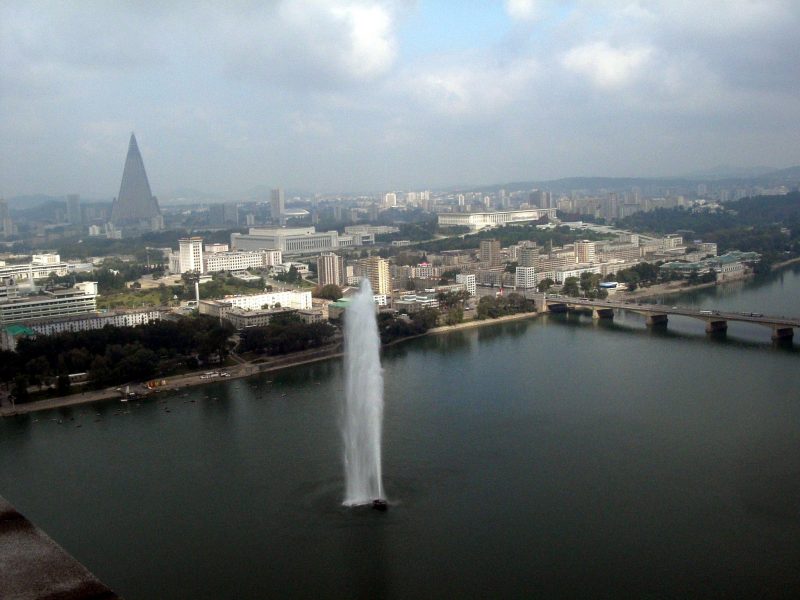 View from Juche Tower
Huge fountains in middle of Taedong River and sinister-looking uncompleted 104-floor pyramid hotel (Ryugyong Hotel) in the background dominates the silent skyline of Pyongyang. This hotel reminded me of the Last Redoubt in William Hope Hodgson's, The Night Land. With nine revolving restaurants and a height of 330m, it could have been one of the world's most impressive buildings, but construction stopped in 1992.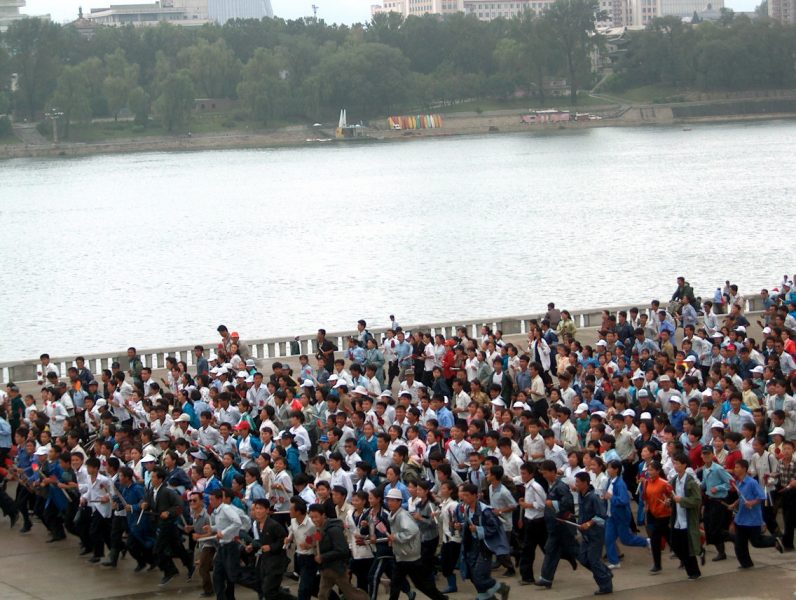 Mass Game practice near Juche Tower
A crowd of people at the base of the Tower of the Juche Idea practice for the mass celebrations and torch parade on National Day.