Contents     Part 1     Part 2     Part 3     Part 4     Part 5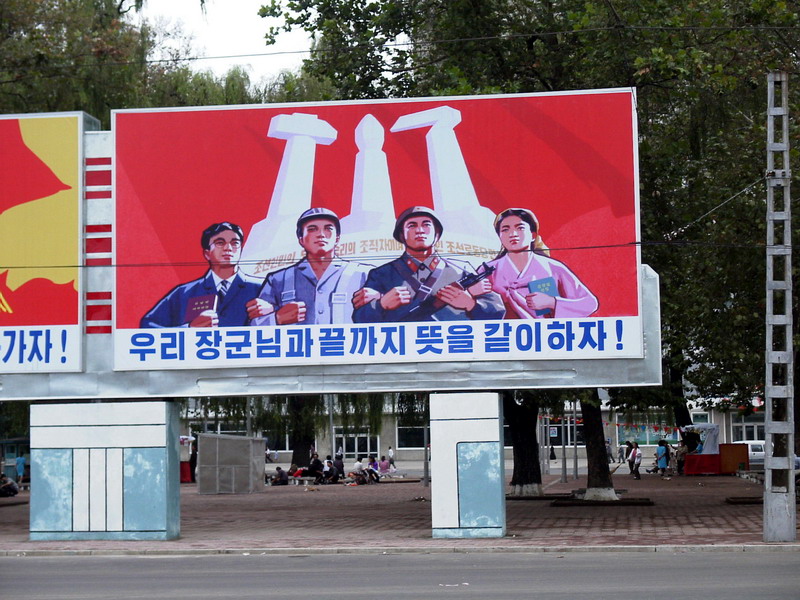 Poster by Pyongyang Railway Station
Upon exiting Pyongyang Railway Station, the first thing that will greet you are the oversized propaganda signs.
Pyongyang Railway Station
The imposing facade of Pyongyang Railway Station.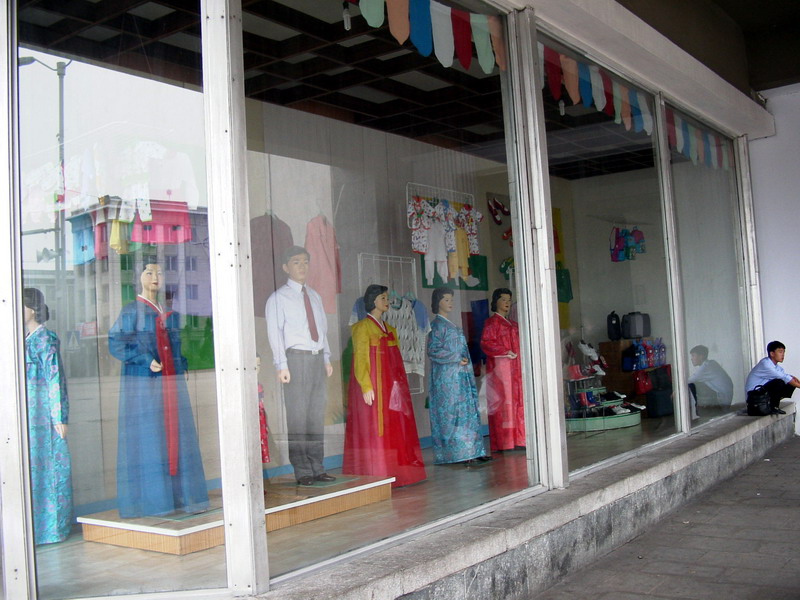 Department Store #2
Going to Department Store #2. Apparently, Department Store #1 was inaccessible due to the preparations for the parade.
Buying Mr Kim a new suit
Apparently, Simon owed Mr Kim a favour, so he bought him a nice new suit, shirt and tie!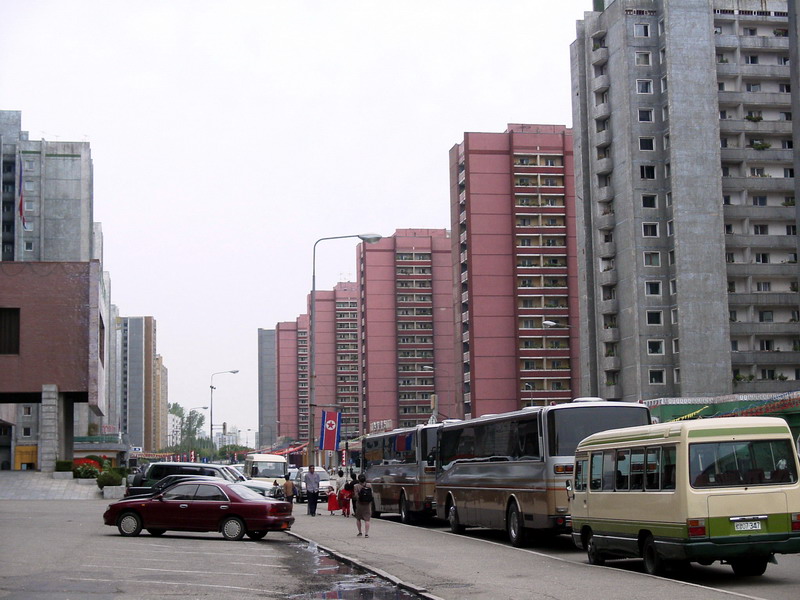 A main street in Pyongyang
This view was taken just outside the Koryo Hotel near the Stamp Shop and the Railway Station.
Performance at the Military Circus
Acrobats at the Military Circus gave us a good performance in a similar vein to those given by the Chinese Circus.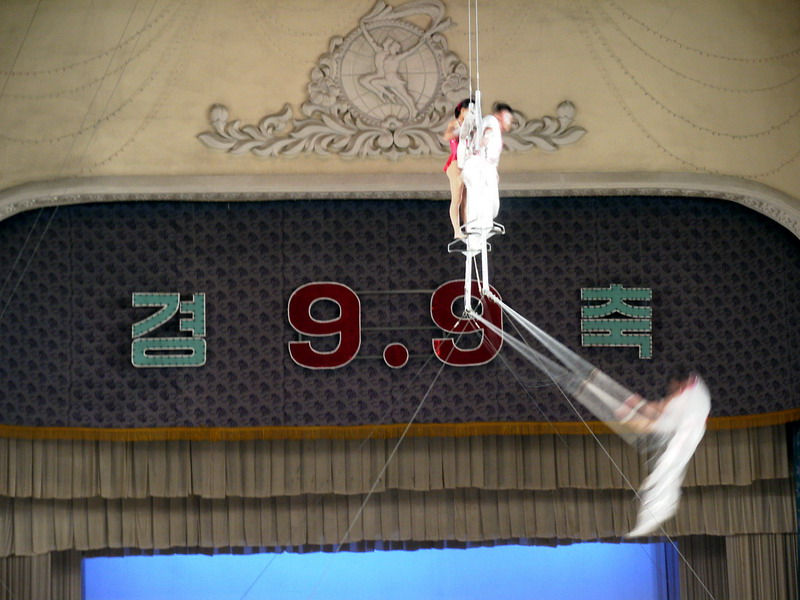 Trapeze artist at military circus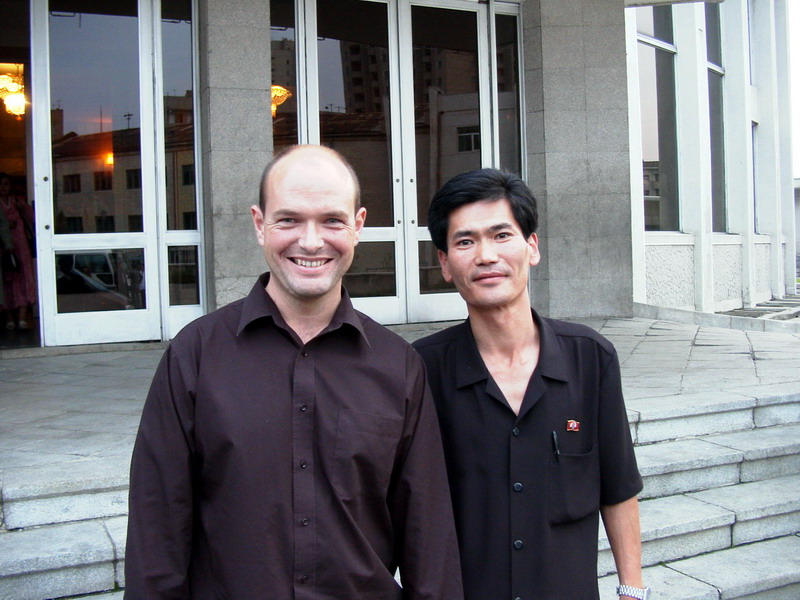 Mr. Pak and I outside circus
Mr Pak, previously televised on Ben Anderson's Holidays in the Axis of Evil, posing outside the Military Circus. Mr Pak told us that he was betrayed by Mr. Anderson as this was not supposed to be a commercial recording. It was shown on the BBC without his consent.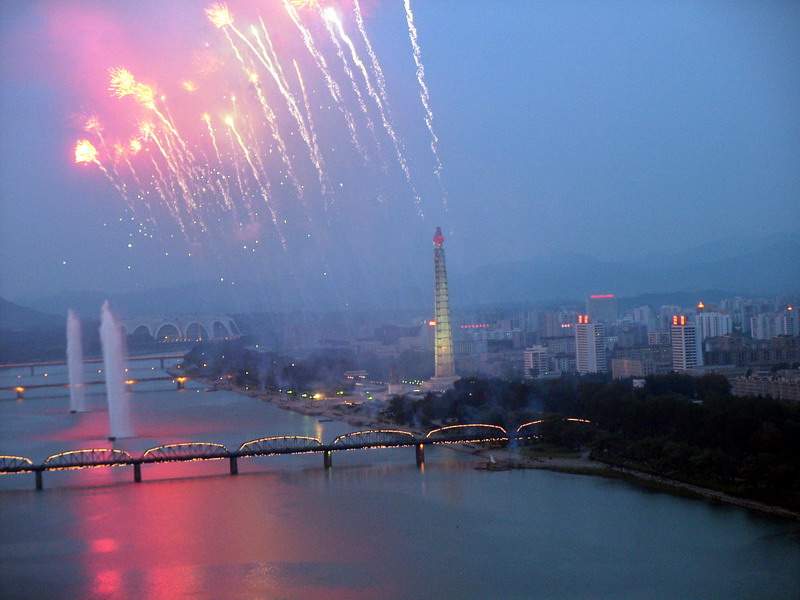 Fireworks from the hotel
Slow exposure shot from Yanggakdo Hotel of night celebrations on National Day.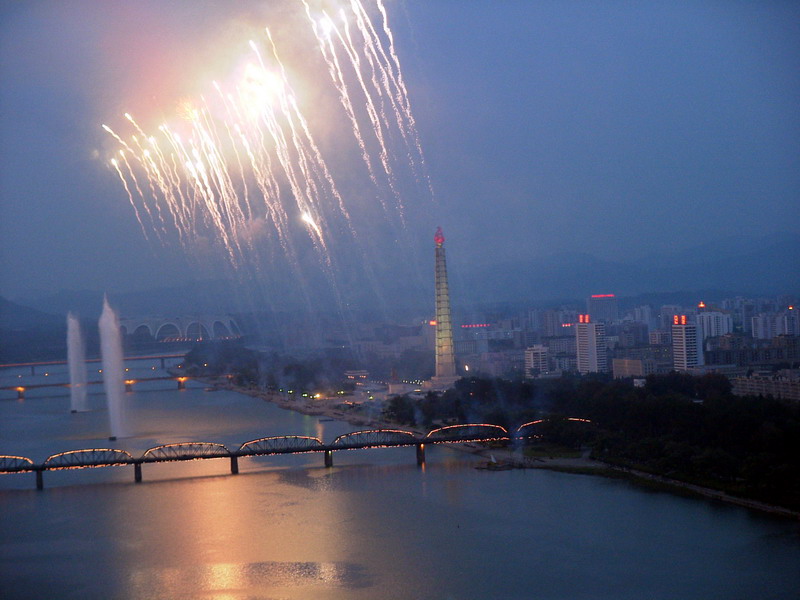 White fireworks this time!
Considering the camera I had, I was quite pleased with this! I used a tripod and a remote to achieve this and was just very lucky in timing!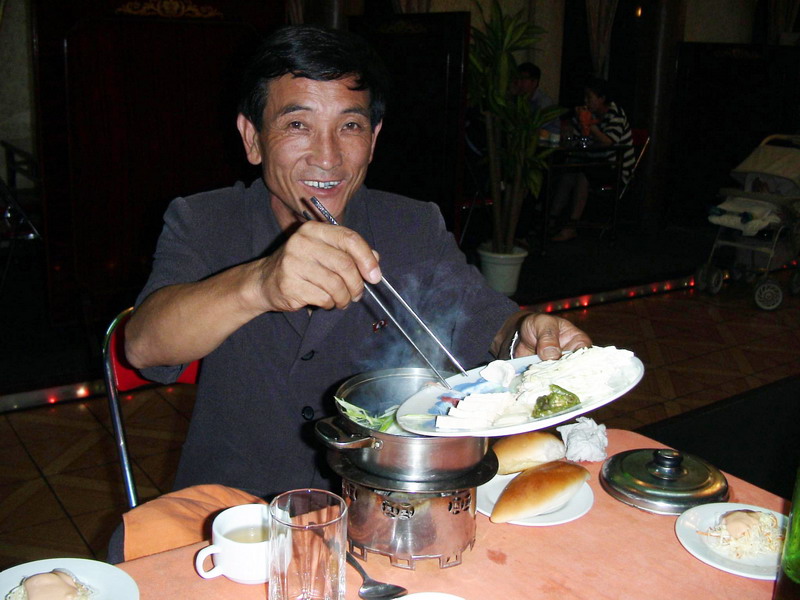 Our bus driver enjoying dinner
We had this strange dinner in what appeared to be in the back of an art gallery filled with mainly propaganda posters.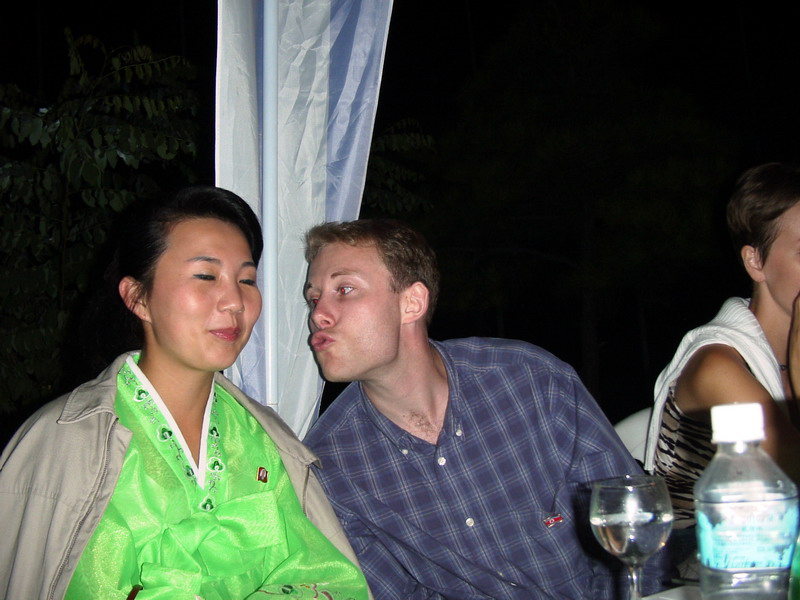 Ms. Wu was easily teased!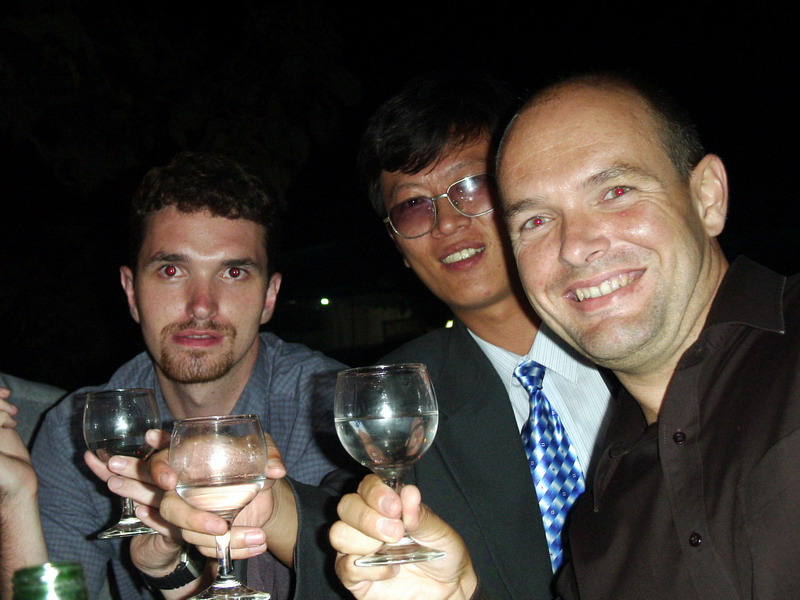 Last night in North Korea
We all got rather drunk on soju while sitting outside on a warm barmy evening. We also had the traditional Korean cold noodles which was quite spicy! Apparently, Pyongyang is world-famous for its noodles.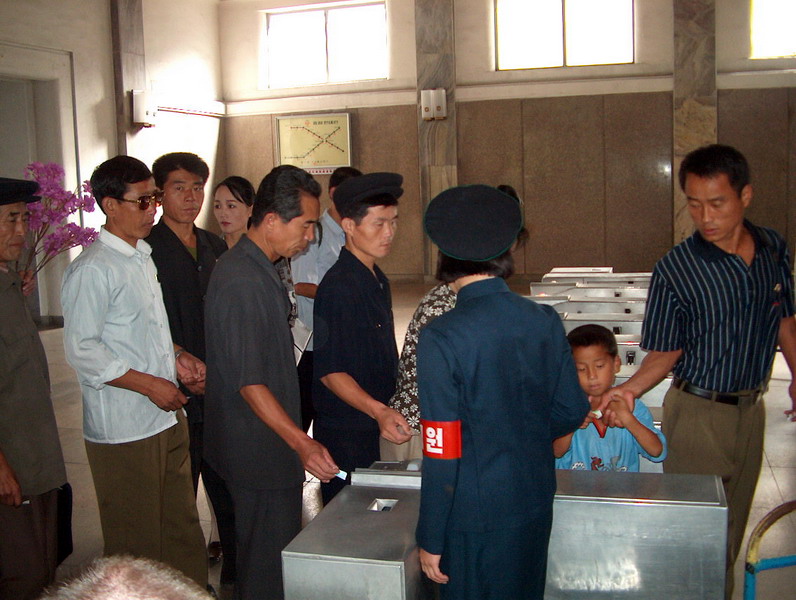 Entering the Pyongyang Metro
This is going to be exciting. A journey on the Pyongyang Metro subway.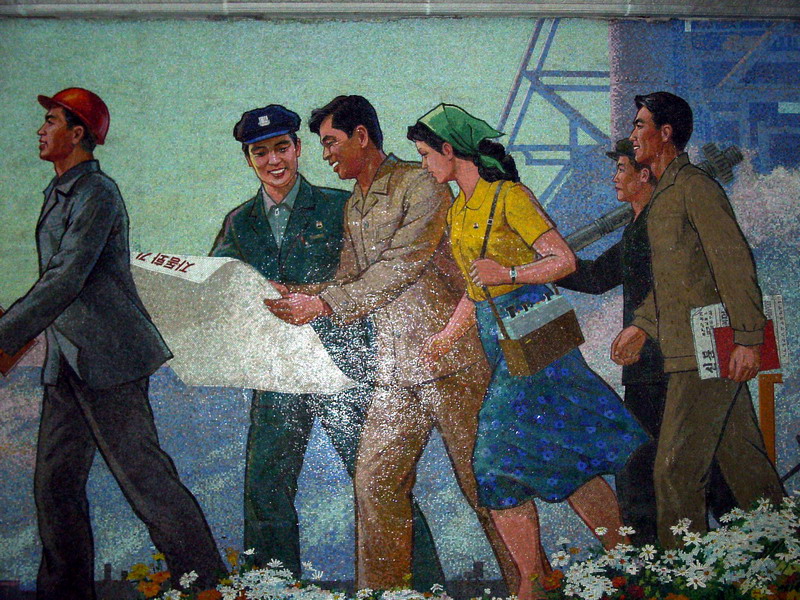 Mosaic in Pyongyang metro
One of many mosaics in the Pyongyang Metro. This is one of the deepest underground systems in the world complete with beautifully presented stations.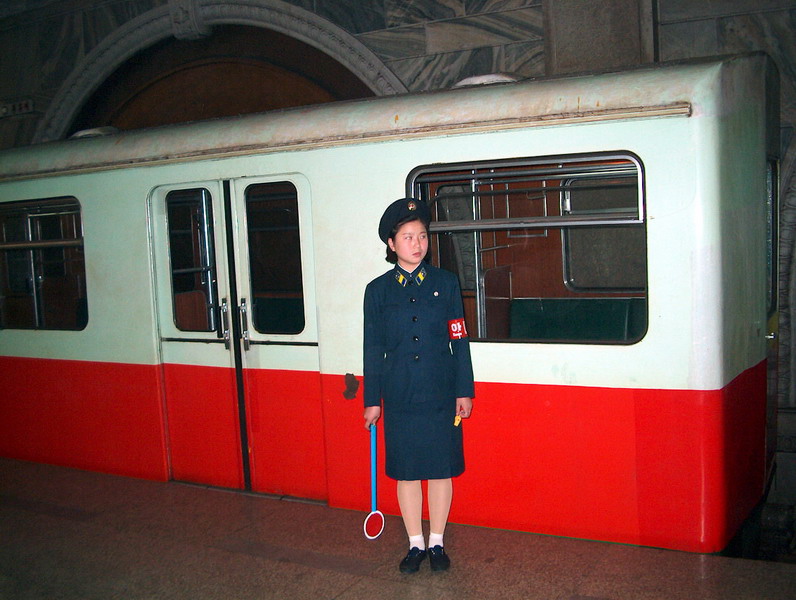 Pyongyang Metro
Former East German trains are used throughout the Pyongyang Metro.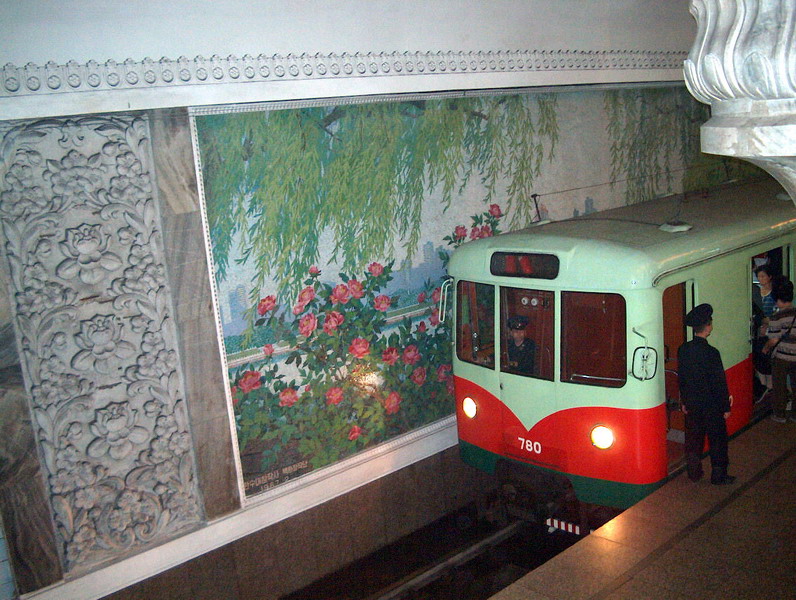 Pyongyang Metro
Beautiful mosaic of weeping willows along the Taedong River opposite station platform.
Inside carriage in Pyongyang Metro
Portraits of Kim Il Sung and Kim Jong Il stare at you from within every carriage of the Pyongyang Metro.
Mosaic on Pyongyang Metro platform
Yet another ornate mosaic opposite the station platform in the Pyongyang Metro.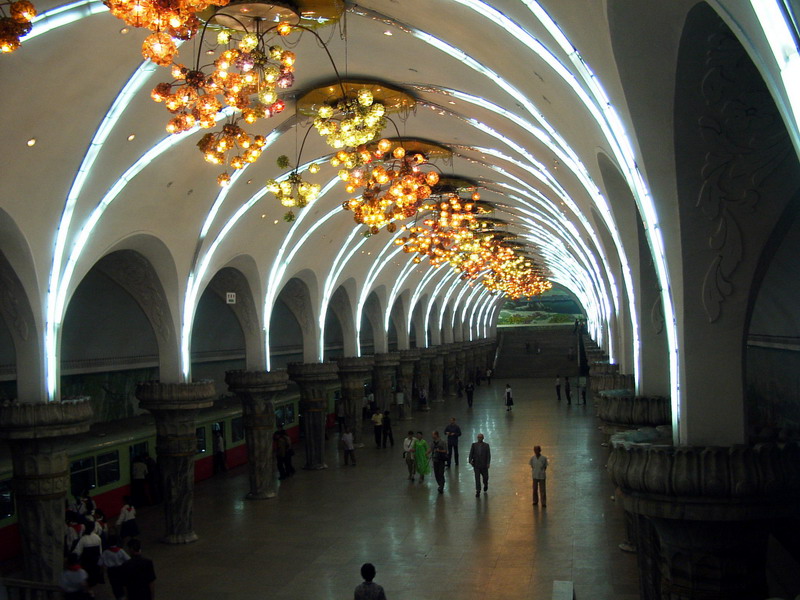 A Pyongyang Metro station
Incredibly grand station at the Pyongyang Metro. Notice the elaborate chandeliers.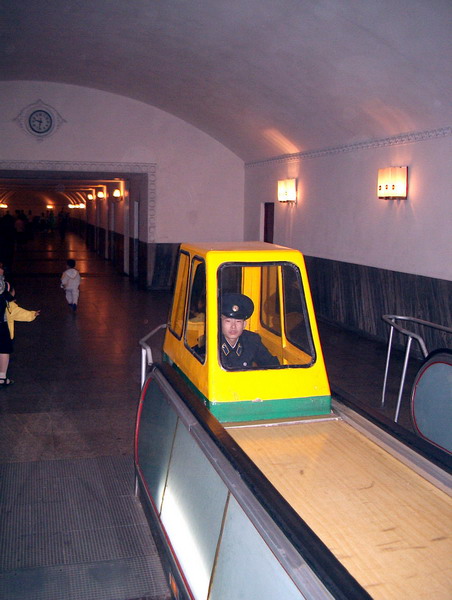 Pyongyang Metro escalator guard?
Baffling…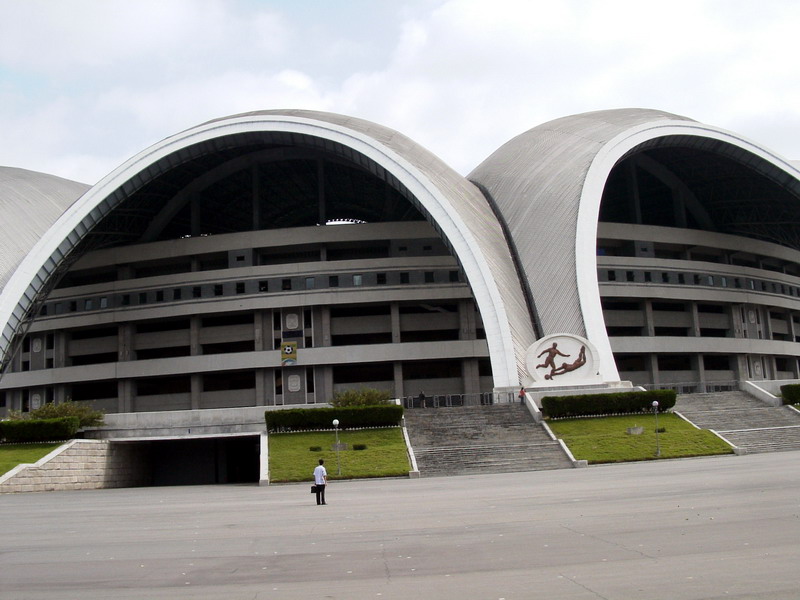 The May Day Stadium
This building is just too big to take in one photo this close! Can hold more than 100,000 people and has been host to the most spectacular human events in modern times, the Arirang Mass Games.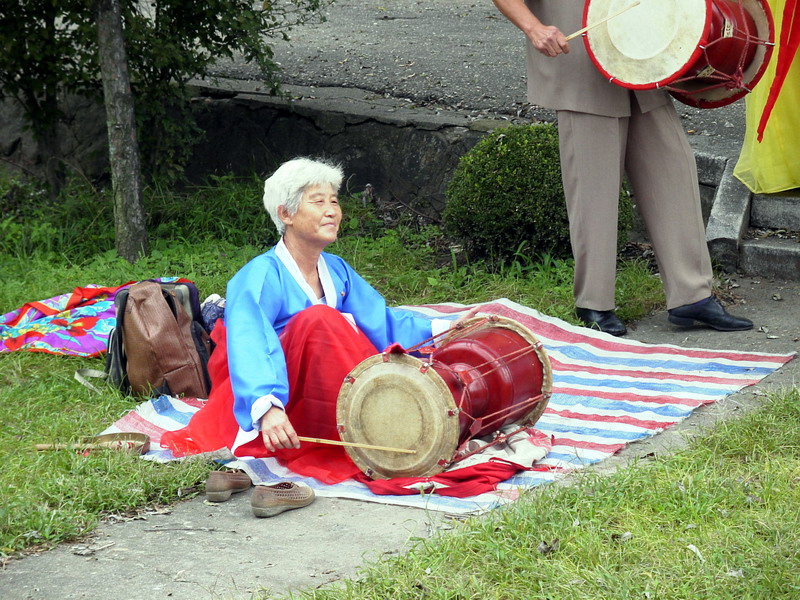 Moran Park, Pyongyang
The old folk of Pyongyang playing music and dancing in Moran Park.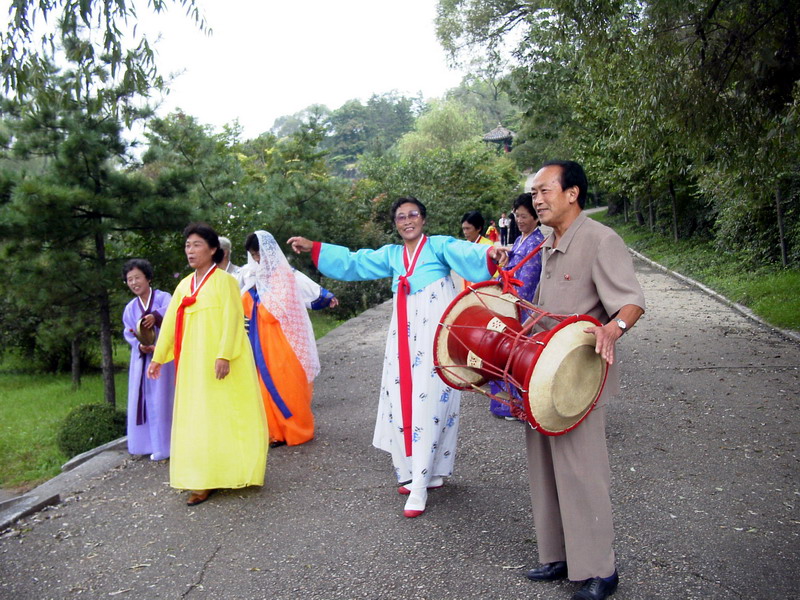 Moran Park, Pyongyang
Seems music and dancing is the big thing here…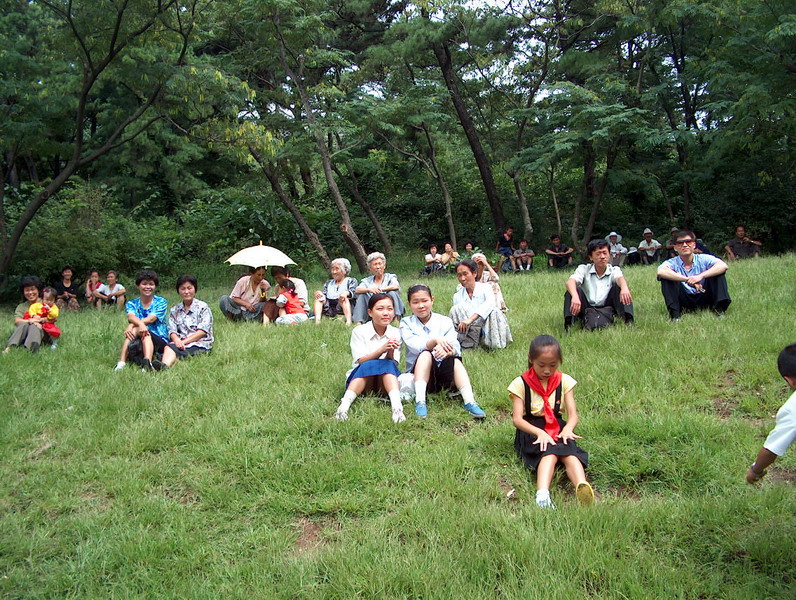 Moran Park, Pyongyang
It's like a snapshot of the 50s as far as clothing fashion is concerned.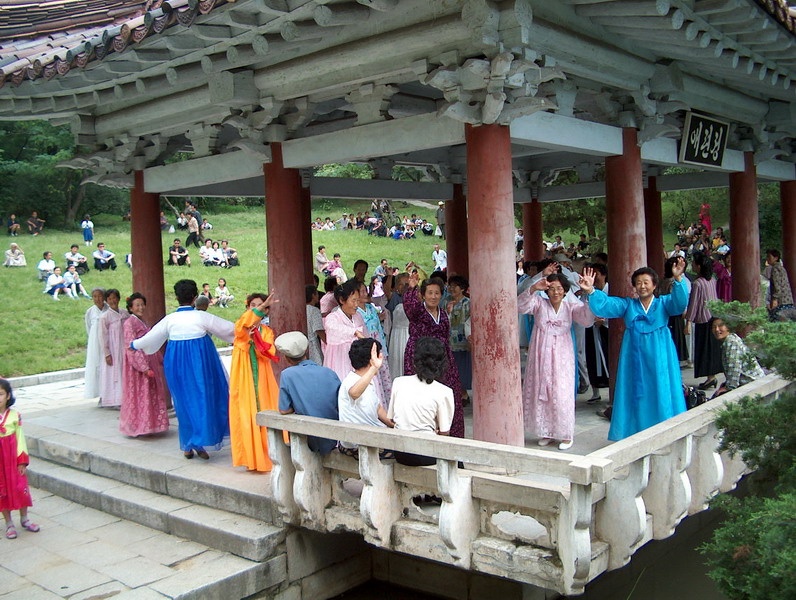 Moran Park, Pyongyang
Even I was invited to join in!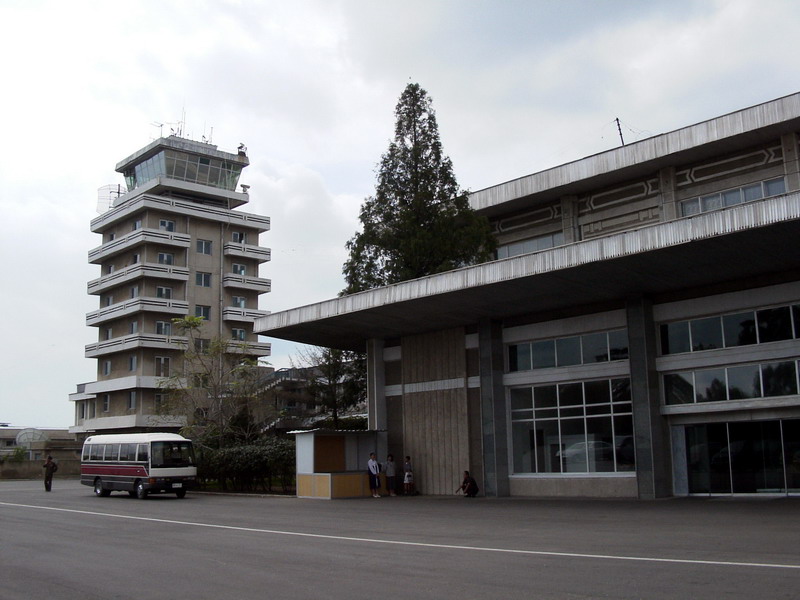 Pyongyang International Airport
Possibly the quietest international airport!
Pyongyang International Airport
The one and only departure for the day!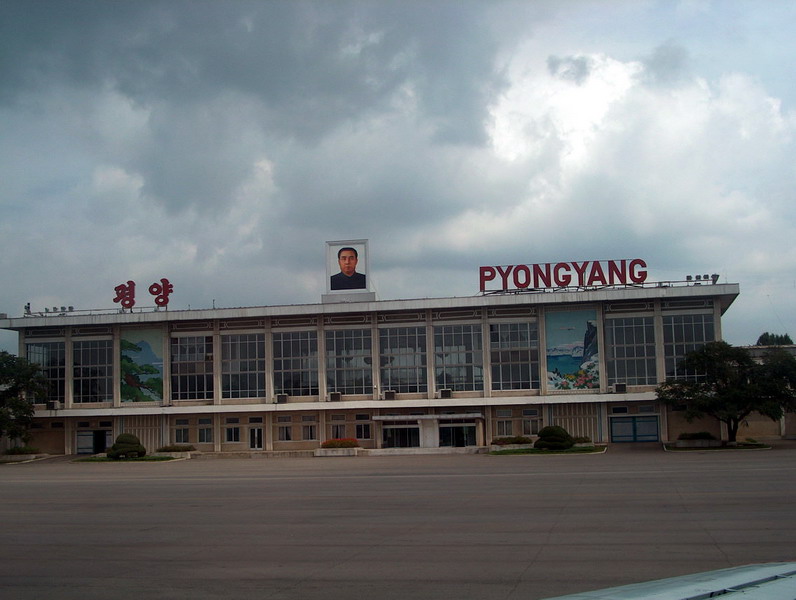 Pyongyang International Airport
Leaving the country was equally intimidating as entering it. This is where we have our passports returned. I was sitting on an Air Koryo plane with great relief but was scolded for taking a picture inside the aircraft!
On Air Koryo
The only flight leaving the airport today goes to Shenyang in China. We boarded an ancient jet and said our goodbyes to the 'Hermit Country'.
 Our Air Koryo plane
Getting off the plane in Shenyang, China.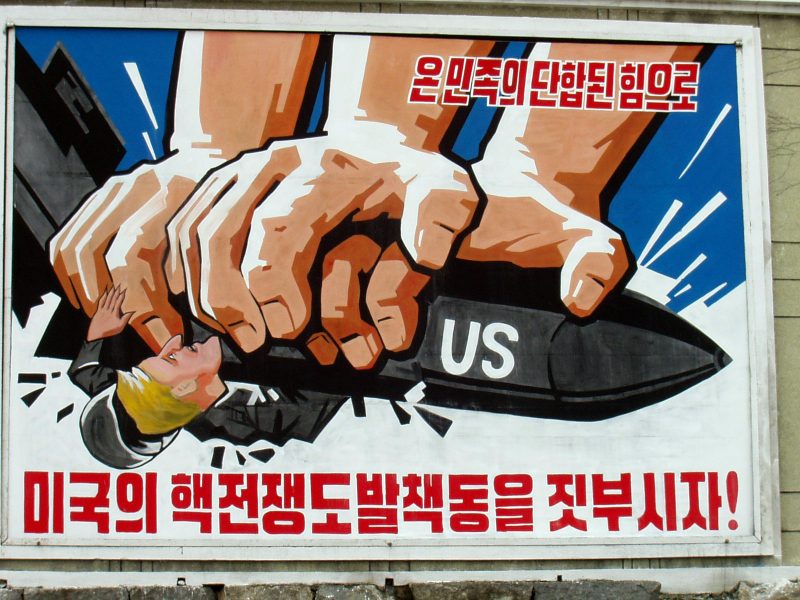 Propaganda poster art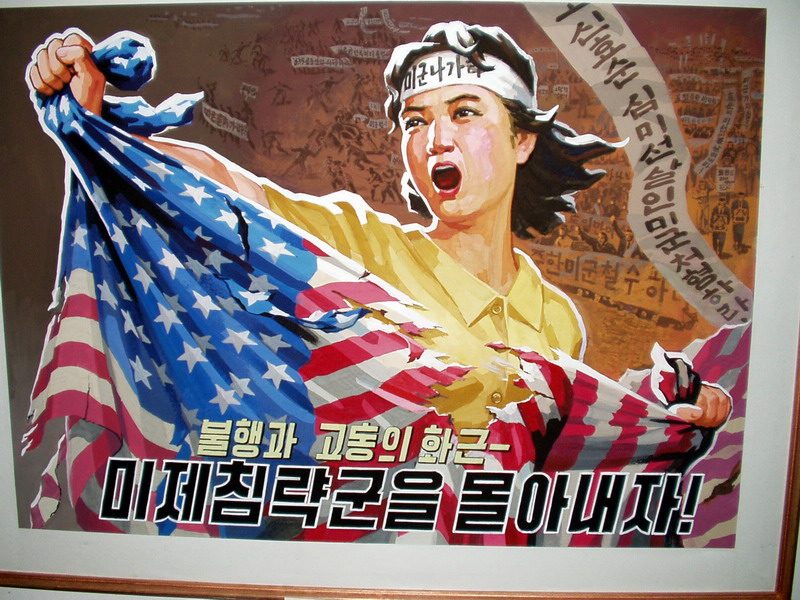 Propaganda poster art
Propaganda poster art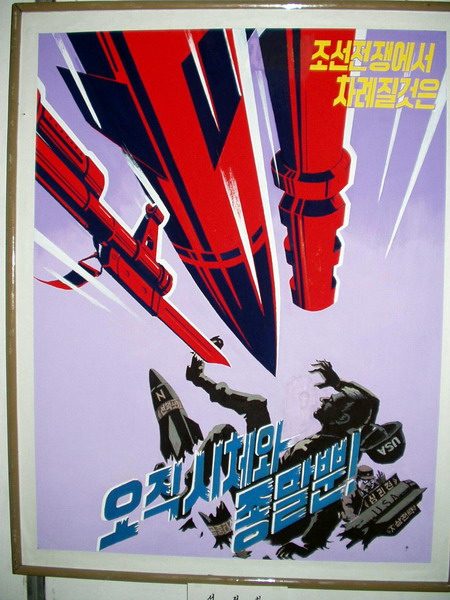 Propaganda poster art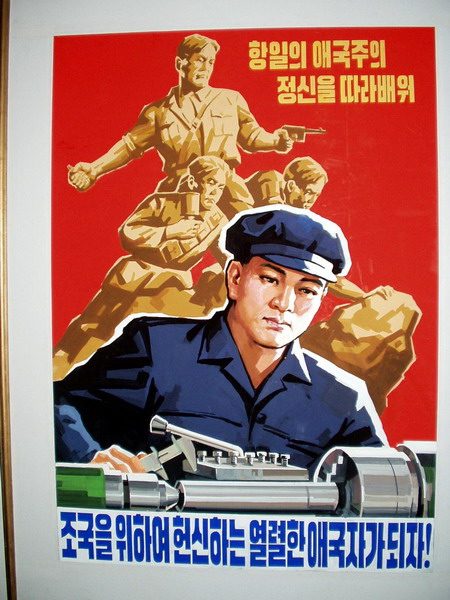 Propaganda poster art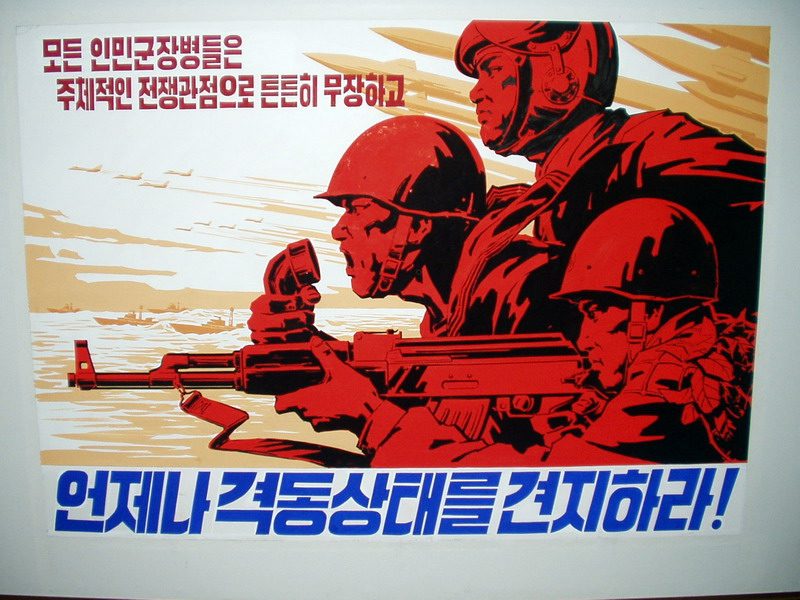 Propaganda poster art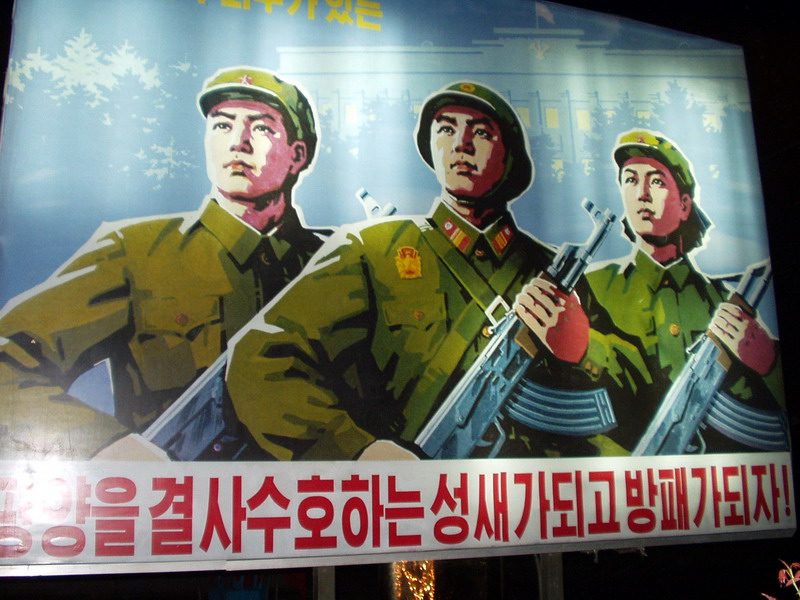 Propaganda poster art