Contents     CBD 1     CBD 2     CBD At Night     North Adelaide     Parklands & Stadia     Coastal Suburbs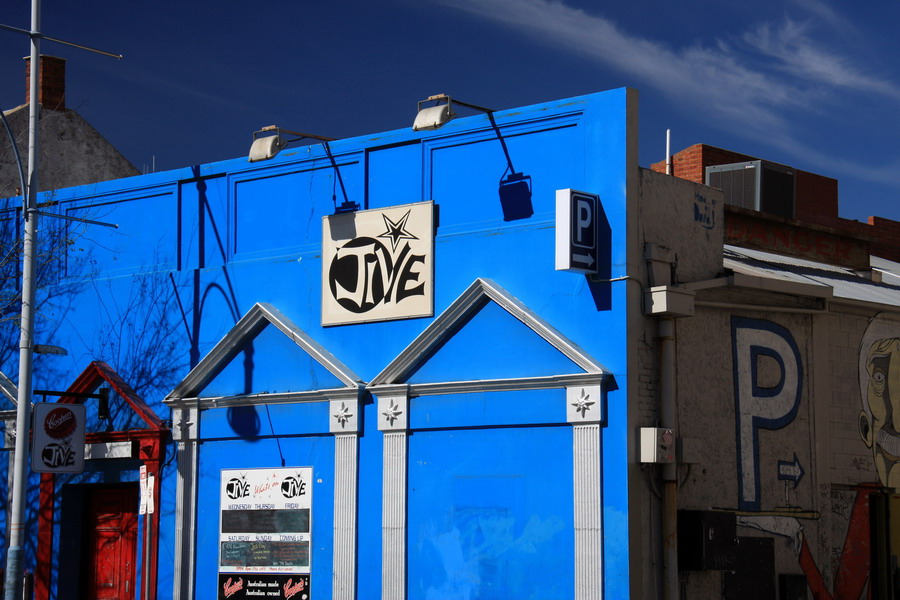 Jive Club 
Bright blue garish building on Hindley Street. Hindley Street is renowned for its late-night pubs, clubs and strip bars. It never sleeps.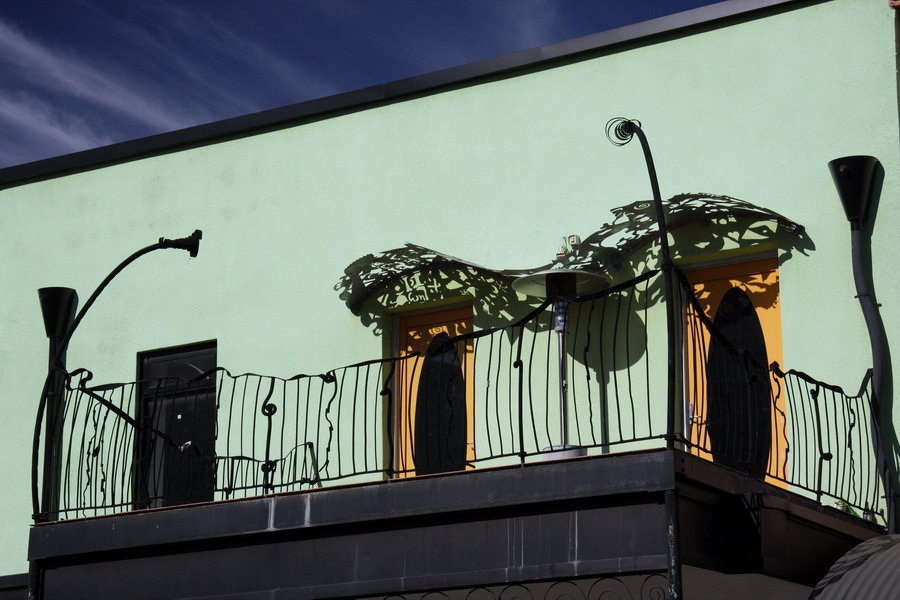 Almost Barcelona
Walking down Hindley Street, I spotted this weird and wonderful balcony.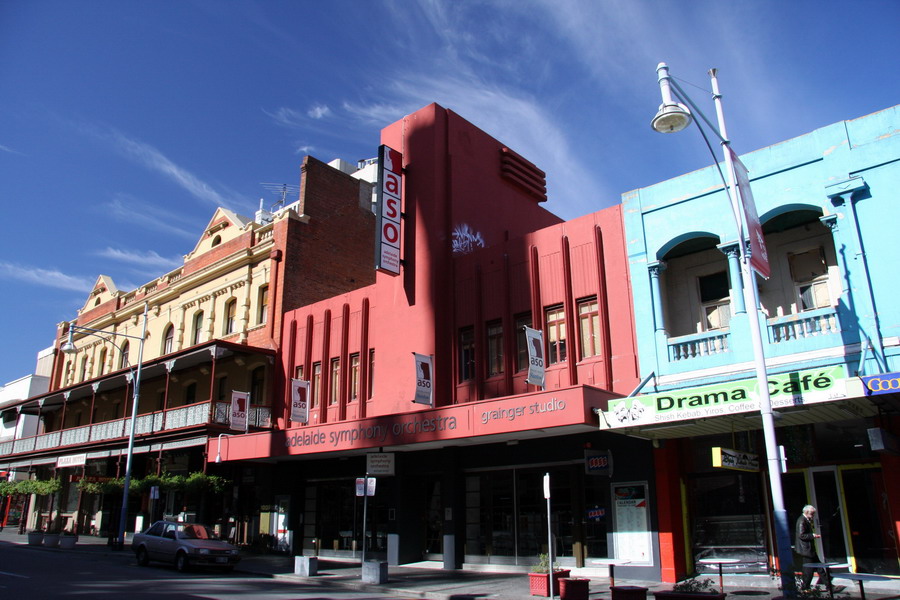 Adelaide Symphony Orchestra
Founded in 1936, this art deco building houses, what was originally a 17 player radio ensemble. It is situated, inappropriately, on Hindley Street.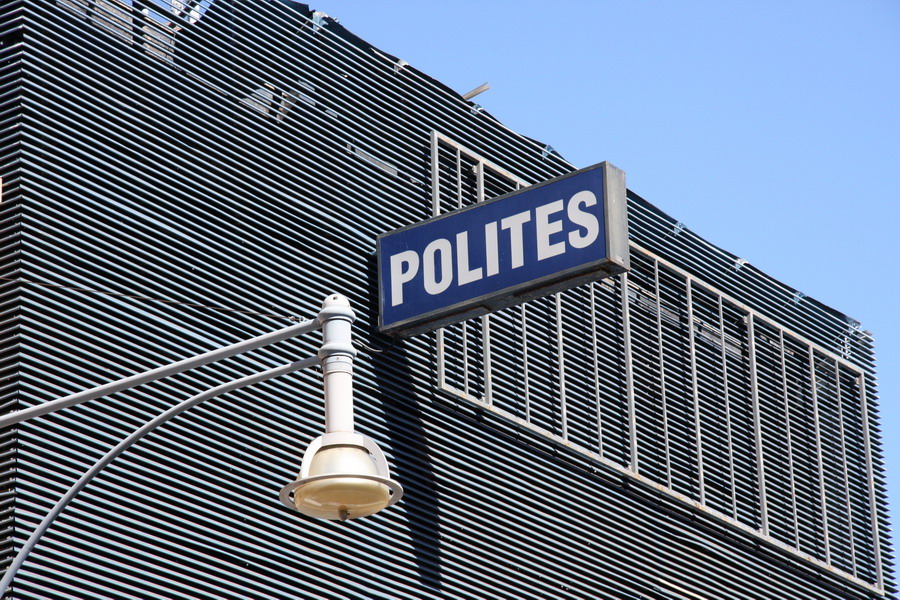 Polites
Apparently, some wealthy Greek business bought a number of buildings in Adelaide during the 80s and decided that his ego wouldn't be satisfied unless he placed an enormously ugly and oversized sign on every building he owns, of which there are many indeed.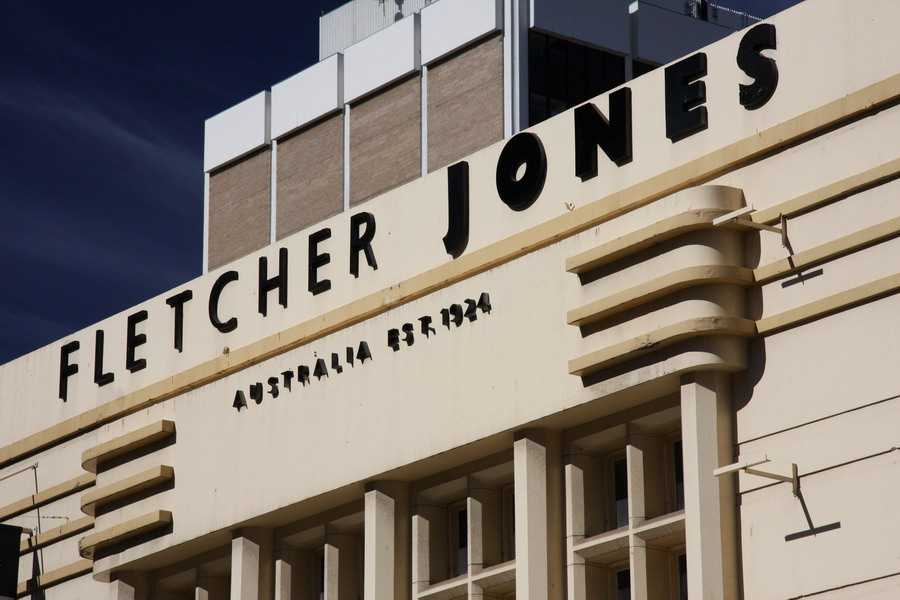 Art Deco building
This Fletcher Jones outlet on Hindley Street has an appealing art deco character about it.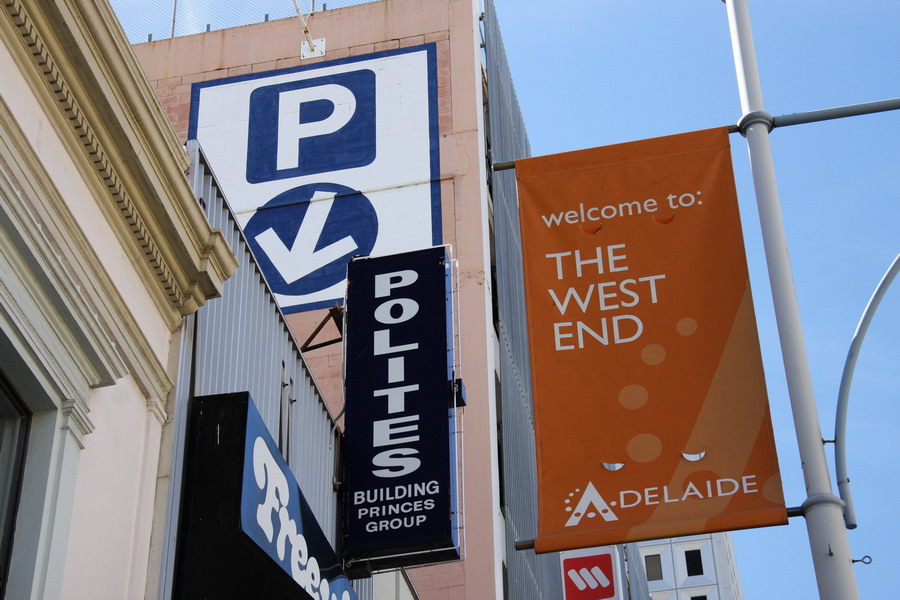 The West End
Not surprisingly, this is located towards the west side of the CBD. Towards the northern side of the CBD, Hindley Street is located in the West End, then progresses towards Rundle Mall in the middle, ending up with Rundle Street in the East End.
The Earth Club 
Situated on Hindley Street, this nightclub used to specialise in the harder side of dance and trance.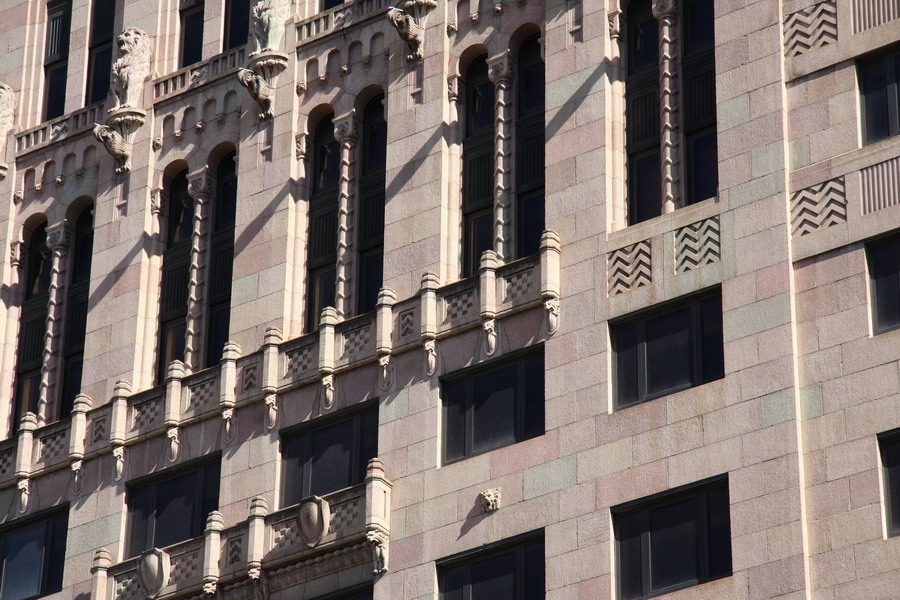 Neo-gothic buildings
Adelaide is scattered with a variety of neo-gothic buildings. This one was taken on King William Street near Rundle Mall.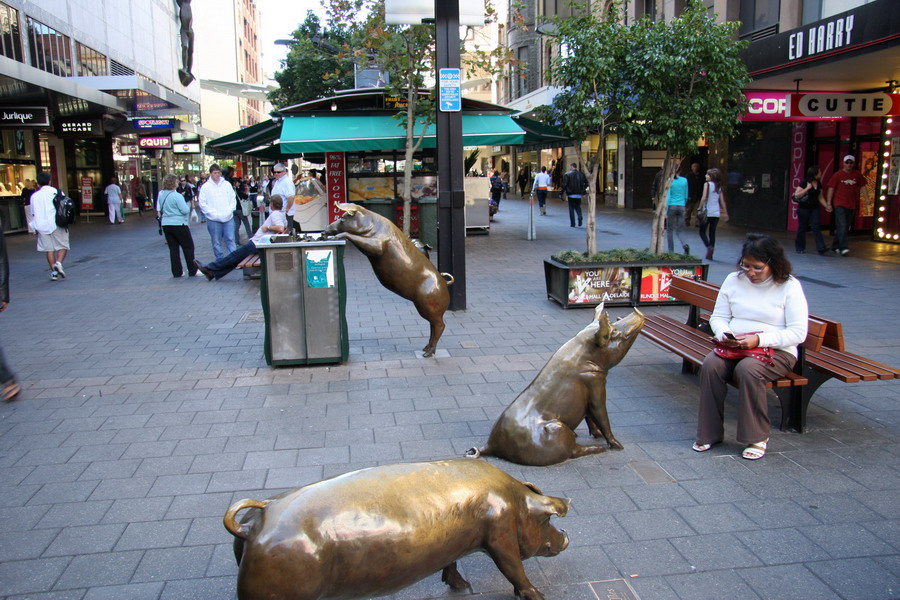 Bronze pigs
Three delightful bronze pigs can be seen in the photo including Horatio, staring at the woman on the bench.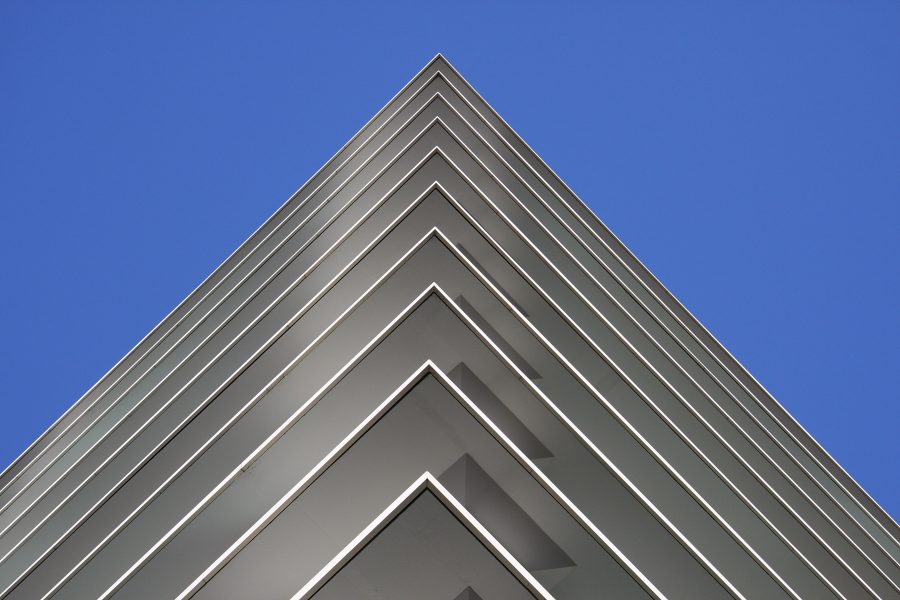 Isosceles
This view is looking up the corner of a building on Gawler Place.
Living statue at Malls Balls
This was taken against the 4m high 'Spheres' by Bert Flugelman. They are two stainless steel spheres balancing on top of each other and known locally as the Malls Balls.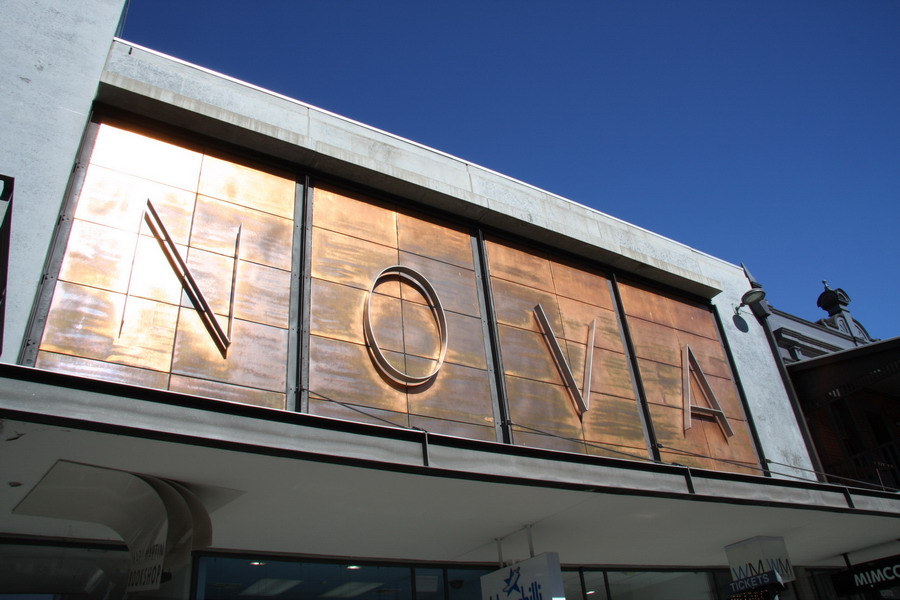 Nova Cinema
One of the East End Cinemas on Rundle Street specialising in alternative cinema.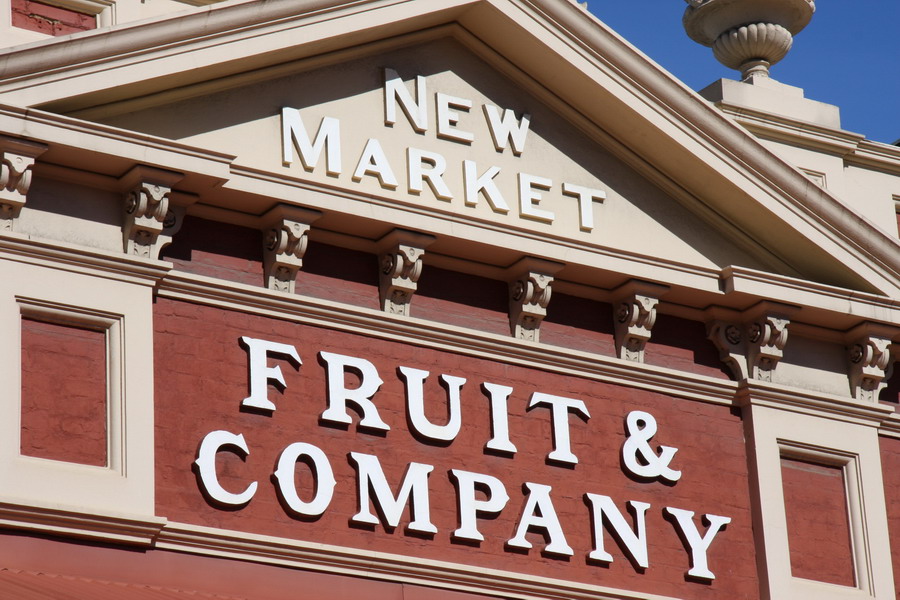 Adelaide Produce Market
Historical produce market building situated in the East End on Rundle Street.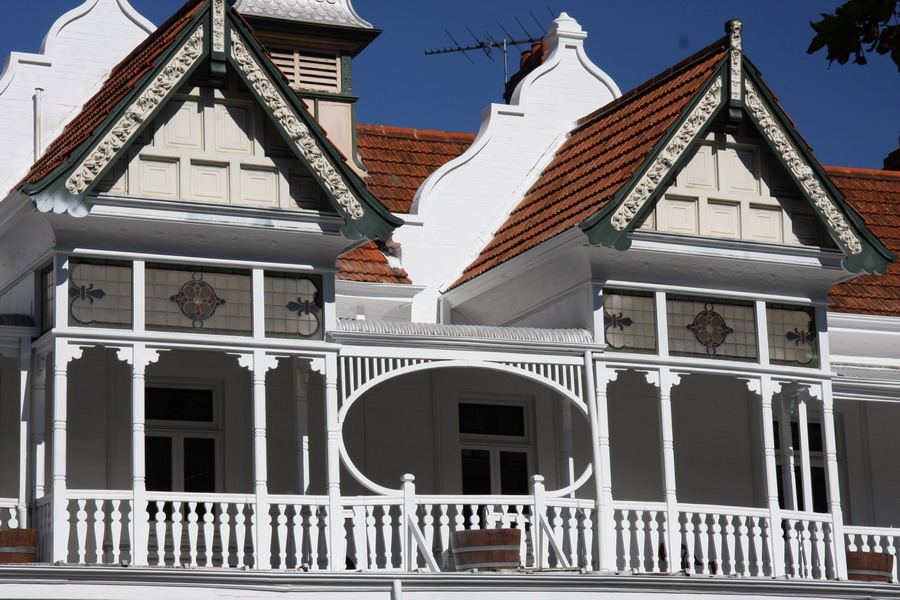 Ornate balcony
This is one of many traditional buildings towards the east end of Rundle Street.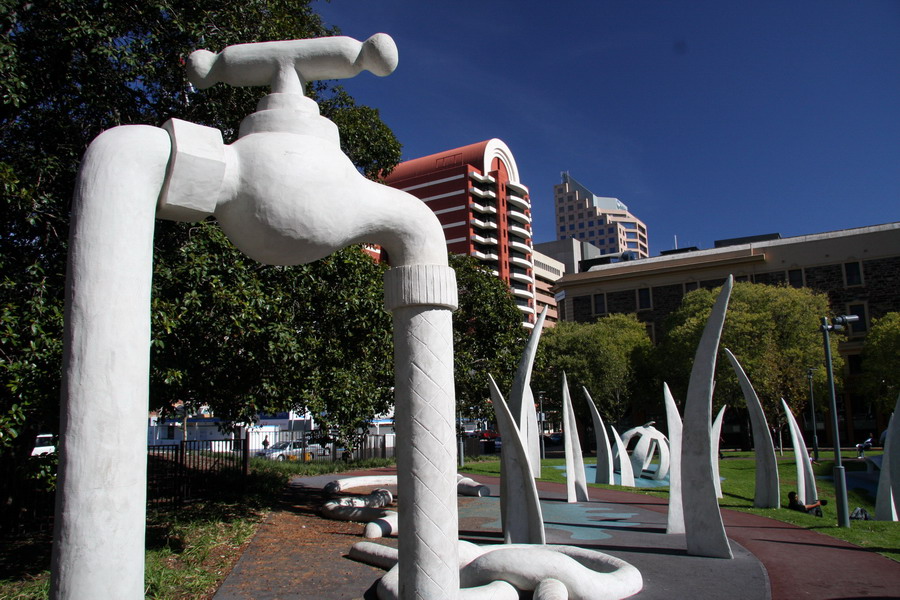 Concrete Tap
Bizarre fibreglass reinforced concrete objects on Hindmarsh Square.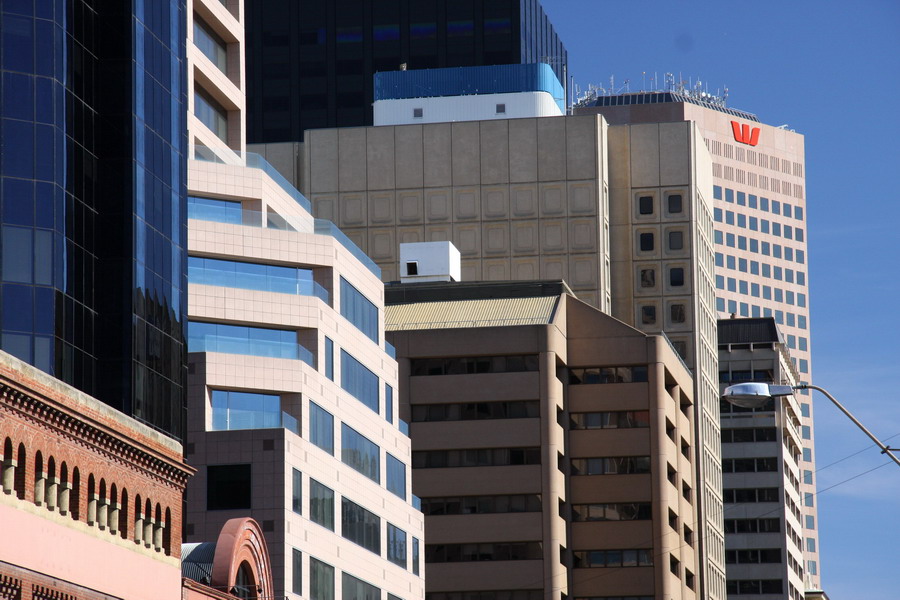 Office buildings
A collection of office buildings on Grenfell Street. At 135m with 31 floors, the Westpac building in the background is the tallest building in South Australia which hosted the stair events for the 2007 World Police and Fire Games! Strange…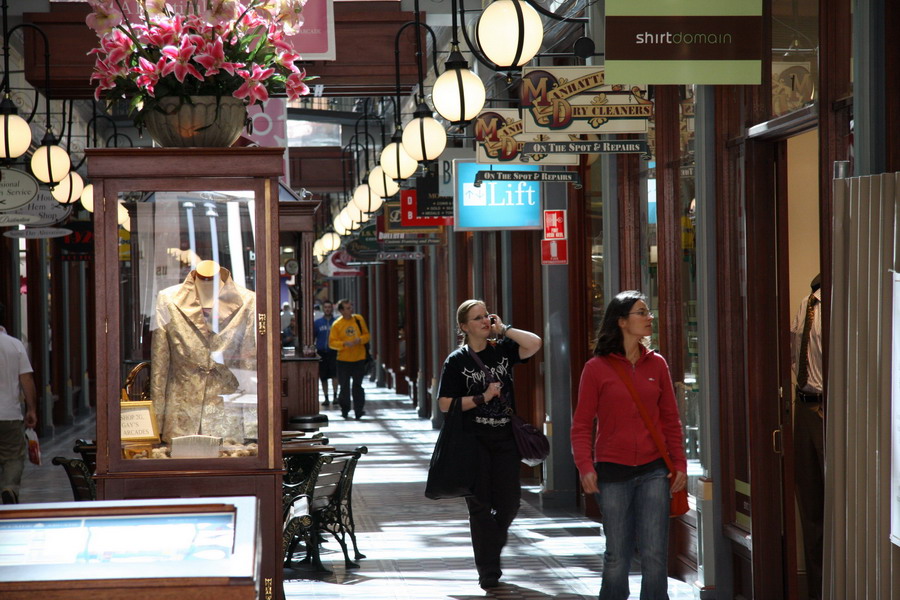 Inside Adelaide Arcade
A couple of wanderers inside the Adelaide Arcade.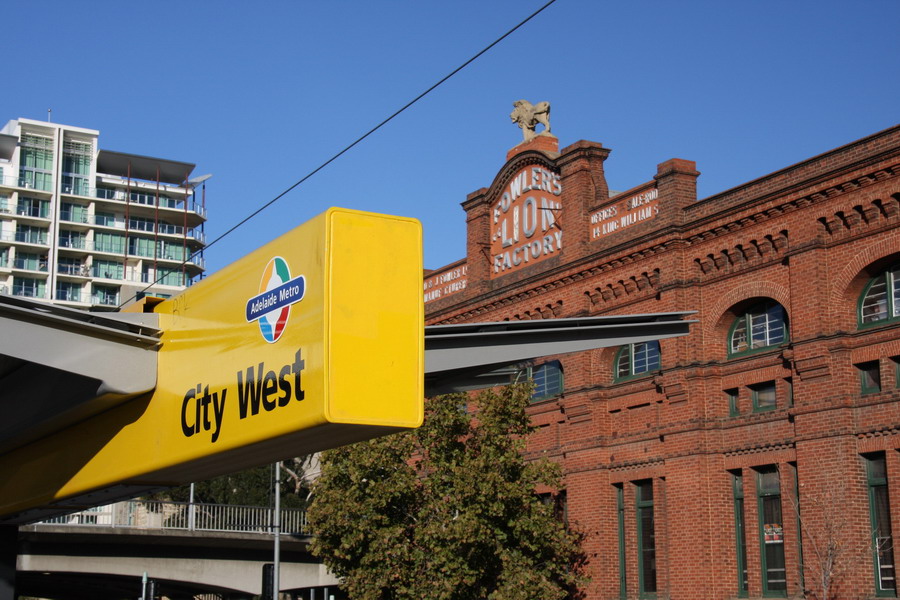 Fowlers "Lion" Factory 
This industrial building of 1854 is now known as the Lion Arts Centre. It is located on the North Terrace at the location where the tram starts its course through the CBD and on towards Glenelg.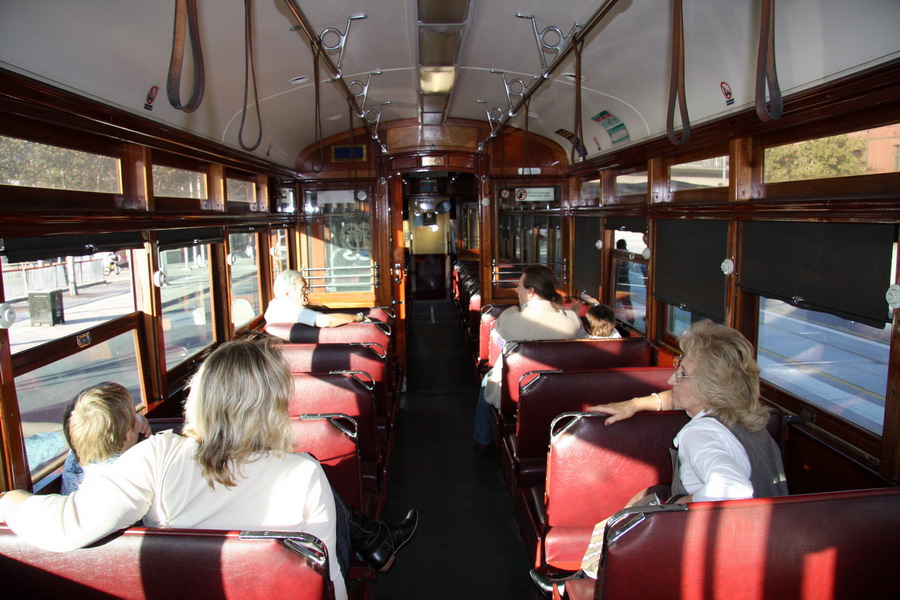 Interior of heritage tram
Although the modern air-conditioned trams are a little more comfortable and smooth, it's nice to have the windows open and experience the real rattle of one of the heritage trams.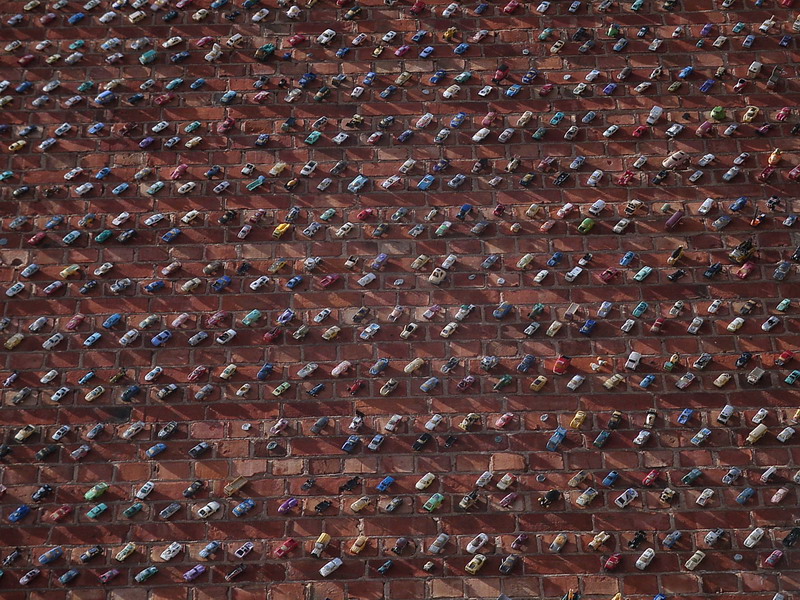 Toy Cars
15,000 toy cars stuck on a wall on a car park on Rosina Street in the CBD.
Adelaide's "Piccadilly Circus"
Panels on a building on the crossroads of Pulteney Street and Rundle Mall in the CBD which are illuminated in colours at night. Adelaide's answer to London's Piccadilly Circus?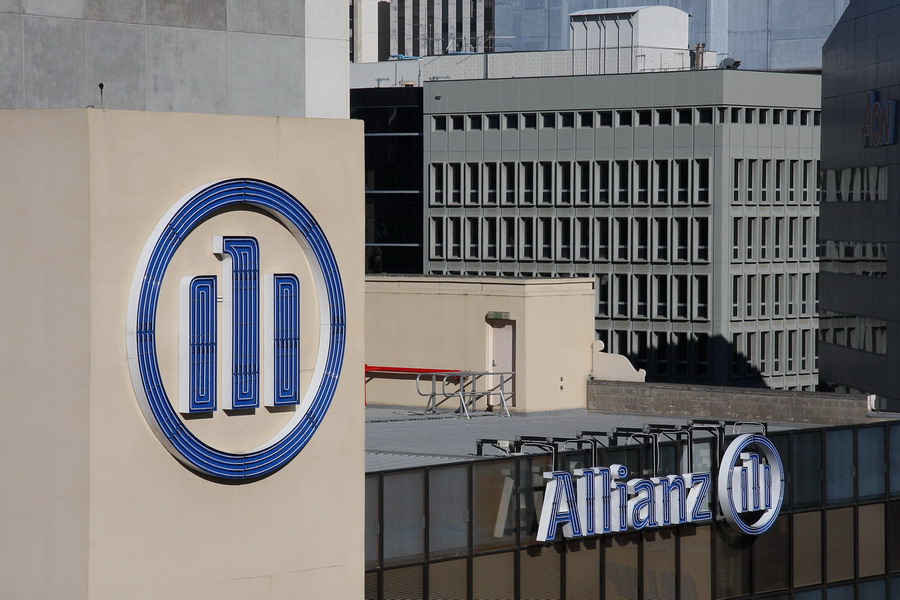 Rooftop View
View from a rooftop in Adelaide's CBD.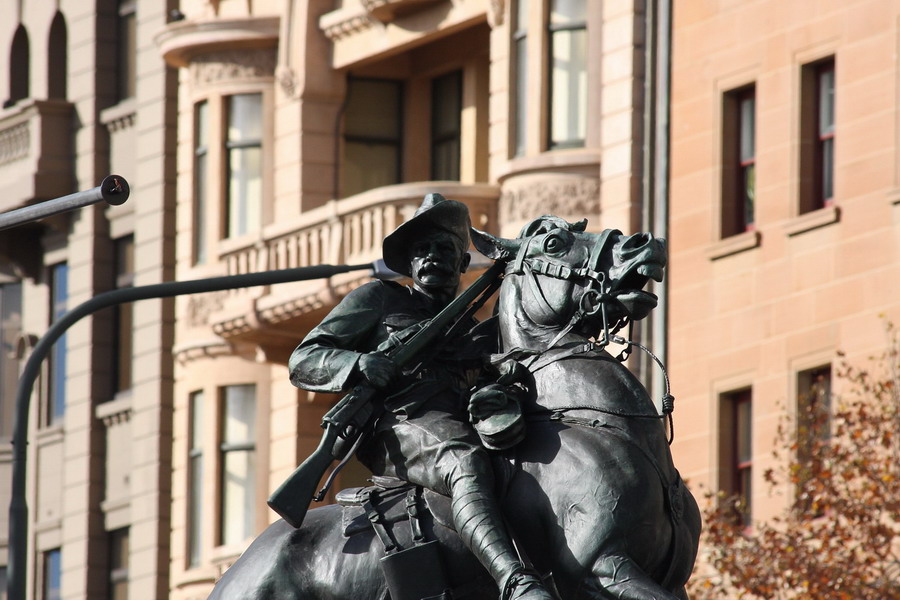 War Memorial
South African war memorial commemorating the Boer War from 1899-1902. Located on the corner of North Terrace and King William Street.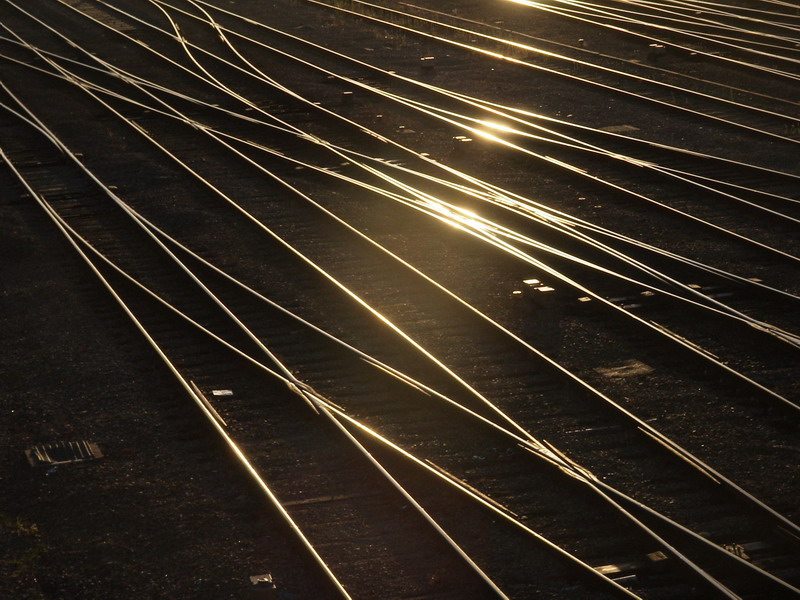 Sunset on Rails
Crisscross of railway tracks leading out from Adelaide Central Station.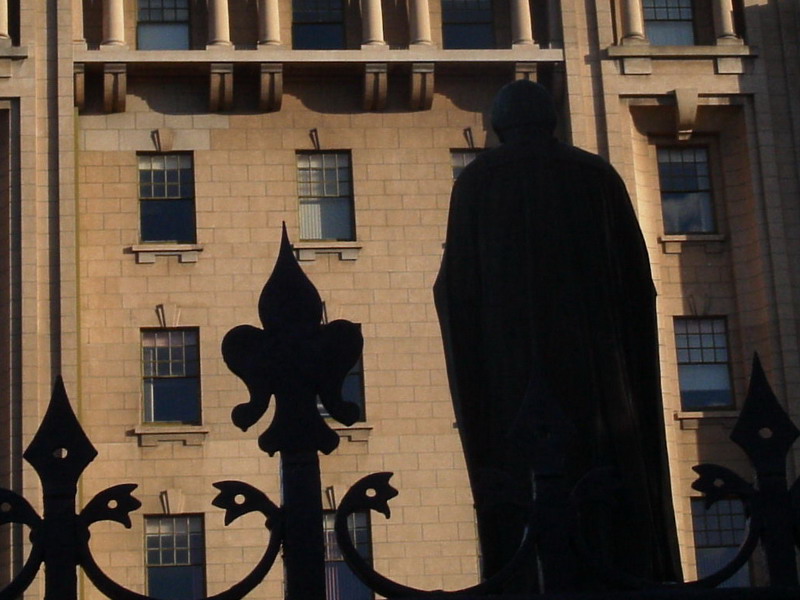 Silhouette of statue
Silhouette of statue taken from the grounds of Adelaide University on the North Terrace.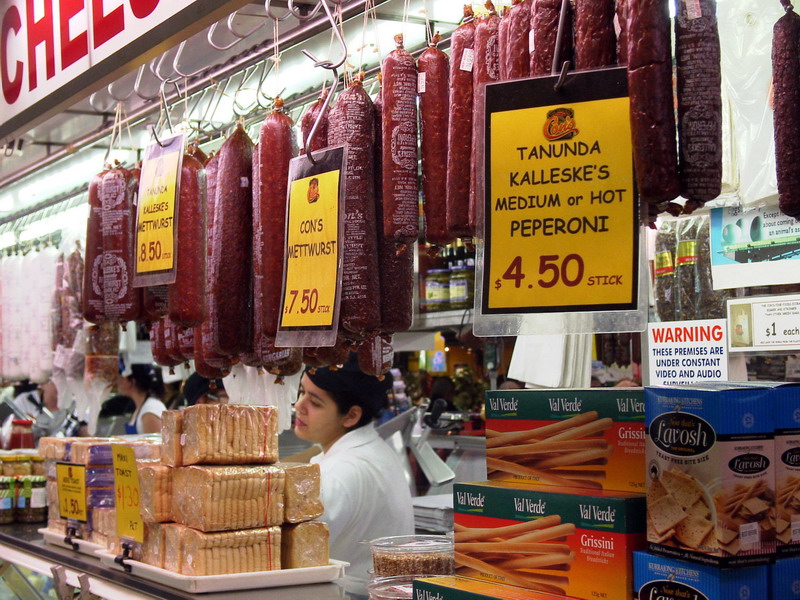 Central Market
The very-popular Adelaide Central Market houses a wide variety of food and other wares.
Central Market
Tropical fruit at the Adelaide Central Market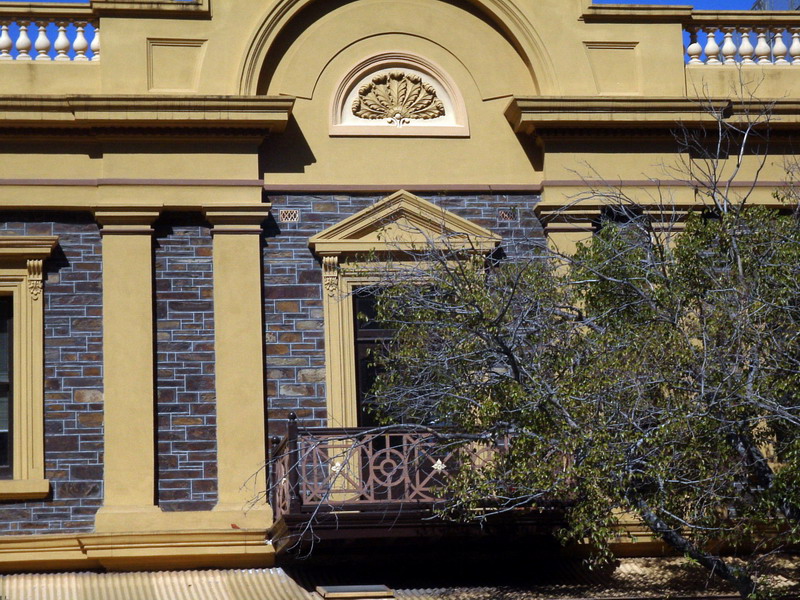 Law Court
Criminal court located on Victoria Square.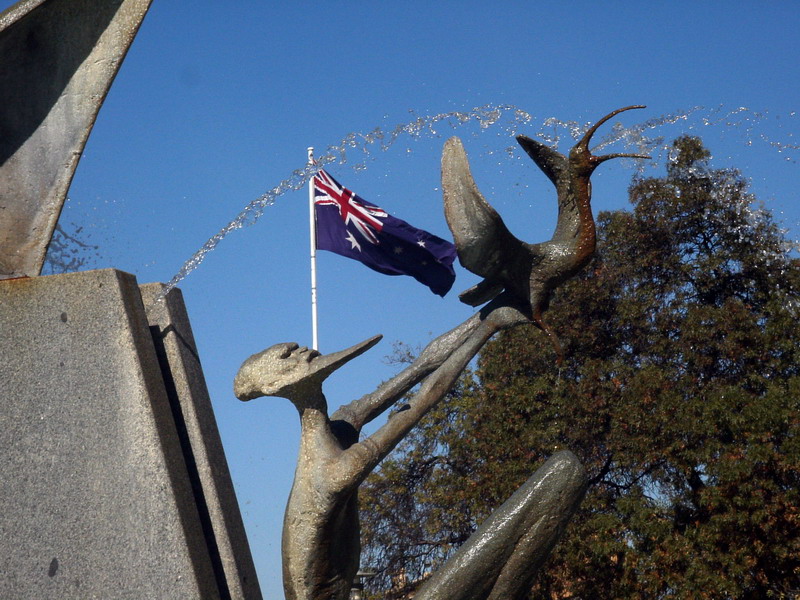 Three Rivers Fountain
Known as the Three Rivers Fountain, this aluminium and cement fountain, located in Elizabeth Square, by John Dowie represents the three rivers supplying Adelaide. These rivers are the Murray, Onkaparinga and the Torrens.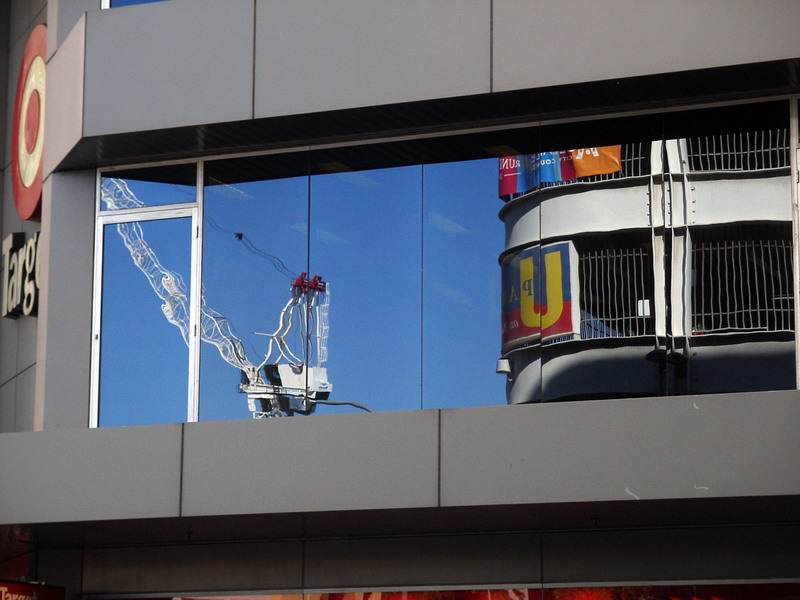 Reflection of Crane
Spot the Target sign. I was surprised to see Target stores in Australia, but was also surprised to learn that Target Corporation in the US granted this logo to Australia's Wesfarmers-owned Target.
The Stag Hotel
Brandishing the rather boastful title of being able to serve the best steak in Adelaide, this is a well-known building overlooking what used to be the Adelaide Grand Prix circuit on the East Terrace.
Narrow building
Whilst drinking a beer at The Richmond Hotel, I took a picture of an odd narrow building on Rundle Mall.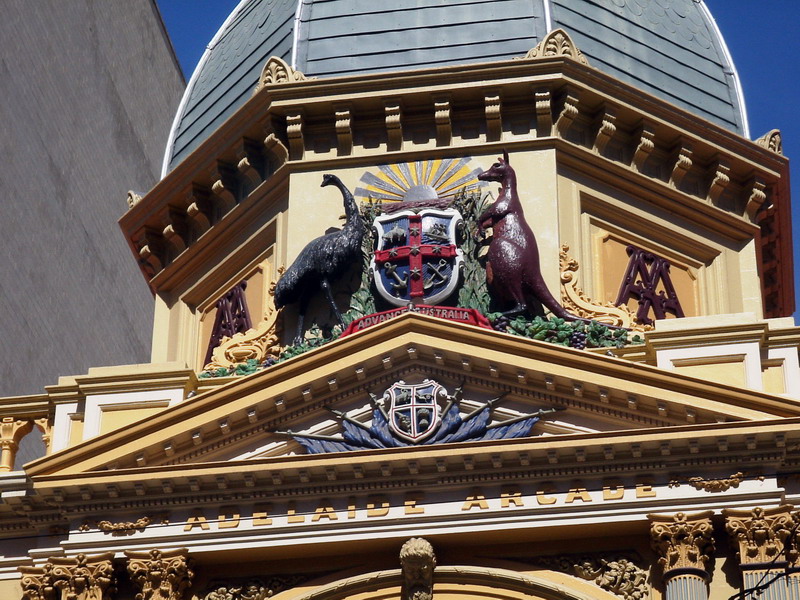 Adelaide Arcade
Rundle Mall is Adelaide's only main pedestrianised shopping street. This is an exterior of one of the many shopping arcades along this street.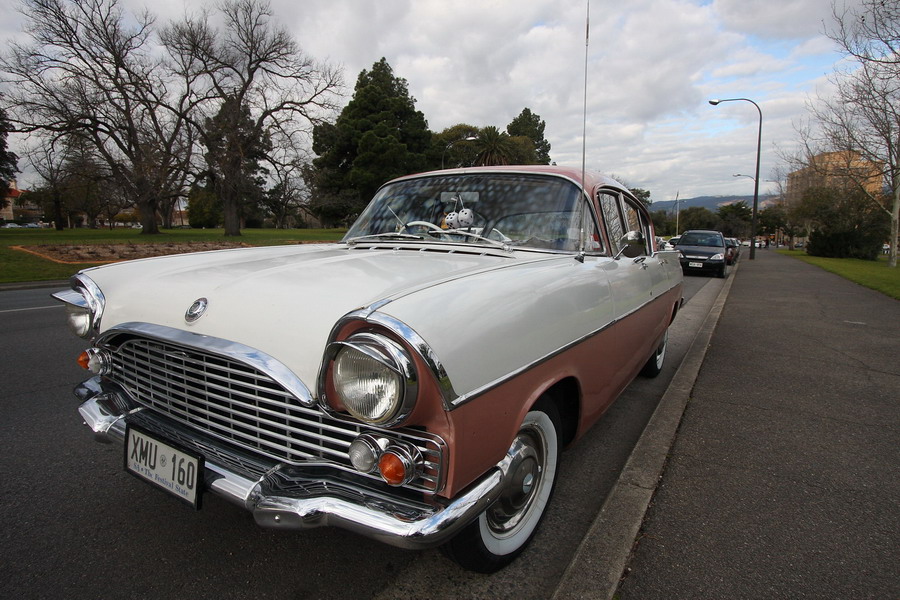 Living in the 50s
There are a prolific amount of old cars running around Adelaide, many of which, are probably not strictly roadworthy outside South Australia.
Contents     CBD 1     CBD 2     CBD At Night     North Adelaide     Parklands & Stadia     Coastal Suburbs