Contents     CBD 1     CBD 2     CBD At Night     North Adelaide     Parklands & Stadia     Coastal Suburbs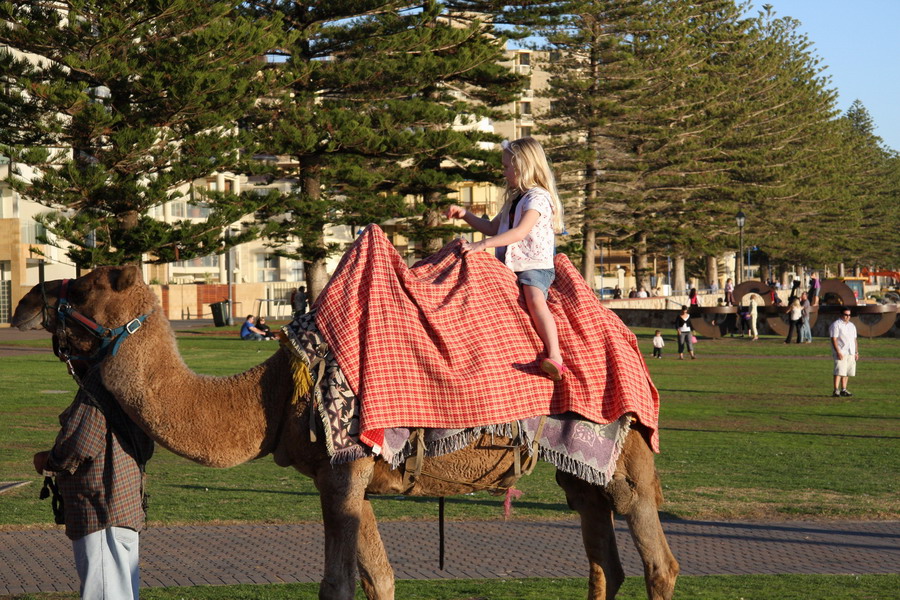 Camels in Glenelg
Camel riding seems to be a popular tourist and family pastime in Glenelg.
Glenelg Golden Soak
Many photographers are lured to the great sunsets from the beaches of Adelaide. This photo was taken at Glenelg Jetty.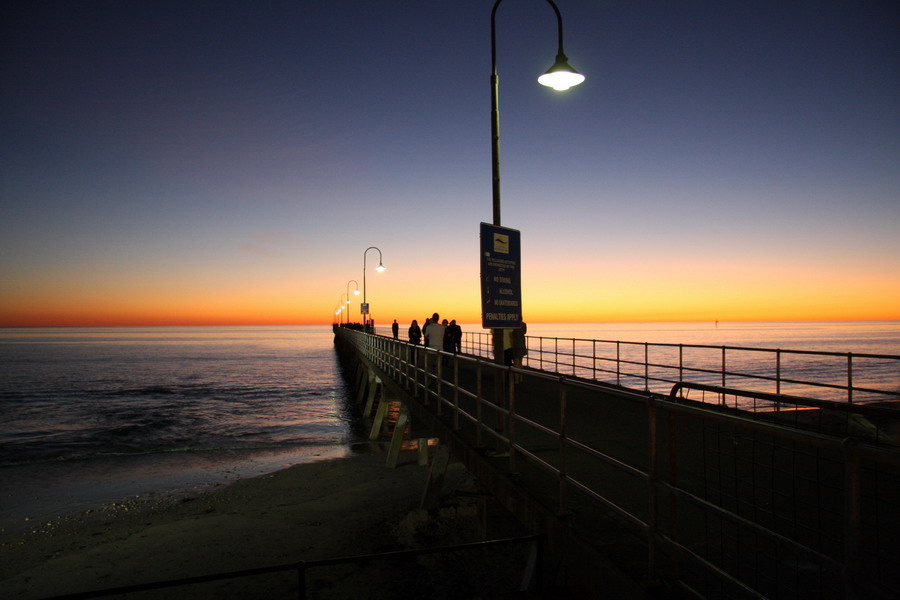 Sunset at Glenelg
Glenelg sits on the shore of the placid waters of St. Vincent's Gulf which is protected from the vast and rough Southern Ocean on three sides with the Fleurieu Peninsula to the east, Yorke Peninsula to the west and Kangaroo Island to the south. The shores of Adelaide are blessed by near-white sand which gently slope off into the sea. Surfers need to go elsewhere.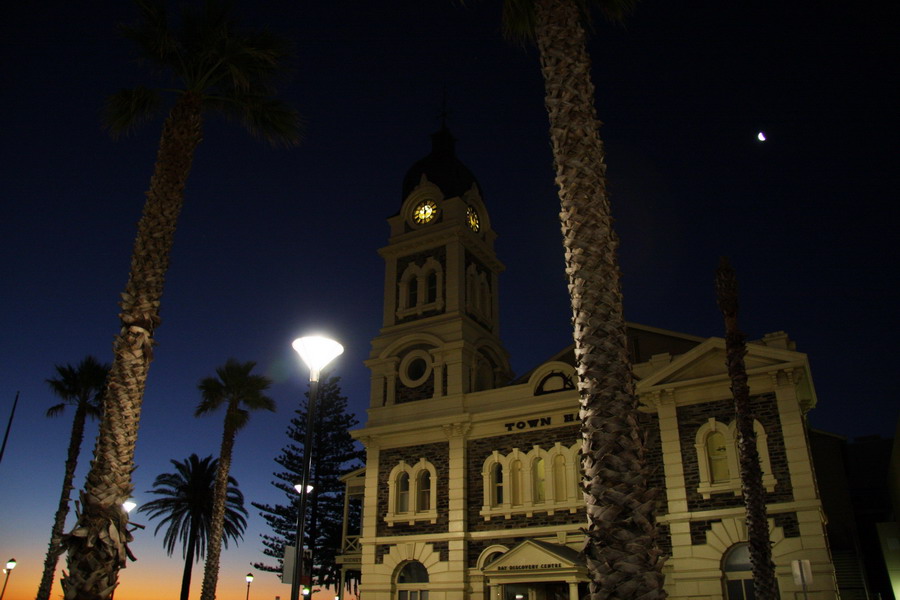 Glenelg Town Hall
Glenelg Town Hall during sunset hours.
Ramsgate Hotel
An old classic car drives by the colourful Ramsgate Hotel on Henley Beach.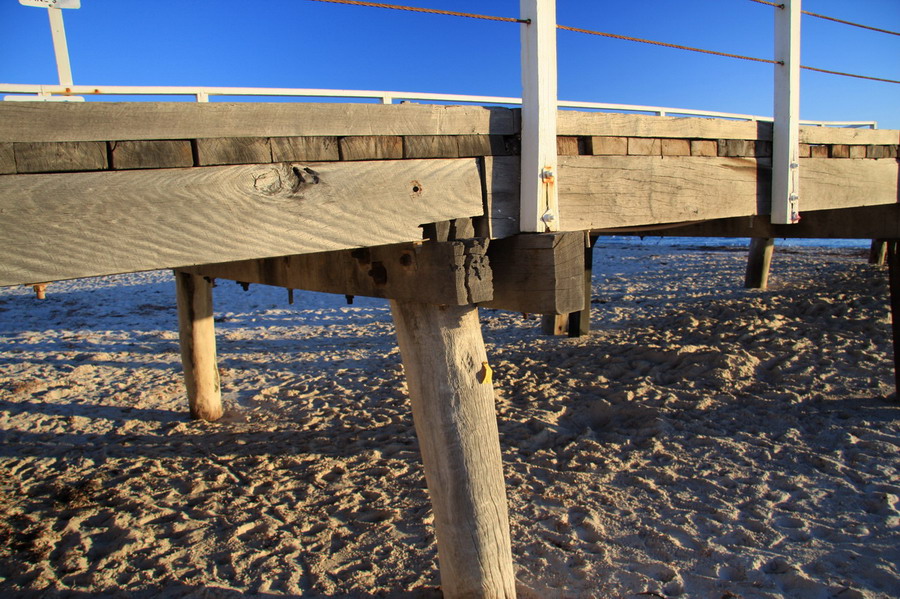 Henley Beach
Henley Beach, located further north up the shore from Glenelg is much smaller and less touristy. Watching the sunset while sipping a wine at the Bacchus Bar is a nice way to end the day.
Jetty piers
Taken under the jetty at Henley Beach.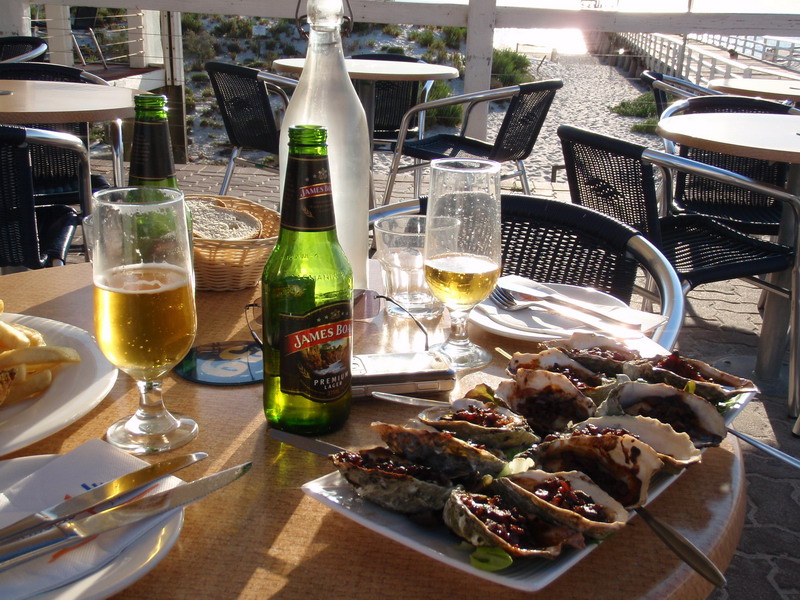 Oysters and Beer
Enjoying oysters and a beer in an outside cafe near Grange Jetty.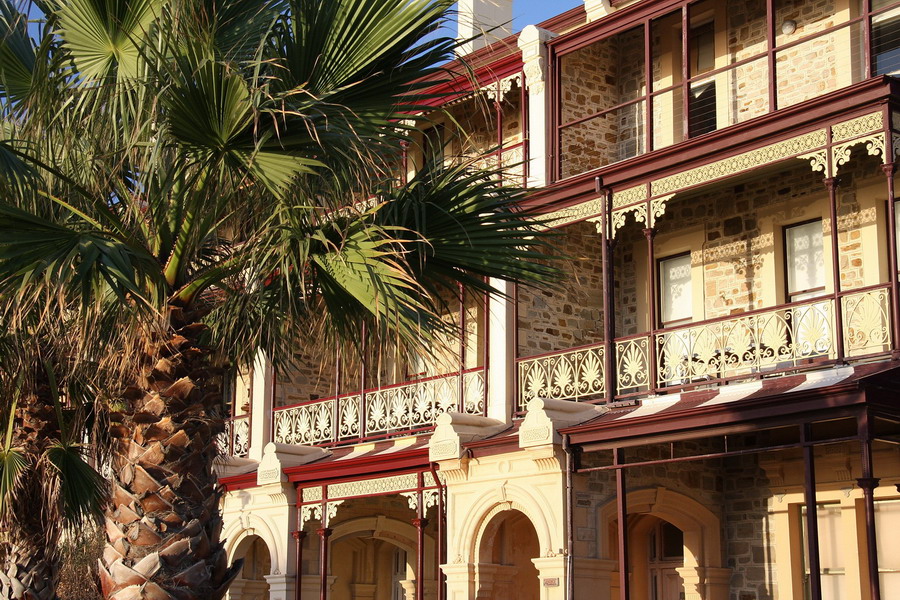 Grange's Victorian Terrace
Australia's only seaside Victorian terrace houses located in Grange.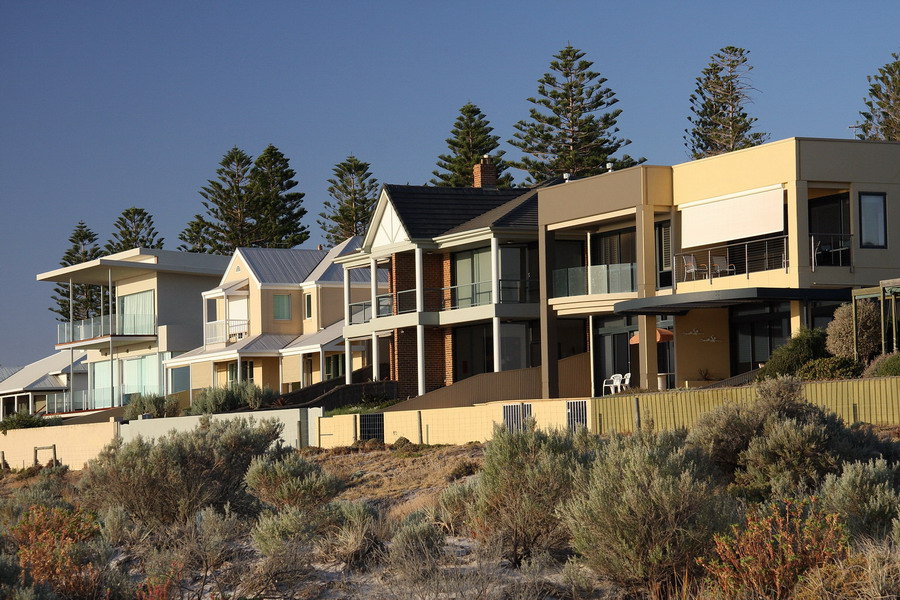 Absolute Seafront 
Beachfront living between Grange and Henley Beach.
Evening in Glenelg
Taken from the upstairs balcony of the Hogsbreath restaurant, this overlooks Moseley Square in Glenelg.
A wedding at Glenelg
Whilst walking around the beach at Glenelg, I bumped into a wedding party.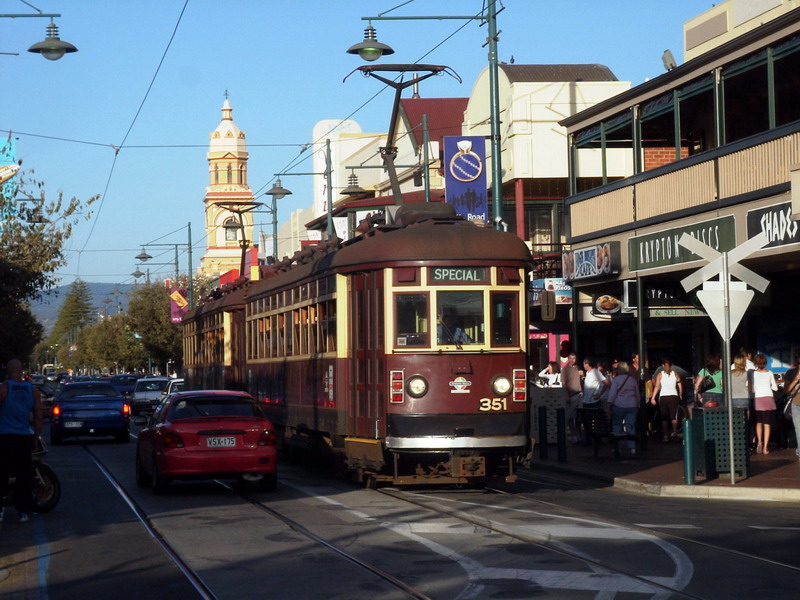 Vintage tram
These charming historic trams operate on selected services between Adelaide CBD and Glenelg during the weekends. The regular trams operate frequently and are free to use in the CBD and on Jetty Road itself.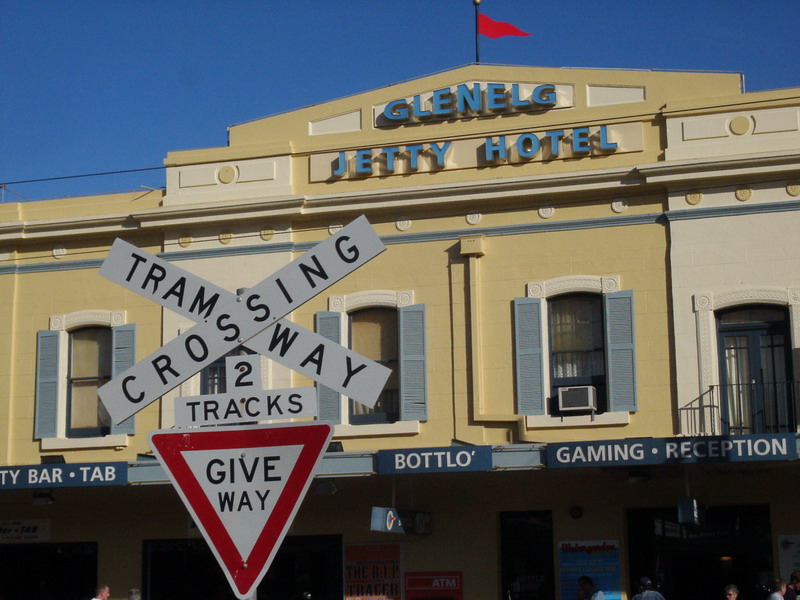 Glenelg Jetty Hotel
Glenelg sits at the seaside and is a 20 minute journey by tram. Jetty Road is the main street at Glenelg and accommodates a wide variety of restaurants, shops and bars. It's a very popular and desirable area around Adelaide. Glenelg is also a small village in Skye and Lochalsh, Scotland.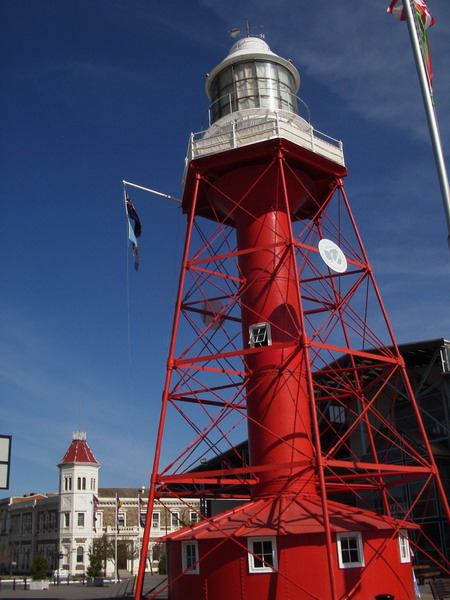 Red Lighthouse
Originally situated on the Port River in 1869, this lighthouse was relocated near the Fishermans Wharves in Port Adelaide to commemorate South Australia's 150th year during 1985.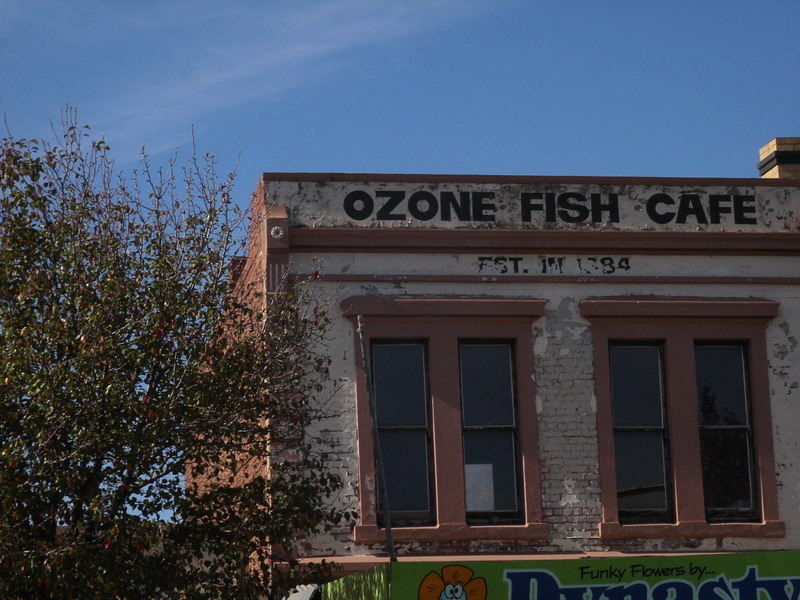 Ozone Fish Cafe
Port Adelaide is not one of the most salubrious areas around Adelaide, but I thought the name of this less-than-inviting cafe was quite amusing.
Contents     CBD 1     CBD 2     CBD At Night     North Adelaide     Parklands & Stadia     Coastal Suburbs