There is nothing quite like the American West and one can never have enough of it. These are just a few scanned pictures I took from my very old Pentax KX100. Most were taken during the 1990s and are a rather mixed lot taken from frequent family trips (mainly inspired by my English grandfather). Some of the best shots were taken with ASA 25 speed film and a tripod.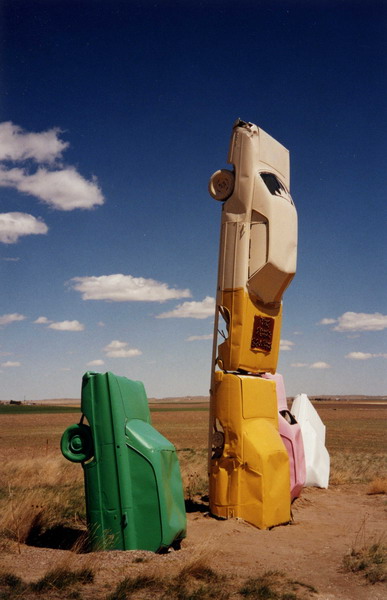 Carhenge, Nebraska
Not far from Alliance, Nebraska is this strange out-of-the-way place called Carhenge. I just had to take a look. I wasn't disappointed. There was no one about and you found yourself in a field full of old cars in strange positions. In the light spring breeze, all you could you hear was the gentle creaking of the metal of the cars swaying.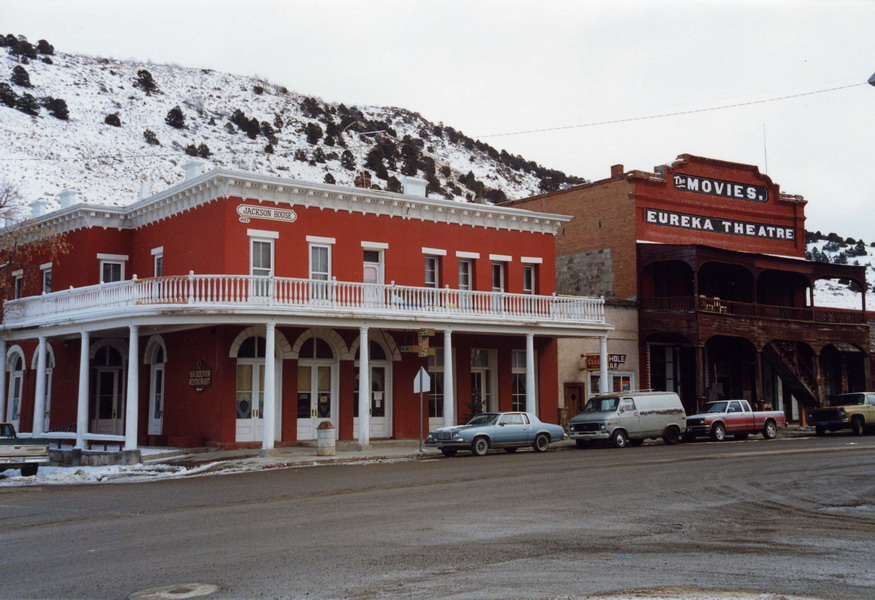 Eureka, Nevada
'Eureka' was not the first word I was thinking of when I first saw this town. This is along America's loneliest road (Route 50) from Delta, Utah to Reno, Nevada. We definitely felt like strangers in this town when we wandered into the bar for a refreshment. We didn't stay the night…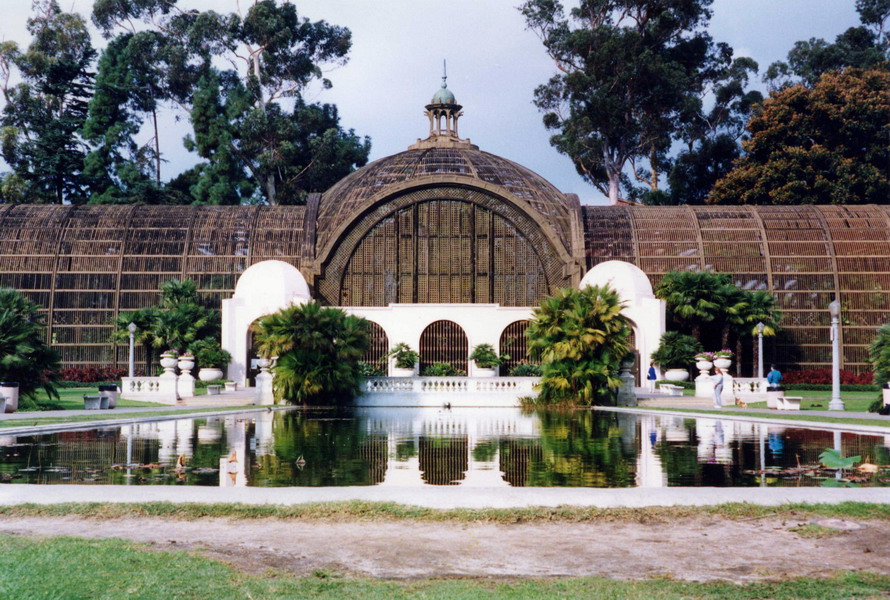 Balboa Park, San Diego
Balboa Park contains a great science museum and is next to the world-famous San Diego Zoo.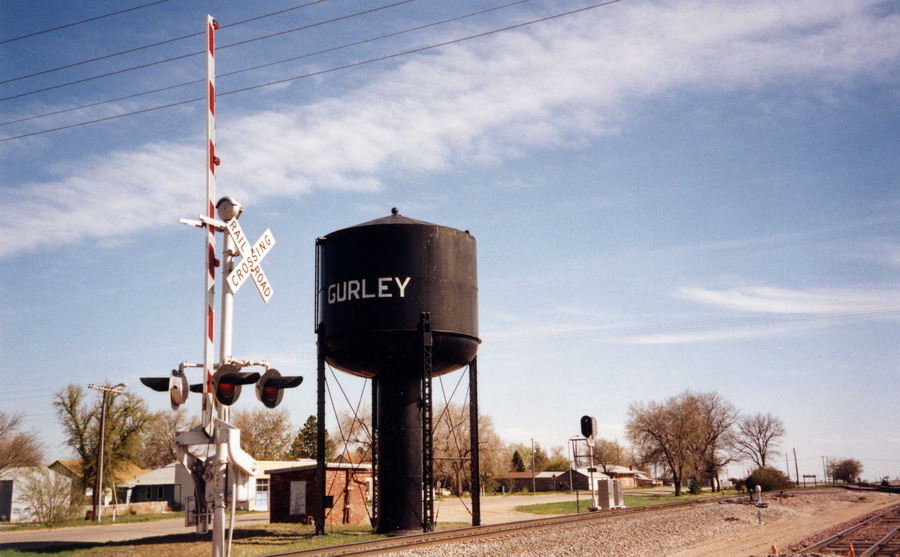 Gurley, Nebraska
A very typically American Midwest scene.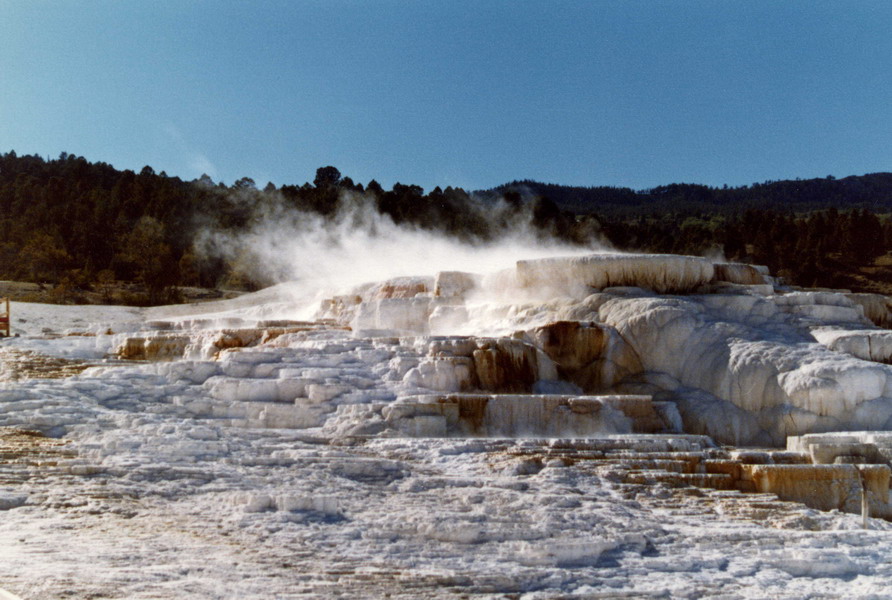 Mammoth Spring, Yellowstone, Wyoming
Yellowstone National Park in Wyoming is located in my favourite place on the Planet including the Grand Tetons and Jackson Hole. It has thermal basins with beautiful hot springs, wild rivers and waterfalls, high mountains (nearby Grand Tetons National Park), abundance of wildlife and fantastic hiking trails.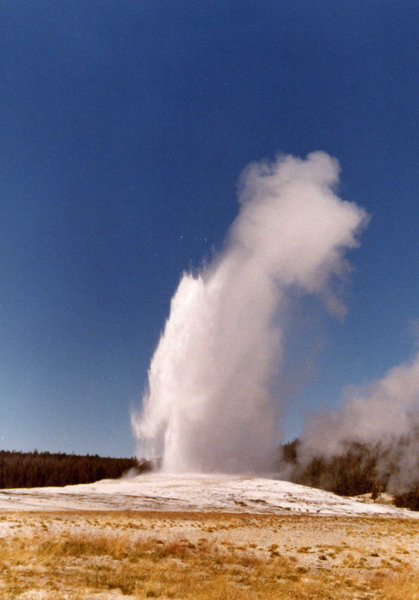 Old Faithful Geyser, Yellowstone, Wyoming
The most famous but not most powerful geyser in Yellowstone. It's famous as you can be guaranteed a good show every 60 minutes.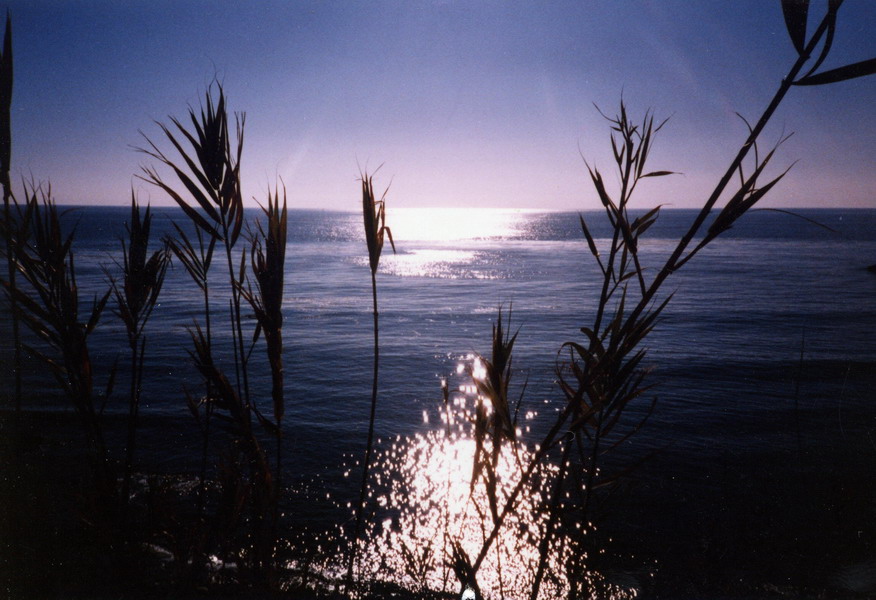 Pacific sunset at Laguna Beach, California
California is famous for its Pacific sunsets.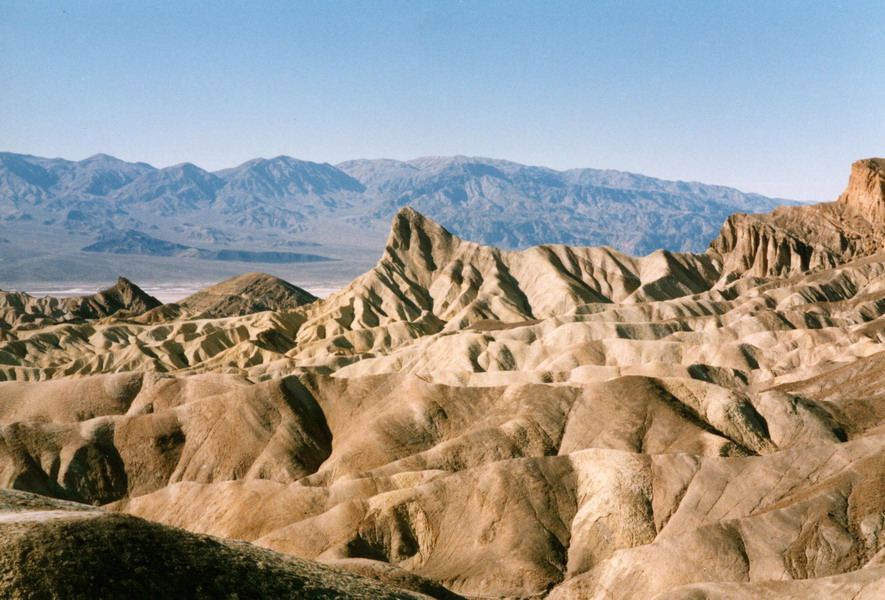 Death Valley, California
Must be seen to be believed. This shot has been used in so many movies. Death Valley is an alien landscape where the lowest point is below sea level and the surrounding mountains are over 14,000 ft high. In summer, temperatures are astonishingly uncomfortable!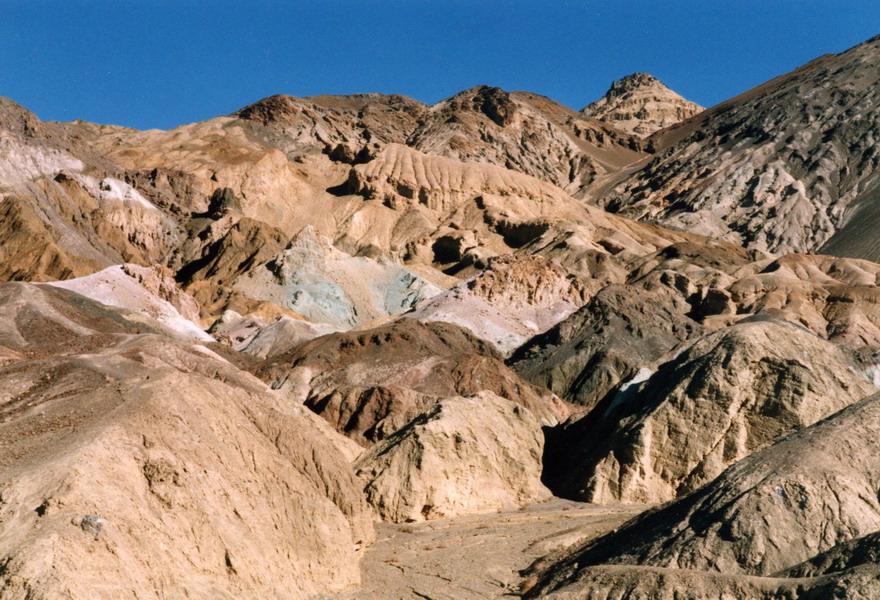 Death Valley, California
The minerals in the soil have created a multi-coloured landscape at the Artist's Palette.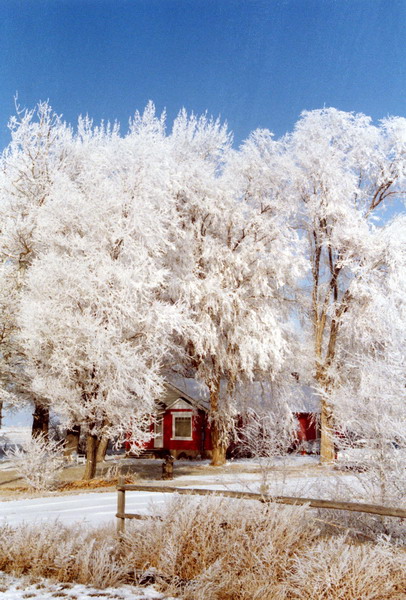 Hoar frost near Delta, Utah
Severely cold morning near Delta, Utah.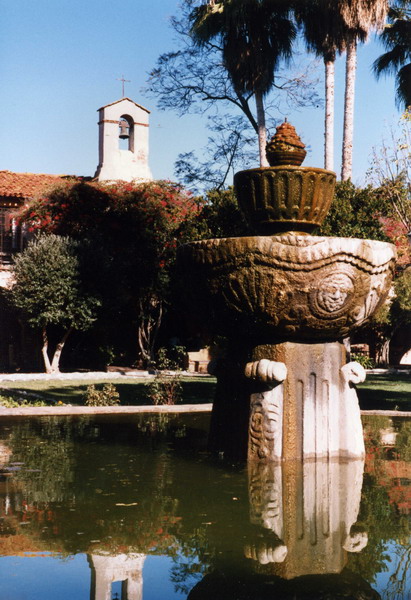 San Juan Capistrano, California
Halfway between San Diego and Los Angeles, not far from Laguna Beach lies San Juan Capistrano. A preserved missionary.
Dante's Viewpoint, Death Valley
The people you see in the photograph are standing over 6,000 ft above sea level. The valley floor is 200 ft below sea level. You do the math!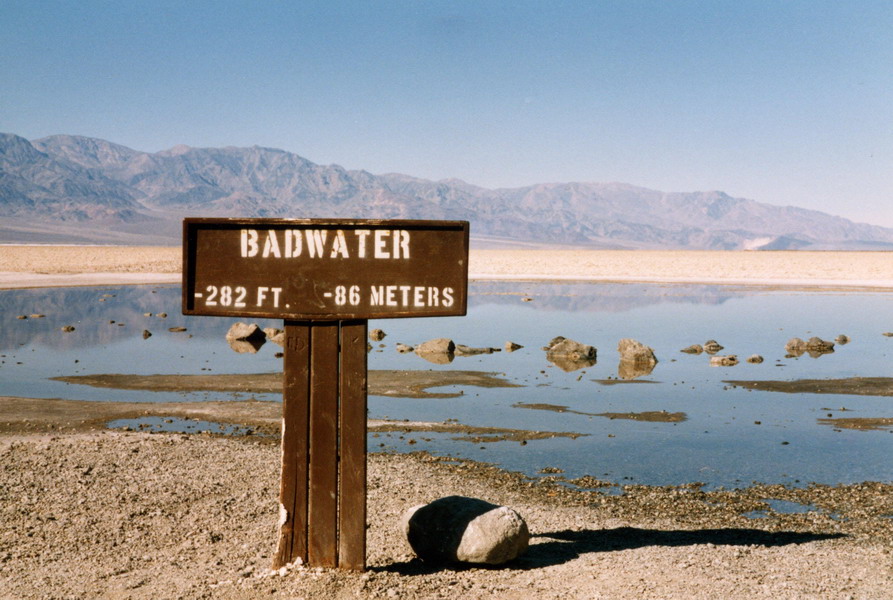 Lowest point in the Americas
Well here it is, the 3rd lowest point in the world (excluding the Hollick-Kenyon Plateau in Antarctica which is under 14,000 ft of ice). The lowest point is the Dead Sea in Israel at -1,312ft and the second lowest is Lake Assal in Djibouti at -512 ft.
Endless roads, California
The classic road of the American West. I was, indeed, lying on my stomach whilst taking this shot. I did, of course, have someone have a good watchout for any errant vehicles coming my way!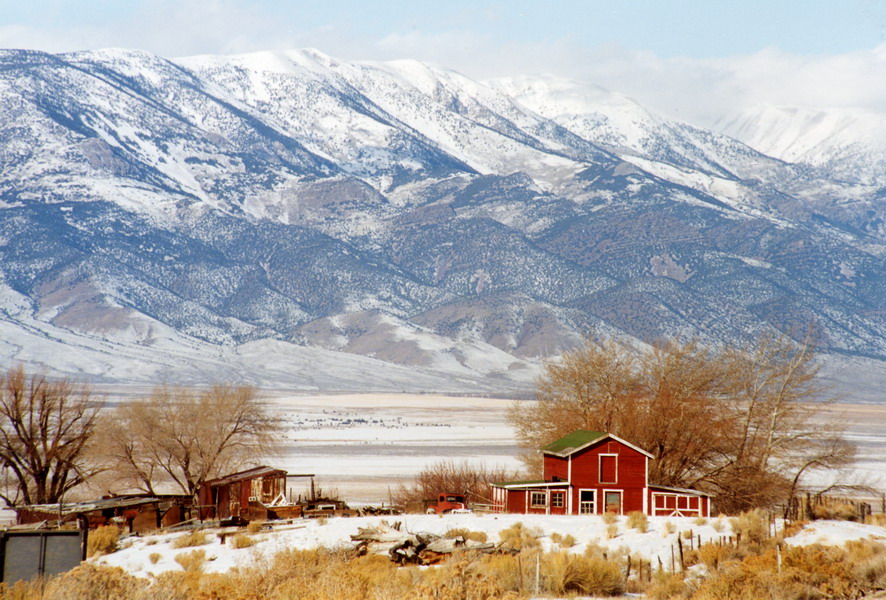 Route 50, America's Loneliest Road
I really took time to set up this shot so I'm quite proud of this one. It is along Route 50 and really shows the variation between low and high points across the route.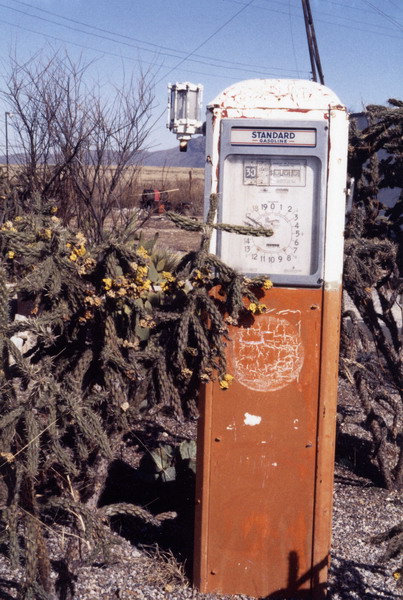 Cornudas, Texas
Located near Guadaloupe National Park, this is a town of nearly 12 people! There was one diner and next to it was an assortment of vicious looking cactus.
Very quiet gas station in N.W. Texas
In the background lies the corner of Guadaloupe National Park. I always wander how such a place survives.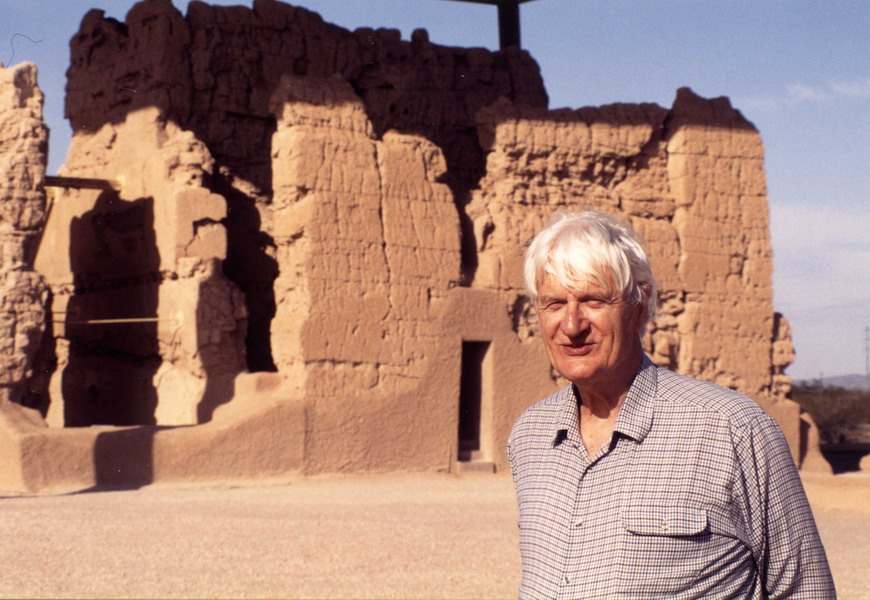 My late grandfather, Sydney, at Casa Grande, Arizona
Set aside by President Benjamin Harrison in 1892, Casa Grande (Big House) is the first cultural and prehistoric site to be protected by the US Government. This is near the town of Coolidge, Arizona.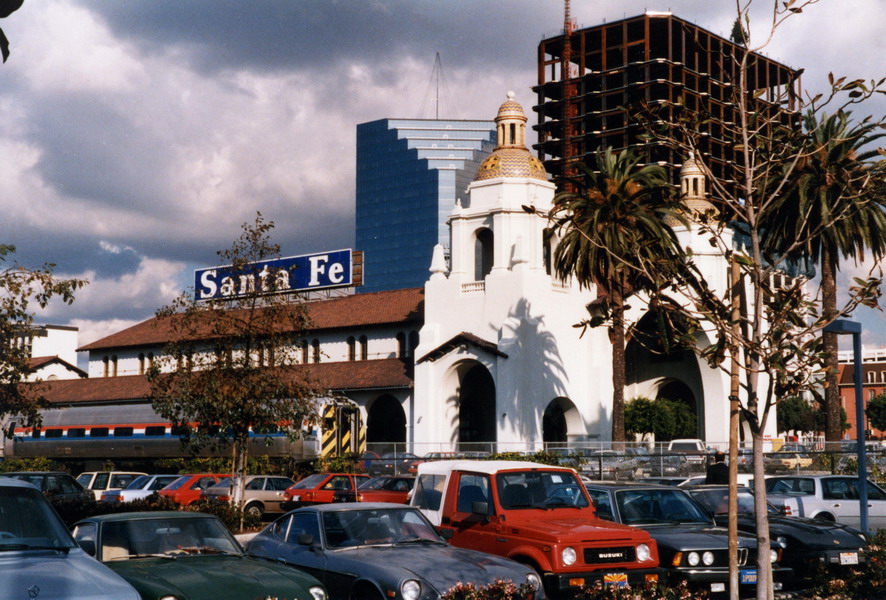 San Diego Railroad Terminus
Classic Spanish style architecture at San Diego's main railroad station.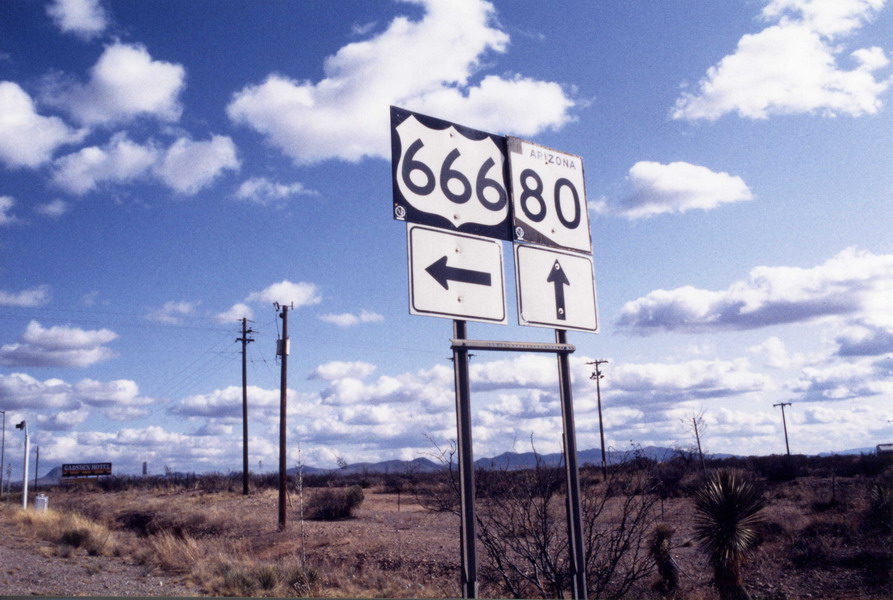 Route 666, Arizona
Considering America's religious fervour, I was quite surprised to find there was a Route 666!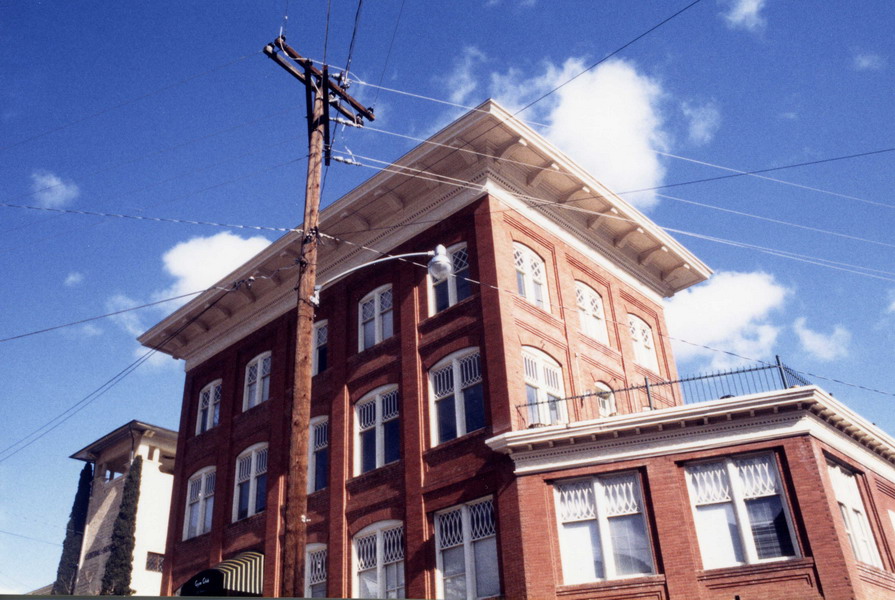 Bisbee, Arizona
Just south of Tombstone and at the very southern edge of Arizona is the copper mining town of Bisbee. This is an amazingly well-preserved mining town with very few tourists. They usually go to Tombstone instead!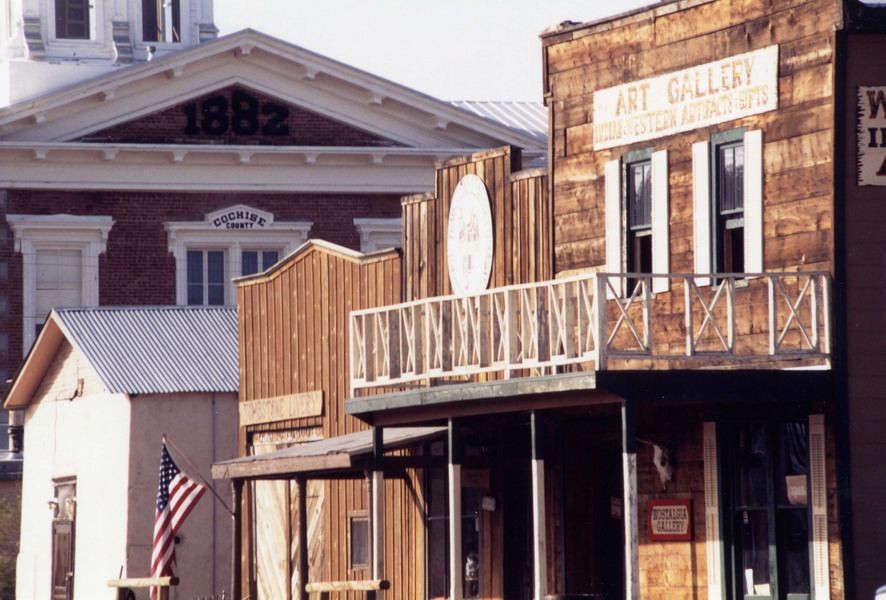 Tombstone, Arizona
Although it is quite a tourist attraction, it has not been spoiled by the legalization of gambling. Two of my favourite towns in Colorado, Central City and Cripple Creek, have been destroyed (in my opinion) by allowing casinos to be built. There are some remarkably well-preserved saloon bars here in Tombstone and even an opera house. It is similar, in many traits, to the town of Virginia City in Nevada.
Virginia City, Nevada
High up in the Western Plateau lies the preserved silver mining town of Virginia City. Gambling is allowed here but it has not spoilt the town like Cripple Creek, Colorado. I really enjoyed this place and loved exploring the streets and photographing the old buildings.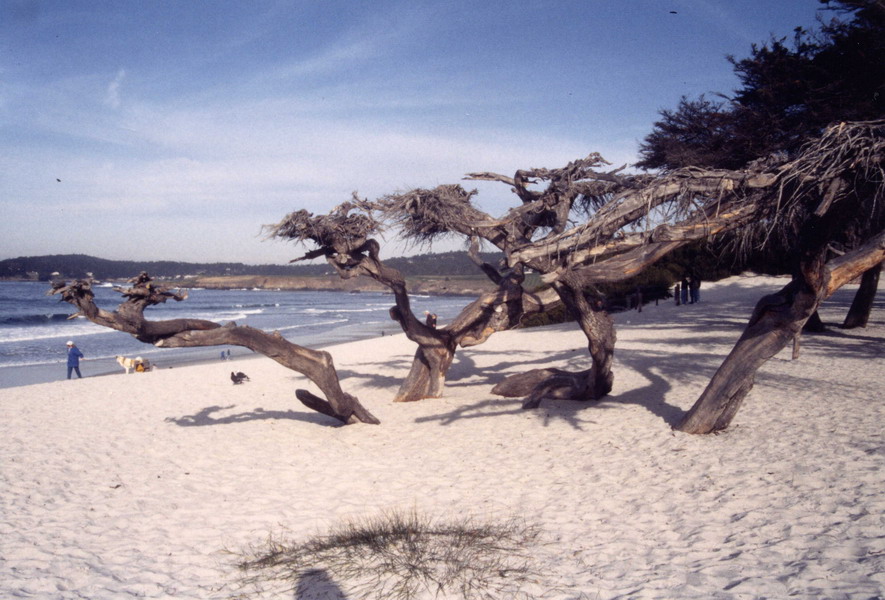 Carmel beach, California
Just south of Monterey is the iconic town of Carmel where even the roads have to be built around the trees by order of the local law. Carmel is an exclusive place famous for its odd-looking cypress trees and pure white beaches as you can see in this photograph. Clint Eastwood was mayor here.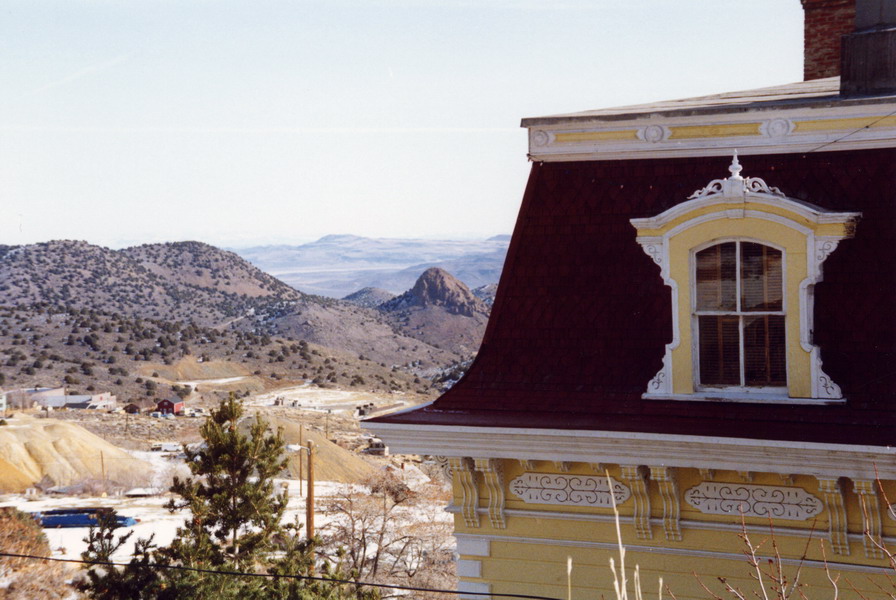 Virginia City, Nevada
It's odd to find this ornate Eastern European-style architecture in the middle of Nevada.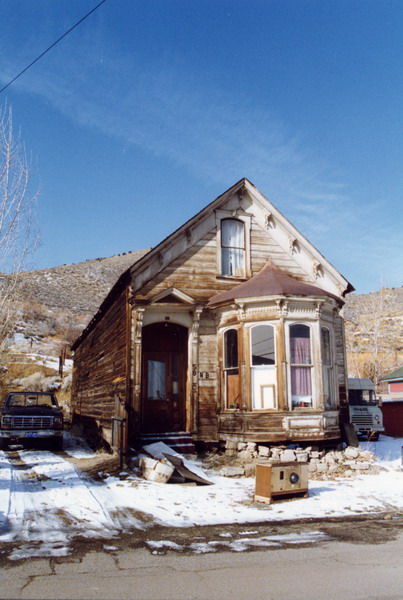 Virginia City, Nevada
I guess they're in need of a TV replacement!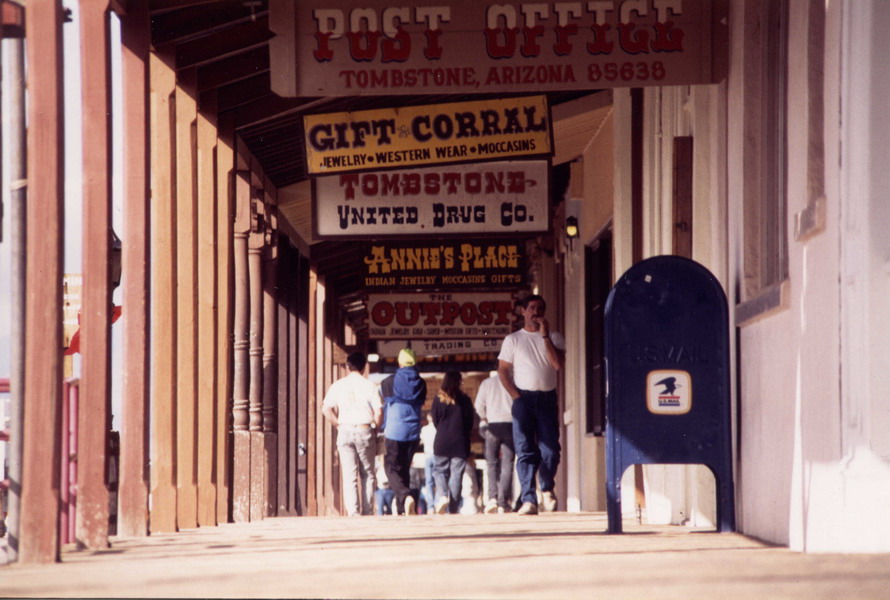 Tombstone, Arizona
Traditional boardwalks where women were not allowed to walk on the sunny side.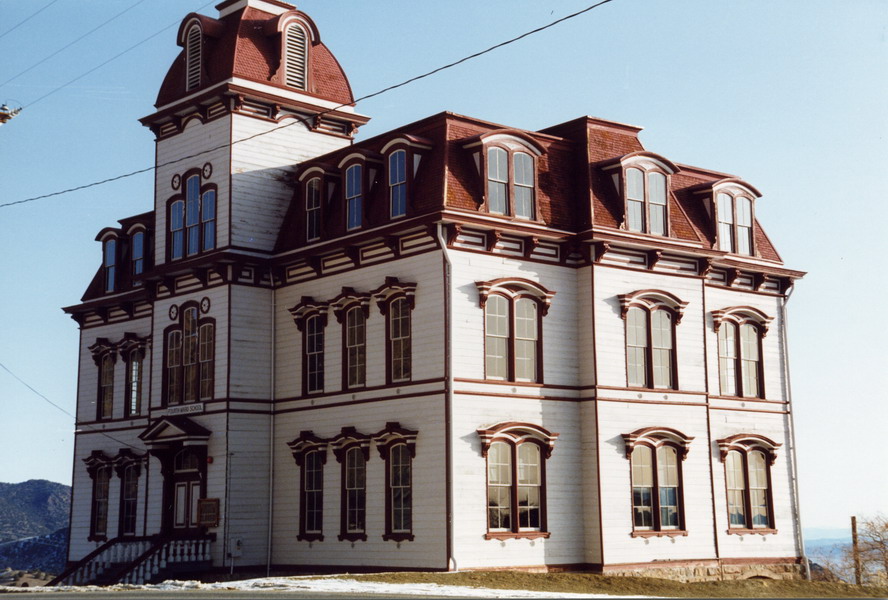 Virginia City, Nevada
Here's a picture of the old schoolhouse. In fact, I think it may still be in use. Despite what the photographs may suggest, you have NO idea how cold it was that day!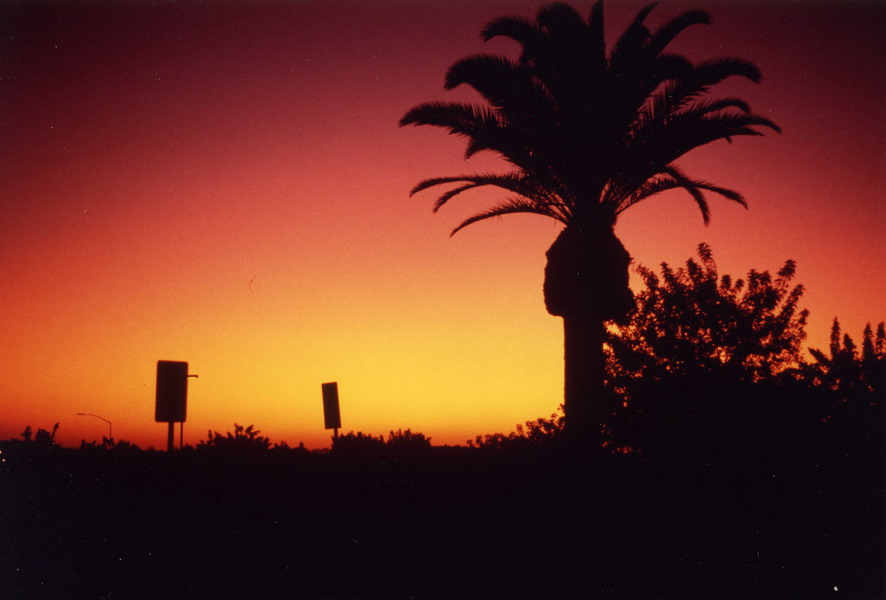 Sunset in San Diego
Would be a great photograph if it wasn't for the street signs. This was taken outside the office my mother was working at in San Diego.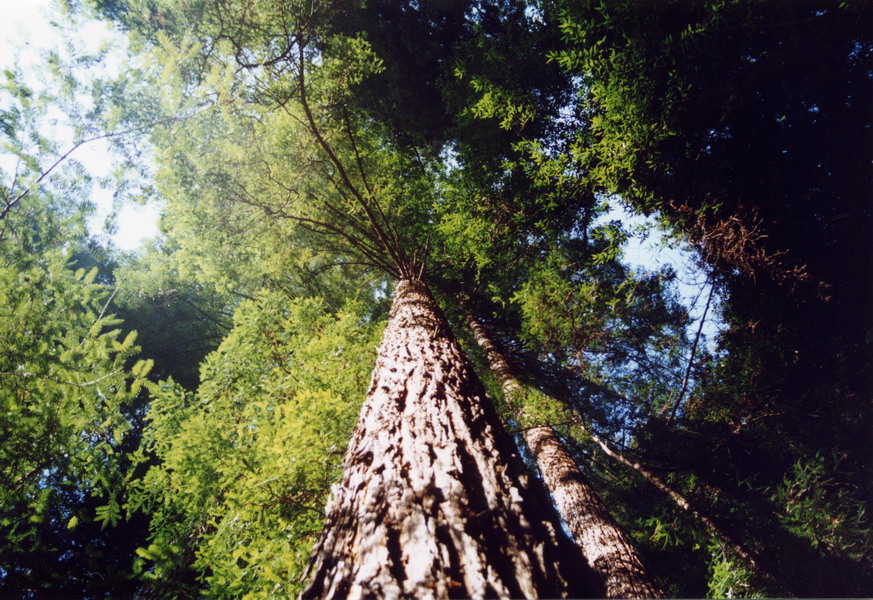 Redwoods at Muir Woods, California
Just north of the Golden Gate Bridge in San Francisco lies the amazing Muir Woods with the world's tallest trees.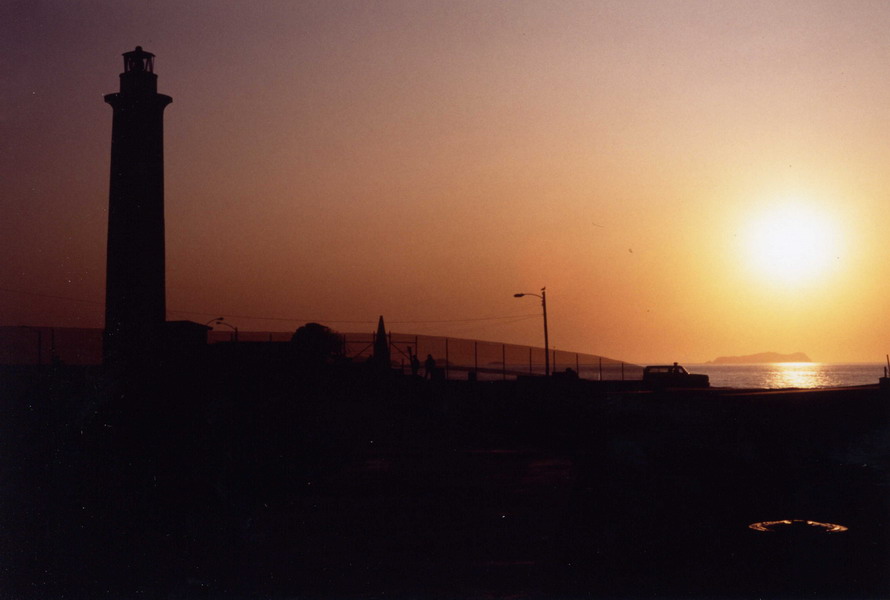 Sunset at corner of US and Mexico
This is the southwestern corner of the United States (excluding Hawaii). You can see Mexico on the other side of the heavily-patrolled fence.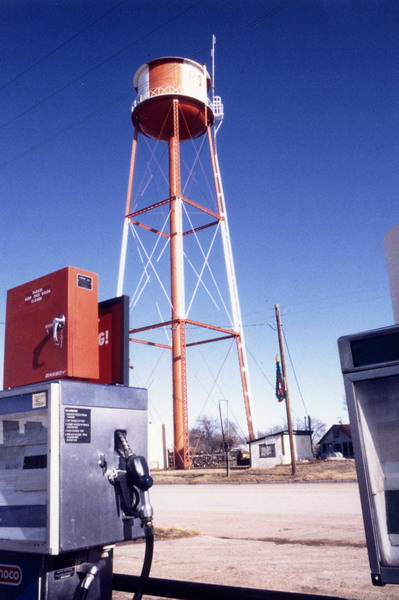 Roy, New Mexico
Out in the middle of nowhere close to the Kiowa Grasslands is this tiny one-horse town of Roy. We had to fill up, so we pulled into a gas station. This old guy came out and said he'd be back in a minute. We waited for sometime, so I went out back behind the store and found him there reading a newspaper on a deckchair. He looked at me, and said, in shock and apology, 'Ah… I forgot all about you guys… I'll come and get you some gas now!'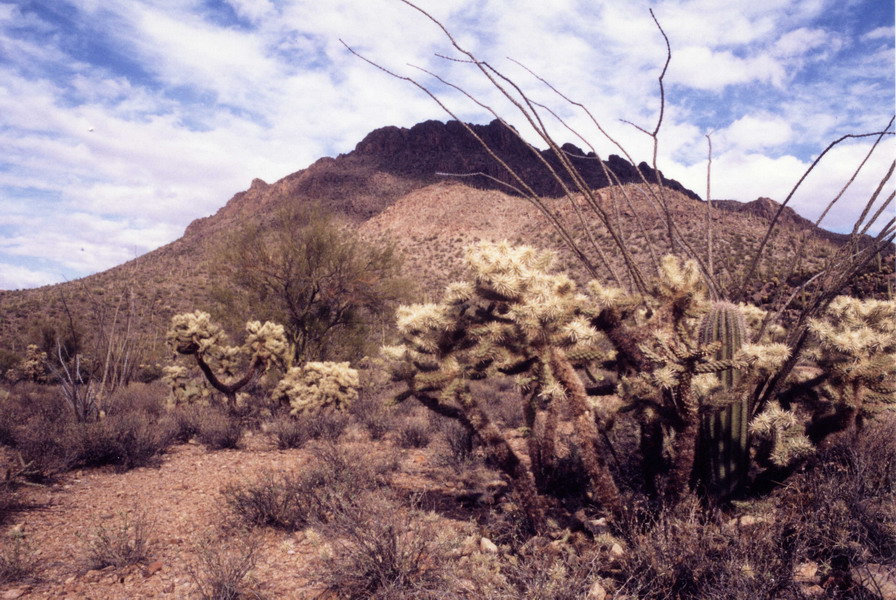 Desert hill near Tuscon, Arizona
Tuscon is world-famous for its lightning storms and its western movie filmsets.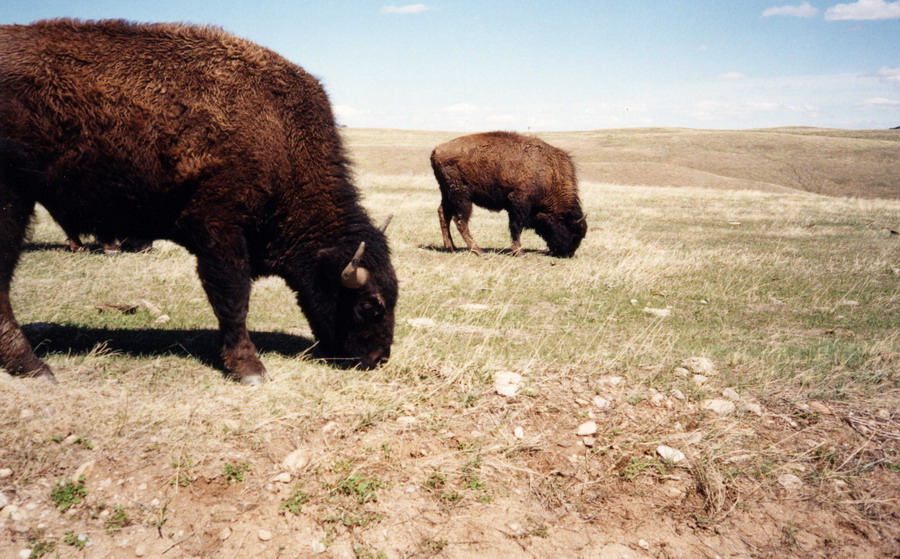 Bison at Custer State Park, South Dakota
As docile as they may seem; best to stay in the car!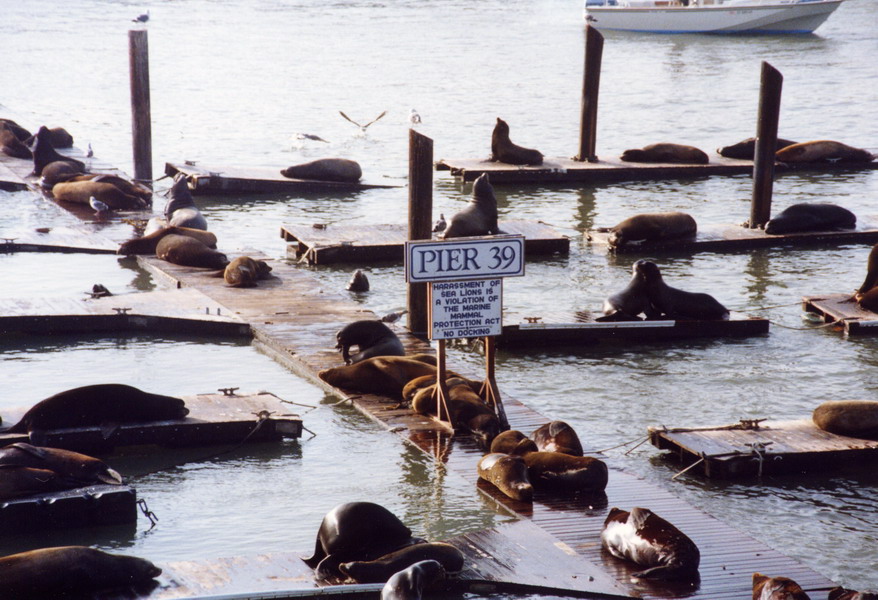 Sea Lions in San Francisco
A pier completely dedicated to sea lions!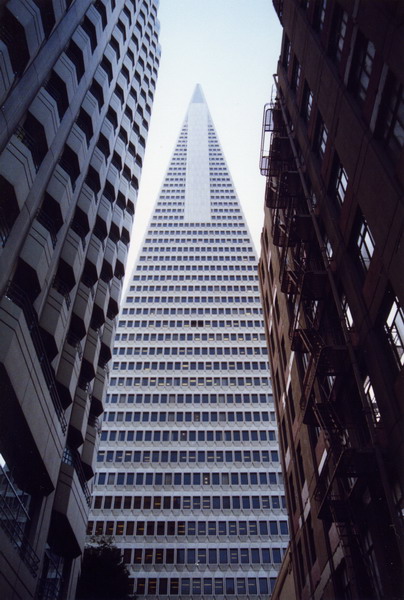 The Transamerica Pyramid
This is the famous earthquake-proof building shaped as a pyramid. It is San Francisco's iconic building.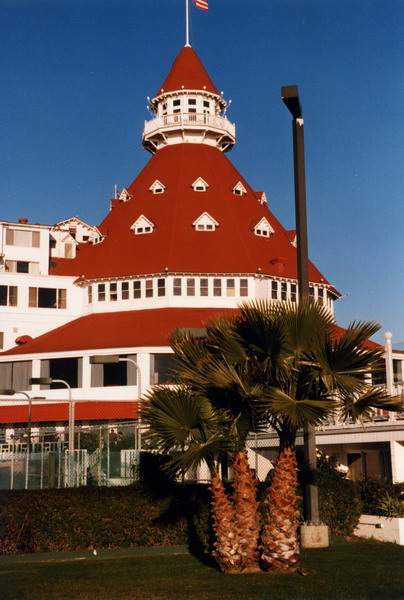 Coronado Hotel, San Diego
This beautiful hotel is the place to stay in San Diego (if you can afford it). Marilyn Monroe made this place famous in the movie, Some Like It Hot. It is delightfully Victorian inside where you can enjoy High Tea and have the most magnificent Sunday Brunch you've ever had.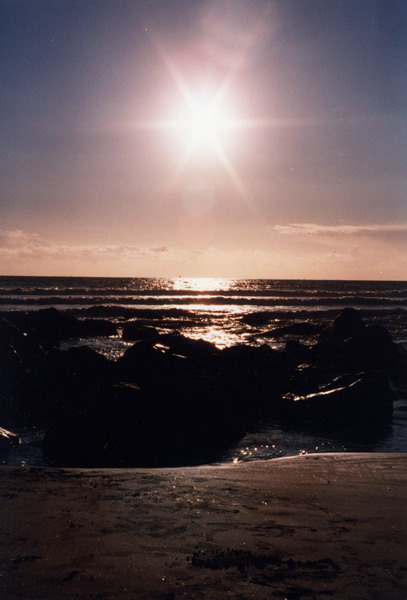 Sunset at Coronado Hotel, San Diego
This was taken from the white sands of the famous beach of the Coronado Hotel in San Diego.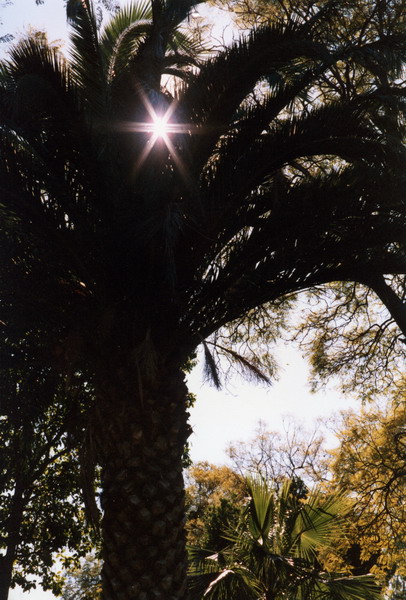 Sun through palm tree
Good 'ole Phoenix Canariensis, the trusty Canaries Palm. This was taken outside the Coronado Hotel in San Diego.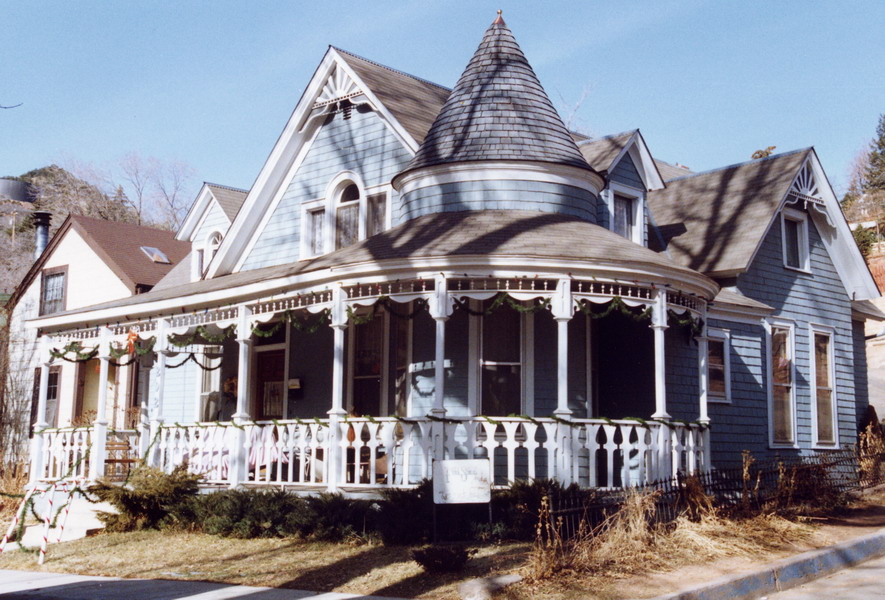 Old house in Manitou Springs, Colorado
The Victorian Manitou Springs (adjacent to my hometown Colorado Springs) sits at the foot of Pikes Peak and the Garden Of The Gods. It is a very atmospheric oldie kind of town set in the shadows of the mountains. It is famous for curing ailments from the many natural carbonated springs in the area. There is a cave called the Cave Of The Winds where a howling noise created by a wind effect can be heard. The Ute indians thought this was the resting place of their god, Manitou. Apparently, if you ever set eyes on Manitou, you'd go crazy and then die. Nice…
Manitou is also the beginning of the Great Barr Trail which has the highest gain in elevation of any trail in the US. It goes from 6,000 ft to 14,010 ft (top of Pikes Peak). I've done this a few times!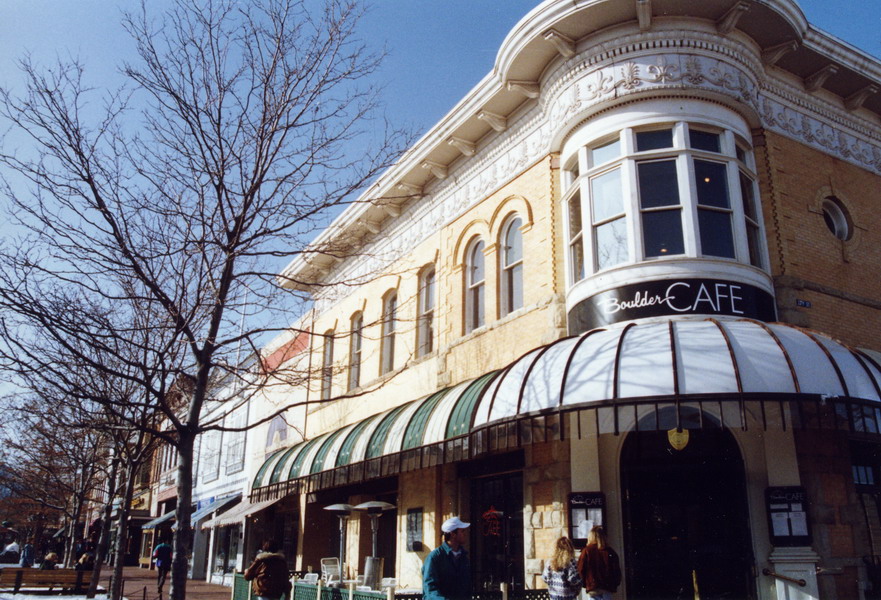 Boulder, Colorado
Boulder is a wonderfully cosmopolitan town in the foothills of the Rocky Mountains on the Front Range. It is home to the famous flatiron rocks and home to the University of Colorado.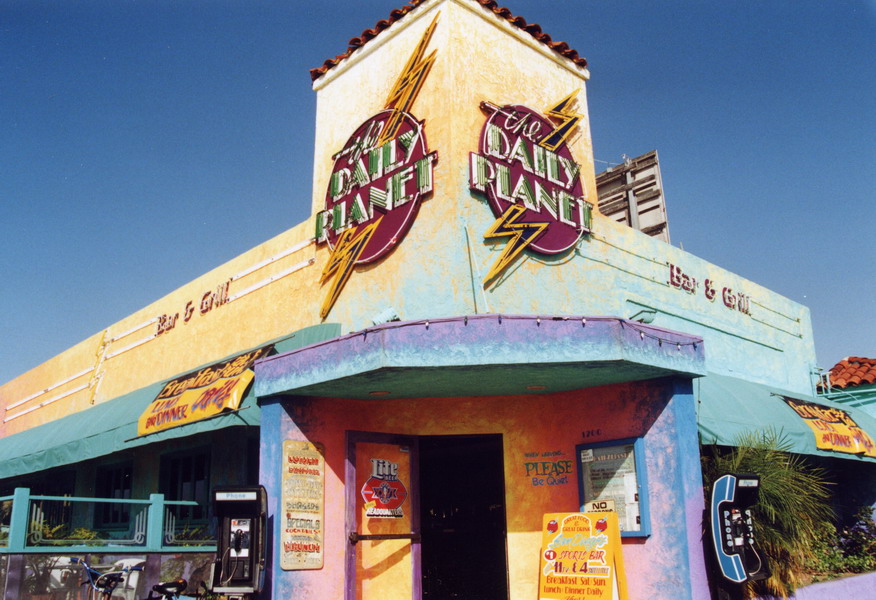 Pacific Beach, San Diego
Typical wacky beachy surfy architecture in Pacific Beach. This is the sort of area where it's compulsory to like surfing and rollerblading.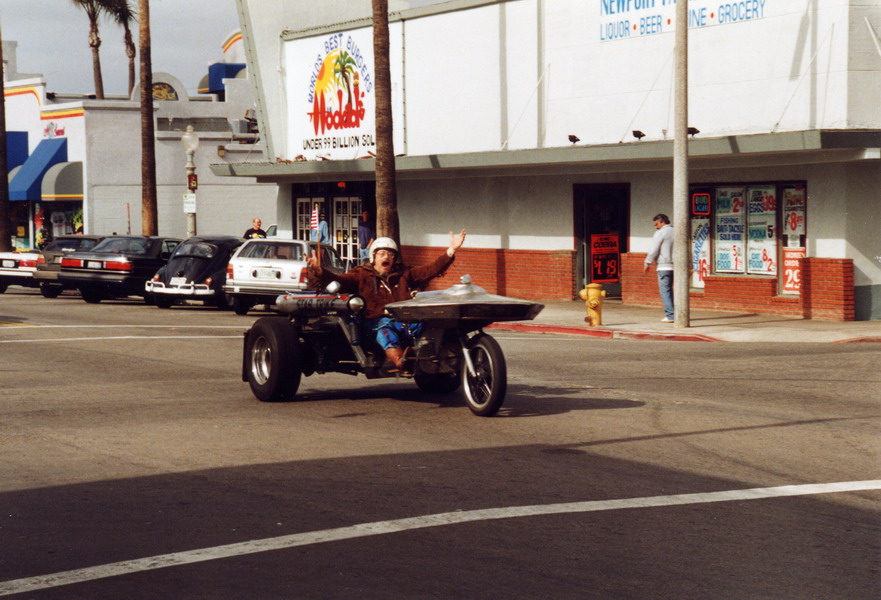 Star Trek Nutter in California
This is the nutty but great world of Ocean Beach, San Diego where all the eccentrics hang out.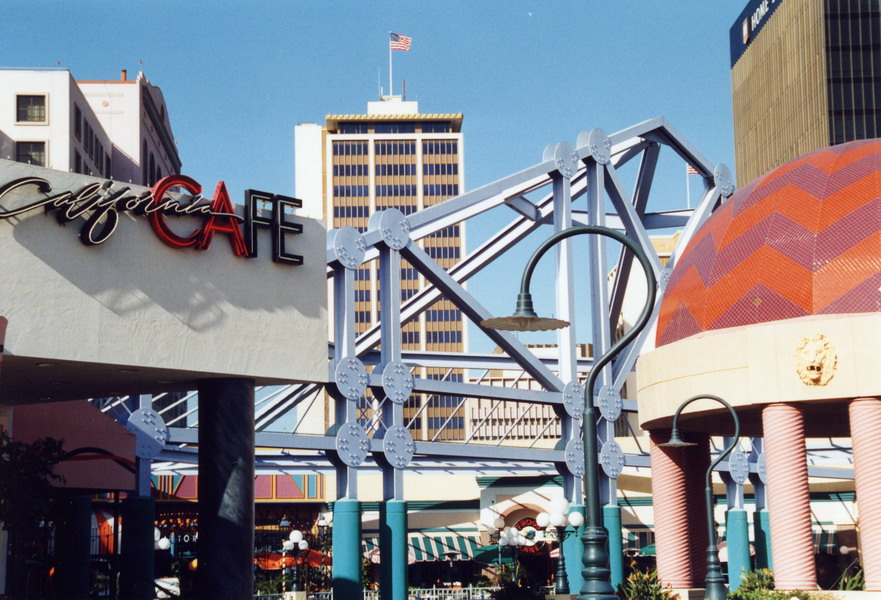 Horton Plaza, San Diego
The colourful zany architecture of Horton Shopping Plaza in downtown San Diego is one of the few shopping malls I actually like.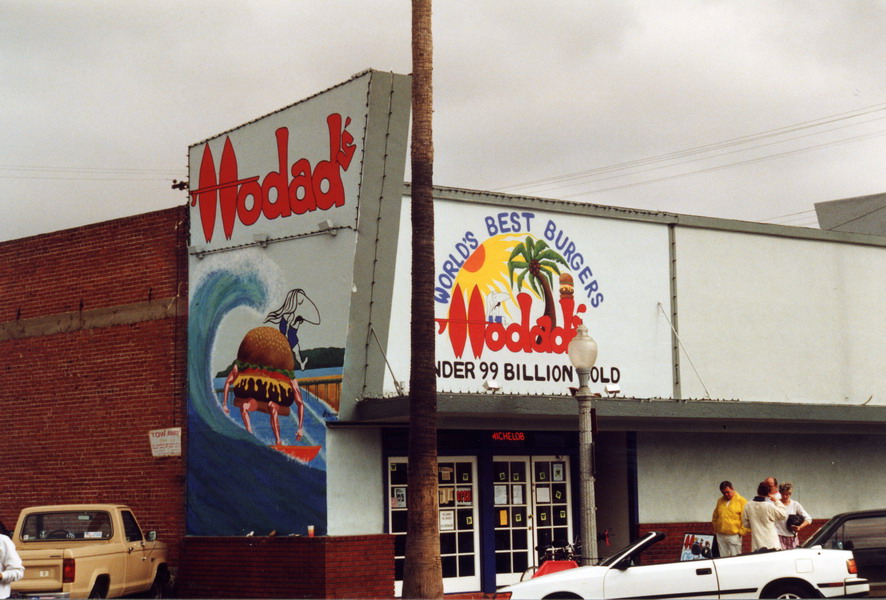 Under 99 Billion Sold!
Modad's of Ocean Beach, San Diego proudly advertising the fact that they have sold under 99 billion burgers.